You have found that special someone, and now you're contemplating the next step – getting on one knee and proposing to her. Buying an engagement ring is a significant investment, and someone like her deserves only the best, but what if you don't know where to begin looking for engagement rings? At Clean Origin, we are experts in engagement rings for women!
These 9 engagement ring shopping tips will help guide you through the process of discovering the perfect engagement ring that will best suit that special someone.
How to Choose the Perfect Engagement Rings for Women
The primary stone in engagement rings should reflect the personality and preferences of your partner. While there are many different gemstones to choose from, we'll focus primarily on diamonds as their purity and sparkle have come to symbolize the loving bond between two people and are the de facto stones for celebrating their union.
Tip #1: Become Acquaintanced with the 4Cs
Before you do anything else, it is crucial to learn about the 4Cs of diamonds, which stand for Cut, Color, Clarity, and Carat Weight. These are the main factors used to determine the price and appearance of diamonds in an engagement ring.
Cut
The cut of a diamond refers to the quality of the craftsman who creates a diamond's many facets (flat surfaces of gems). The quality of the diamond cut determines how shiny the stone will appear, making it one of the most important factors when choosing a diamond. All Clean Origin lab created diamonds are graded as either "very good" or "better"; We can ensure you will receive only the best stones available.
Color
Color is graded on an alphabetical scale from D to Z. Grades D, E, and F are colorless diamonds, while G, H, I, and J are near-colorless diamonds. Colorless diamonds reflect the most amount of light and shine the brightest. Clean Origin's lab created diamonds occupy the top seven color grades between D and J. You can trust that your jewelry will always radiate beauty.
Clarity
The clarity of a diamond measures how perfect it appears to the naked eye. It gauges the degree of inclusions (imperfections inside the diamond) and blemishes (those on the surface of the diamond). Diamonds graded SI2 or better are typically considered spotless, while diamonds graded below SI2 have imperfections that are easily visible without the assistance of specialized equipment. Clean Origin Lab Created Diamonds are always graded SI2 or better – when you shop engagement rings with us, you can be certain that you're buying the perfect diamond for her!
Carat Weight
Carat refers to the weight of a diamond and is the main contributor to the price of engagement rings. As the weight increases for a diamond, so will its price. Fortunately, Clean Origin is proud to exclusively offer Lab created diamonds that are equally radiant and brilliant as mined diamonds at a significantly lower price. Stay within budget without sacrificing her astonishment at the size of that diamond!
Tip #2: Determine the Diamond Shape
Arguably one of the most important decisions concerning your engagement ring is the shape of the diamond. A diamond's shape is the most noticeable feature of engagement rings, so you want to make sure you choose the one that perfectly aligns with your partner's preferences.
The following are some of the most popular shapes available:
Round Brilliant
The round-cut diamond is the most popular shape for engagement rings. These stones are perfect for the bride looking for a traditional look and pair well with just about any setting.
Princess
Princess-cut diamonds are another popular choice. These are square versions of the round brilliant cut and are perfect for those looking for a simple yet elegant engagement ring.
Emerald
Emerald-cut diamonds offer a larger-than-life shine to your engagement ring, making it appear larger than its carat weight. This rectangular-shaped diamond with a step-like appearance is a popular choice for women with personalities that extend beyond them and make an impression wherever they go.
Oval
Oval-shaped diamonds also appear bigger than other diamonds of similar carat size, which is part of why oval engagement rings are popular. A versatile shape capable of shining on its own or accompanied by accent diamonds, oval diamonds are an extremely popular choice for engagement rings as their length can accentuate long, slender fingers.
Pear
Pear-shaped diamonds (commonly known as "teardrop diamonds") are recognizable by one rounded end, and another sharply pointed end. One of the more modern options, these are a natural fit for women on the cutting edge of style.
Cushion
Cushion-cut diamonds combine the larger facets of an emerald-cut diamond with the rounded edges of the round brilliant diamond to create a timeless stone that is highly customizable and a favorite of stylish women.
Radiant
If you like the look of princess cut engagement rings but find its edges too jarring, then a radiant-cut diamond is just what you're looking for. This particular cut offers beveled corners, giving the gem a circular pattern when viewed from above. Radiant-shaped diamonds are fitting for any bride who doesn't mind standing out.
Asscher
Asscher-cut diamonds were at the height of their popularity during the 1920s. However, they have made a resurgence over the past few years. If you or your significant other prefer an Art-Deco look aesthetic, an Asscher-shaped diamond is the best stone for a unique and vintage engagement ring!
Heart
The heart-cut diamond is essentially a pear diamond with a rounded cleft at the top. Heart-shaped diamonds are the most romantic option and appropriate for those that want an engagement ring that will stand out in any crowd.
Creating One-of-a-Kind Engagement Rings for Women
By now, you should have an idea of the diamond that will serve as the focal point, next you want to make it your very own engagement ring by customizing it.
Tip #3: Choose an Engagement Ring Setting
The setting is the part of a ring that holds the diamond in place. The following are some of the most popular settings you will find:
Prong
Sometimes referred to as claw prongs due to their resemblance to an animal claw, prongs are small metal pieces that anchor the diamond down.
Bezel
Derived from an Old French word meaning "to enclose," a bezel setting encircles the entire diamond with metal. This arrangement is durable and protects your valuable diamond from impact damage.
Channel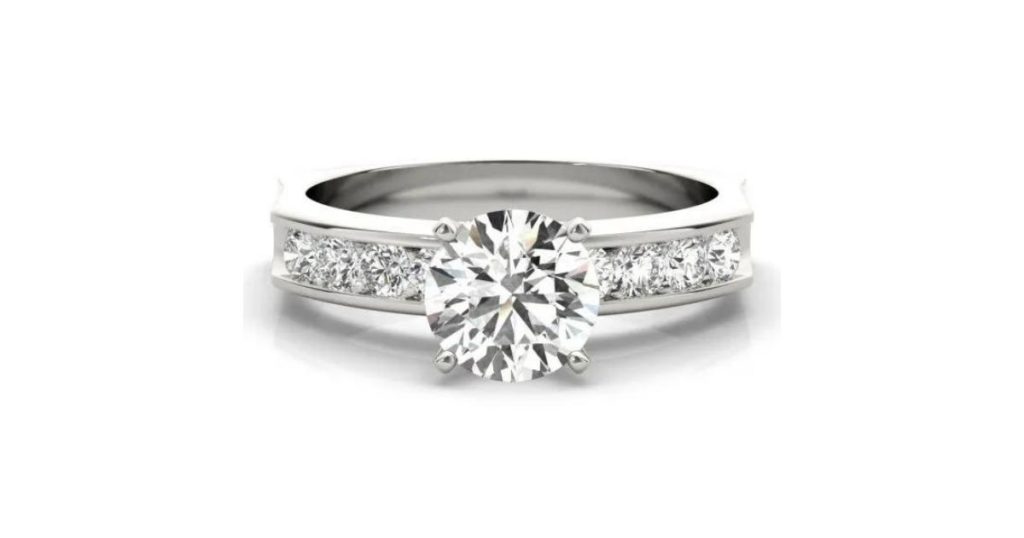 The channel setting allows for a row of additional diamonds within the edges of the metal ring. It is a popular choice for wedding bands and a modern option for brides-to-be.
Tip #4: Consider the Engagement Ring Style
When choosing the setting, it is important to note that your choice will influence your engagement ring style. With that in mind, here are some of the most popular styles for engagement rings:
Vintage
Vintage engagement rings feature antique-looking diamonds, ornate rings, and different color hues.
Classic
Classic engagement rings are one of the more popular styles, a classic engagement ring is known for having a simple band with a diamond at the center complemented by additional diamond details. For a classic ring with a modern twist, you might also consider something like a two stone engagement ring.
Halo
A halo-style engagement ring focuses on a large diamond at the center with a surrounding circle of smaller diamonds, creating a halo effect.
Solitaire
As the name implies, a solitaire engagement ring contains only a diamond at its center, with no additional details.
Tip #5: Decide on the Type of Metal
Diamond? Check. Setting? Check. Now it's time to put it all together with a ring made of the precious metal of your choice.
Yellow Gold
Yellow gold rings are made with a type of gold that has a bright yellow color. This is due to the gold being mixed with other metals such as copper and silver. It is the most common variety of gold.
White Gold
Durable and long-lasting, white gold rings consist of gold and nickel. They resemble the look of platinum at a fraction of the cost.
Rose Gold
A contemporary choice, rose gold rings result from a mix of gold and copper.
Platinum
Created out of extremely rare metal, platinum rings are far more luxurious than gold or silver and more durable and hypoallergenic.
Engagement Rings for Women – Bringing Ideas to Life
You are confident in the look of your engagement ring, all the components mesh well together, and you know that she will love it. All that is left to do is make it a reality.
Tip #6: Find the Right Ring Size
To order your engagement ring, you must know the correct ring size. If you don't know her ring size, there are ways to find that out without asking her outright.
If she already has a ring, you can take it to your nearest jewelry store to have it measured. You can also enlist the help of others, such as her mom – who might already know her daughter's ring size – or her girlfriends to take her on a girls' trip to the mall and stop by a jewelry store to determine her size.
Worried about ordering the wrong ring size after all? No need – Clean Origin offers complimentary ring resizing.
Tip #7: Set a Budget
Ideally, you'll have an idea of how much you can spend on an engagement ring before you start your search, but if not, it is crucial to figure out your budget as it'll help you assess what kind of engagement rings you can afford. Ultimately, you want to leave room in your budget for other expenses.
Tip #8: Shop with a Trusted and Reputable Jeweler
At this point, you've now got everything needed to place your order with a jewelry store. At Clean Origin, we want to help you bring your vision to life.
We love helping our customers find the perfect ring for their significant other. Know that you'll have peace of mind with our 100-day return policy, complimentary ring resizing, and free shipping – we'll help you throughout the entire process.
Our experts in engagement rings for women are happy to answer any questions you may have. Contact us to schedule a virtual appointment!
Tip #9: Get your Engagement Ring Appraised and Insured
While it is optional to appraise and insure your engagement ring, it is highly recommended to do so. It will protect your ring – and yourself – from life's many misfortunes.
In addition to the standard services we provide with each purchase, we also offer a Forever Service Plan designed to protect your purchase forever. Learn more here.
Clean Origin – The Experts in Engagement Rings for Women
With a vast selection of lab grown diamonds and styles, you'll have no issue finding the right ring for her when you shop with Clean Origin. Take advantage of our competitive prices and save money on that gorgeous, one-of-a-kind diamond to match that special someone in your life. Our diamond jewelry is perfect for engagements, but be sure to shop with us for other major events in your life–from wedding anniversary gifts to push presents and even birthday gifts. We have it all!