Are you on the hunt for an affordable engagement ring? Look no further! We've compiled some helpful tips and tricks for finding the perfect ring while staying within your budget. With some research and creativity, you can make the most of your money and still find a stunning ring that she will love.
Set Your Budget
Setting a budget is the first and most important step when searching for inexpensive engagement rings. With endless diamond shapes, metal options, and setting styles, it's easy to get carried away.
Setting a budget will allow you to narrow down your options and better understand where you can spend and where you should save. With a bit of research, you can find stunning diamond engagement rings at a price tag that won't break the bank.
While there is no set "rule" on how much you should spend on an engagement ring, everyone's spending comfort level will differ. If you shop around enough, you will find an engagement ring you love for the right price. Here are some tips for buying diamond engagement rings on a budget.
Choose a Lab Grown Diamond
Unsurprisingly, the biggest chunk of your engagement ring budget will go towards the diamond. It is important that you find the perfect ring with the right price tag.
There are plenty of tricks to help you save when you're searching for diamond engagement rings, like learning about the different diamond shapes and their 4 C's or simply choosing to have another gemstone, like a birthstone.
However, unless you are choosing natural diamonds, lab-grown diamonds are the only option that is still 100% a real diamond. You can also sleep well at night knowing you have chosen an ethical engagement ring.
Lab-Grown Diamonds Will Save You Money
Lab-created diamonds are chemically, physically, and optically identical to mined diamonds. However, due to the shorter supply chain, lab-grown diamonds can be anywhere from 20-40% less expensive than mined diamonds, making them a better option for affordable engagement rings.
With that huge amount of savings on the diamond, you can spend more on a better quality stone, a bigger carat weight, or even a more elaborate setting. You may have money left over for beautiful wedding bands. This way, you can be sure you get the best engagement ring for the price.
Setting Styles That Will Help You Save
If you're searching for a one-of-a-kind way to express your love, consider perusing our selection of breathtaking unique engagement rings below. These stunning options are sure to make a lasting impression and serve as a symbol of your everlasting commitment. Take your time and find the perfect ring that reflects your partner's unique personality and style. With our help, you'll find the perfect engagement ring to make your proposal even more special.
Solitaire
Solitaire settings are the most simple and often inexpensive engagement ring setting one can choose. However, just because solitaire engagement rings are simple does not mean they are boring! This style features a single solitary diamond and increases focus on your center stone!
If you're in the market for a solitaire diamond, it's important to pick a high-quality diamond since it'll be the main focal point of your engagement ring.
Solitaire settings are a fantastic choice for affordable engagement rings because they fit nearly every shape, from marquise to round diamonds. Below are a few favorites, all under $1,000.00!
Classic Solitaire
Our most classic style is compatible with all 9 of our diamond shapes. Available in white, yellow, rose gold, and platinum, this ring is as timeless as they come. 
Quiet Beauty
While appearing as a simple solitaire band, this setting features a hidden row of diamonds under the round brilliant diamond. The 2mm band width allows your lab-created stone to shine in any of our affordable engagement rings.
Braided Solitaire
A classic solitaire with a twist! This setting style features a woven band in white, yellow, rose gold, and platinum. Compatible with our most popular diamond shape, the brilliant round.
Halo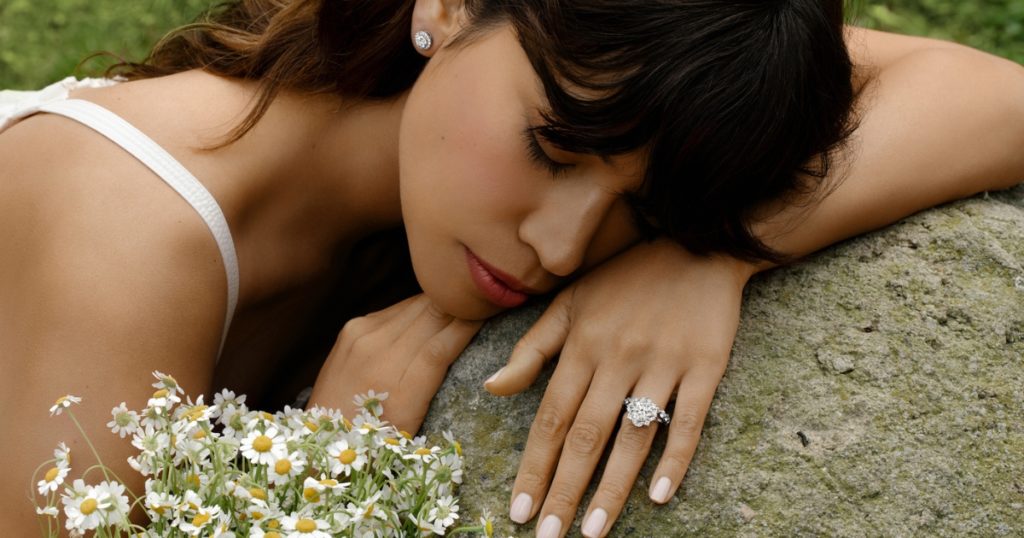 If you have your heart set on something with a bit more sparkle, a halo engagement ring is the perfect option for you. Unfortunately, halo settings are typically more expensive due to their elaborate details and extra diamonds. However, these settings allow you to save on the center diamond, which may save you money in the long run.
Halo settings feature a circle of small diamonds surrounding a larger center diamond. These smaller sparklers enhance the majestic size of the center stone, which gives the appearance of a larger diamond.
This lets you choose a smaller stone, saving you money without compromising the overall sparkle.
Shop some of our favorite halo styles below!
Antique Halo Ring
This vintage-style halo is one of our most affordable engagement rings. Featuring delicately woven shoulders that rise to the round center diamond. Embrace the vintage look by choosing yellow gold for the metal.
Round Fancy Halo
As classic as a halo setting comes! With the band of the ring set with lab-grown diamonds that lead up to the round center stone, this is one show-stopping ring! 
Gioioso Oval Halo
Maybe you want a halo style setting but are unsure about a round center stone. Our Gioioso Oval Halo features a stunning oval center stone set on a square 2mm band. Choose 14k white gold to enhance the beauty of this ring! And if you find oval engagement rings catching your eye, browse the rest of our selection.
Diamond Rings
If you want to spend less than your average engagement ring, look to rings typically used for wedding bands or even fashion pieces. Remember, you don't need an engagement ring with a large center stone.
Today, brides wear more simple and unique styles for their affordable engagement rings. Clean Origin offers many eternity rings and fashion-forward rings, but we've chosen a few favorites below!
Entwined Diamond Ring
While this ring features no center diamond, it's still quite impressive, with over 60 lab-created diamonds! With a beautiful twist design, we love this ring in a show-stopping metal like rose gold.
Myriad Diamond Ring
Another favorite if you're looking for affordable engagement rings, our Myriad diamond band is under $1,000 but is still stunning, with its band lined with 20 sparkling diamonds. The metal beadwork adds great detail to this stunning ring.
Consider 14k Gold
When selecting an engagement ring, it's essential to consider the type of metal the band is made of. Clean Origin offers a range of options, including 14 and 18k white and yellow gold and platinum. We offer a beautiful 14k rose gold band for those interested in a unique touch.
When it comes to engagement rings, platinum is the priciest option. However, if you desire a platinum appearance without breaking the bank, consider choosing a white gold ring.
14k gold is what we'd recommend if you're looking to save, as it is the least expensive choice and the most durable. 14k gold has a higher mixture of gold than other metals, making this ring less prone to scratches and dents, as pure gold is incredibly soft. This is why we do not recommend 24k gold for wedding rings or engagement rings. Choose 14k gold in white, yellow, or rose to get the best value for our affordable engagement rings!
Affordable Rings at Clean Origin
If you're looking for affordable engagement or wedding rings, Clean Origin is the perfect choice for you. Not only do we offer a wide selection of beautiful and ethically sourced diamonds, but we also provide excellent customer service and a seamless shopping experience. Don't hesitate to check out our website and find the perfect ring for your special someone. Your dream ring is just a few clicks away.