So, you're shopping for a wedding ring and looking for the right style. But with so many different types of wedding rings and so much information out there, it's easy to get stuck.
Luckily for you, we've assembled a guide to help you learn about the different types of wedding rings available. With the right information, insights, and examples, we know you'll find the perfect fit for your unique taste.
But before we jump into it, we will review exactly what a wedding ring is and why we categorize it differently from an engagement ring.
What's the Difference Between Wedding Rings and Engagement Rings?
The engagement ring is typically given during the initial marriage proposal, while the wedding ring is added on during a marriage ceremony. Sometimes people will use the term "wedding ring" when referencing an engagement ring, but rarely vice versa.
Traditionally, most types of wedding rings are often simpler and less flashy than engagement ring styles. That said, many modern couples are eschewing simplicity in favor of something more intricate and flashy.
Some types of wedding rings and engagement rings are often intended to be worn together on the same finger, and matching sets will be designed to fit together without causing any discomfort.
The History of Wedding Rings
Ancient Types of Wedding Rings
Egyptians may have created the first wedding rings—they would wear a band on their little finger to symbolize their commitment to their spouse. While the wealthy would wear gold bands, other types of wedding rings were commonly made from reeds or hemp.
Ancient Romans weren't known to propose with an engagement ring, but they did often exchange various types of wedding rings in marriage ceremonies. They would wear them on their left hands and exchange them on their wedding day, a tradition that is, in fact, still alive today.
During Medieval Times, wedding rings began to incorporate precious gemstones such as rubies, sapphires, and diamonds. Couples also began to wear a band during their engagement — a practice that has evolved into the modern-day engagement ring.
That said, diamond engagement rings weren't actually a thing until 1477 when the Archduke Maximillian of Austria gifted a diamond ring to his fiancée, Mary of Burgundy. This act thus started the engagement ring trend that lasts to this day.
What are the Different Styles of Wedding Rings?
Although a solid gold wedding band used to be the norm, today it's common to get a wedding band that matches different styles and types of engagement rings–or one that enhances them. We've broken down some of the different styles of wedding rings and wedding band duo styles below.
Minimalistic Wedding Bands
Minimalism is all about saying more with less. Consider sleek wedding bands with shining precious metal like creamy rose gold, stunning platinum, or refined yellow gold.
These simple designs are easy to clean and maintain, will last you a lifetime, and are guaranteed to never go out of style.
The Knife Edge Band is one of many simple yet timeless types of wedding rings. It has a modern, angled edge that will surely stand out from the crowd. Available in yellow gold, rose gold, white gold, or platinum, this ring's clean lines and comfortable fit are perfect for everyday wear.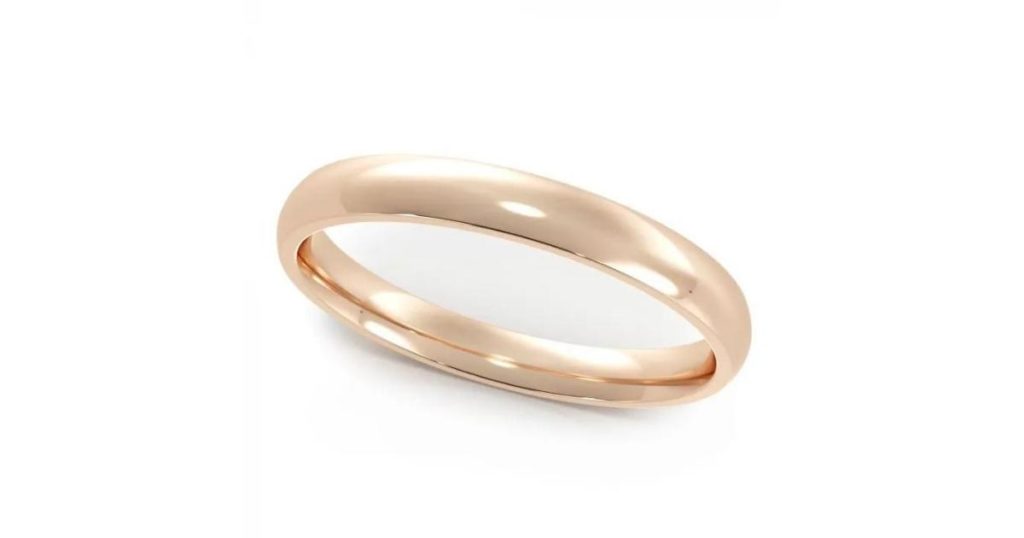 Another excellent minimalistic ring choice is the Classic Comfort Fit. Stunning in its simplicity, this classic ring honors the wedding bands and engagement rings of antiquity with its rounded metal band. It is available in white gold, yellow gold, rose gold, and platinum. Finally, the inside and outside have been polished to perfection for a guaranteed comfortable fit.
What Types of Engagement Rings Should You Pair with Minimalistic Wedding Rings?
Classic engagement rings play well with a paired-down wedding band. Think of a solitaire engagement ring with a prominent oval center stone or a round brilliant diamond. A solitaire setting allows you to play with and highlight the shape of your diamond to create your perfect ring.
Types of Vintage Wedding Bands
One of our favorite wedding ring types is vintage. Is there anything more romantic than a delicate vintage ring? We don't think so! A vintage wedding band can include intricate detail and adds endless style to your jewelry collection.
Evelyn Band
Taking inspiration from the vintage art deco era, the Evelyn band features round stones and baguette diamonds for a refined look that will have your ring finger sparkling. Primarily composed of smaller diamonds, this ring is a perfect match for the Evelyn Ring.
Oceana Band
If you want a vintage band with maximum sparkle, consider the Oceana Band. The entire ring glistens with its 80s-inspired pavé setting that includes a whopping 69 diamonds.
Types of Engagement Ring Styles That Work Best with Vintage Bands
Because of the distinctive style of vintage wedding bands, we recommend following suit with a vintage engagement ring. Combine the bold ornate details of your band with the clean and delicate lines of an engagement ring or vice versa.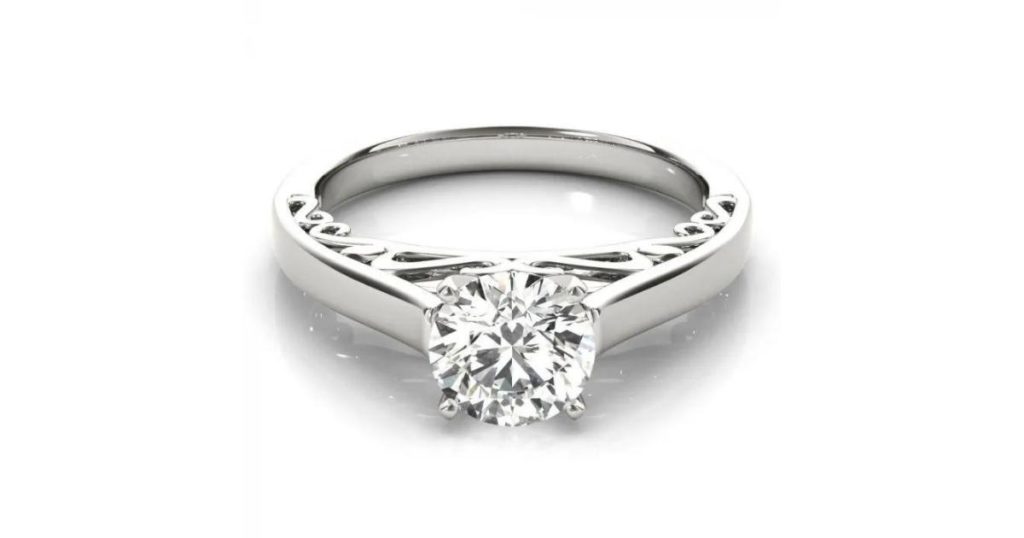 The Antique Solitaire Engagement Ring maintains a brilliant center diamond set with a polished cathedral setting. It also has a delicate filigree of swirls and loops on its side, offering a timeless take on antique style.
Unique Bands
A unique wedding band will dazzle and delight with non-traditional style and innovative design. These types of wedding rings often use a nontraditional diamond color—like pink diamonds—or offer an interesting design.
Lotus Band
This ring is anything but a plain band! The Lotus Band features round diamonds wrapped halfway around the ring for a classic style. The Lotus also includes a unique set of three sparkling marquise-cut diamonds masterfully placed in the center of the ring. The diamonds reach upwards to create a shimmering crown effect for your engagement ring. The Lotus is also available in rose gold, yellow gold, white gold, or platinum, so you'll easily be able to match it with your engagement ring.
Kent Band
The Kent Band contains a unique and modern triangle pattern with alternating diamonds for a geometrically appealing ring. The band has a modern design that will look great on any finger and is sure to catch the eye.
Engagement Ring Styles That Work with Unique Bands
If your heart is set on a unique wedding band, consider engagement ring styles that work well with your band. We are particularly fans of three-stone engagement rings—the center stone will be highlighted next to the unique texture or pattern of the wedding band.
For example, the Denmark 3-stone engagement ring  is already a unique ring, but when you pair it with a couples wedding bands or even matching wedding bands, the engagement ring really seems to pop. The Denmark features diamonds in a channel setting a quarter-way around the band for optimal brilliance and shine. Two stone engagement rings are another gorgeous option, featuring two diamonds instead of three.
If you're going for more of a traditional type of wedding ring, you'll want to opt for a solid band that matches the color of your engagement ring. You may even like a pavé setting made of the same metal. Both of these options offer a sleek and classic look. And, if you want to mix things up, there are a few things you can do:
Get a wedding band style with filigree or other popular metalwork
Mix and match your engagement ring metal color with your wedding ring color
Couple your classic engagement ring setting style with something more vintage for a wedding band
What are the Different Types of Wedding Ring Settings?
The four most popular ring settings are halo, classic, solitaire, and vintage. These styles will become important to know if you're opting for a bridal set or are trying to find a wedding ring that sits flush against your engagement ring.
If you have a halo engagement ring, you might need one of our engagement ring band styles that fits underneath the edge of the center stone. With a vintage engagement ring, you might need a different style of wedding band that is shaped specifically to fit the cut of the engagement ring (pictured).
If you've already purchased your engagement ring in one of these four styles, our diamond experts should still be able to help you find a ring to complete your bridal set.
How Do I Choose From So Many Types of Wedding Rings?
Your ring style is completely up to you! However, when choosing a wedding ring that works for you, there are really three routes you can take: Use it to dress down your wedding ring, add more flair, or complete a set.
If your engagement ring is extra sparkly with lots of gemstones, you may want to offset it with something simple; in this case, opt for a solid band. You can even make it a bit more personal by engraving your wedding date on the inside.
If your engagement ring doesn't glisten quite as much as you want, find a style of wedding ring engraved with diamonds. And if you really love pairs for your jewelry, go with a bridal set.
The majority of individuals buy a wedding ring that matches the color of their engagement ring,but having two different metal colors is trending because of the versatility it provides.
Purchase The Wedding Band That Makes You Happy
Your engagement ring and wedding band will stay on your finger for some of the most memorable moments of your life. Be sure to choose one that makes you the happiest. Clean Origin has a range of styles, metals, and settings that will allow you to find the ring that matters most. Whether it's a white gold or platinum diamond stunner or a simple band that serves to highlight your engagement ring, we're here to help you find the perfect wedding band.

Shop Clean Origin's collection of wedding bands today.