Shopping for and buying the right engagement ring is an exciting time in anyone's life. After all, looking at blingy diamonds that sparkle and shine while comparing different setting styles is fun! But, figuring out how to choose an engagement ring can get overwhelming fast.
Luckily, we've broken down all you need to know before you choose an engagement ring. This way, you can make an informed and beautiful choice that makes sense for you or your partner. Keep reading to find out!
What Makes up an Engagement Ring?
For the most part, when choosing an engagement ring you may find yourself having to make decisions about the following parts of the ring:
The Primary Stone
The Setting
The Style
The Precious Metal
Below, we go into each part so you can narrow down your choices. Once you do that you will know where to begin when choosing an engagement ring.
The Primary Stone
When people think of an engagement ring the primary stone of the ring is what initially springs to mind. When you choose an engagement ring, it can be helpful to start with the primary stone for just this reason. A primary stone is usually a diamond but it by no means has to be.
The Type of Gemstone To Choose for an Engagement Ring
Today, a diamond is the de facto stone of choice for engagement rings but this wasn't always the case. In fact, prior to the launch of the now famous 1947 De Beers marketing campaign, "A Diamond is Forever," people favored intricate metals and unique gemstones over diamonds.
If you are shopping for a partner, determine what stone they might like by considering their personality. And, if you've spoken about their style preferences of engagement rings in the past you may already know what type of stone they want. While there are endless options of gemstone choices, we'll focus on diamonds as the primary stone. Diamonds make up the bulk of engagement rings sold on the market today.
The Shape of the Diamond
Diamonds come in a variety of breathtaking and unique shapes. We're going to take a look at two of the most popular diamond shapes: round brilliant and fancy-shaped.
Round Brilliant Diamonds
People love the round brilliant diamond for its simplistic shape–one that provides maximum sparkle. Pair a round brilliant with a simple solitaire setting for the classic bride or accentuate the shine with an intricate halo of melee diamonds.
The round brilliant is the most popular diamond shape and for good reason. It has 58 facets that reflect light in a dazzling array of white flashes to stun those gazing upon it.
Fancy-Shaped Diamonds
Any diamond that isn't the standard round brilliant is a fancy-shaped diamond. These shapes can include:
Oval-Cut Diamonds
Emerald-Cut Diamonds
Princess-Cut Diamonds
Asscher-Cut Diamonds
Cushion-Cut Diamonds
Pear-Cut Diamonds
Marquise-Cut Diamonds
Radiant-Cut Diamonds
Each shape has its own unique characteristics so it is worth it to further research the diamond shapes that you feel most drawn to. Generally speaking, fancy diamond shapes are perfect for the non-traditional bride.
Clean Origin offers stunning diamond engagement rings in a variety of shapes that maximize the diamond's brilliance. Whether you believe your partner may like an oval cut or an emerald cut, you are sure to find and choose the perfect engagement ring for them at Clean Origin.
The 4CS of the Diamond
The final decision to make when it comes to diamonds regards the 4Cs. The 4Cs is the framework that diamond industry professionals use to grade diamonds. The Gemological Institute of America developed the 4Cs.
Cut
Not to be confused with diamond shape, a diamond's cut refers to how well the stone has been shaped. A poorly cut diamond will have a dull appearance, while a well-cut diamond will sparkle and shine. At Clean Origin, all of our diamonds rate at, or above, a "Good" level. This ensures the diamond you choose will add sparkle and shine to the ring.
Color
The color of a diamond refers to the absence of color hue and saturation. Clean Origin only offers diamonds that receive a grade of J-D on the color scale; although, you may see scores all the way to Z at diamond brick-and-mortar stores.
Additionally, while colorless diamonds are preferable to colored diamonds, fancy colored diamonds exist. Many people know and love these diamonds for their range of colors–a range that includes vibrant pink, orange, and even blue. They differ from non-fancy colored diamonds because of the depth and saturation of their hue.
Clarity
This refers to how clear the diamond is: If there are any blemishes or flaws (also called inclusions) on its surface or inside of it, the diamond in your engagement ring may not refract light as well as you might hope. Slightly Included 2 diamonds appear eye clean to the naked eye. Any blemishes or inclusions are only visible to diamond experts using a jeweler's loupe. Because of this, Clean Origin offers diamonds only graded S12 and above.
Carat weight
The last C – carat weight – is the measurement of a diamond's weight. Generally, the higher a diamond's carat weight, the more the diamond will cost. This is because it's harder to produce or mine a large diamond. Because of this rarity, the cost increases.
Holding the Diamond in Place: The Setting To Choose for an Engagement Ring
The setting of a diamond is the part of the ring that holds it in place. There are a number of different settings, each with its own unique characteristics.
Prong Setting
Prongs are small metal pieces that hold the diamond in place. They are visible from a top-down view of the stone and protect it from chipping or damage when set in a ring.
Sometimes, people refer to them as claw prongs because their shape resembles that of an animal's claw (slightly curved and pointed). Other times they are short and stout. There is a wide availability of prongs but most jewelers recommended setting your diamond within three prongs at least.
Bezel Setting
Bezel settings are an extremely durable and secure setting for engagement rings. A bezel encircles the entire stone with metal.
The bezel is usually flat and smooth on top, but it can also have grooves or other designs in it. The outer edge of the bezel usually slants inward, toward the center of the stone. This inward slant allows for better protection against damage from impact.
The word "bezel" comes from an Old French word meaning "to enclose."
Channel Settings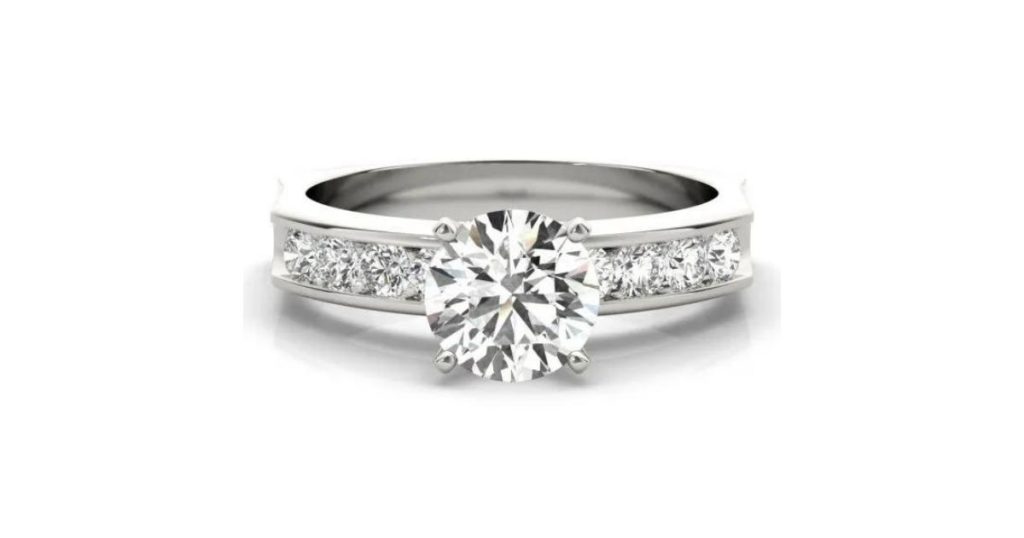 Channel-set diamonds are a popular choice for wedding bands. They are placed within two strips of platinum, yellow gold, white gold, or rose gold metals to create an illusion of an endless plane of diamonds. This diamond engagement ring setting is more modern than the traditional solitaire but still creates a timeless piece that will last forever.
Engagement Ring Styles To Choose From
Most of the time, the setting of a diamond ring will dictate the style of that engagement ring. For example, many bezel-set diamonds are thought of as vintage-style rings. Why? Because the bezel was a popular choice during the Art Deco era.
In the spirit of clarity, we've rounded up the most popular diamond engagement ring styles below.
Vintage Rings
A vintage-style engagement ring is one that has a vintage aesthetic. Features of this type of engagement ring include antique-looking diamonds, ornate filigree shanks, and hues of white and yellow gold or platinum.
Vintage-style engagement rings are becoming increasingly popular because they're unlike any other ring you've seen before. By opting for an antique-looking diamond, you'll be able to add an extra element of surprise to your proposal and make it truly unique!
The Classic Look
A popular diamond engagement ring style, the classic is a classic for a reason. A classic-style engagement ring contains a center diamond that is amplified with diamond details. Think rows of delicate accent diamonds or a lux three-stone band. The style is perfect for someone who wants to make a statement while showing off their commitment to their partner.
Diamond Halo Rings
People far and wide love halo diamond rings for their showstopping sparkle and splashy style. A halo-style engagement ring has a large center gemstone surrounded by smaller stones to create a halo effect.
The halo is one of the most popular engagement ring styles and can be very versatile. You can find halo engagement rings with one halo, two, or even three. Plus, the halo itself can also be made up of different components to add dimension and interest to your engagement ring.
Solitaire
Solitaire engagement rings are a style of engagement ring in which the center stone is set alone, without any additional diamonds or gemstones. This style of engagement ring is often considered to be the most classic and elegant of all engagement ring styles. It goes with every diamond shape and color possible.
Decide What Type of Metal Your Partner Would Choose for the Engagement Ring
One of the final decisions you will face when buying an engagement ring is what type of metal you want the ring to feature. Clean Origin offers a stunning selection of gold and platinum rings that bring attention to the diamond and accentuate the features of your wedding rings.
Gold
Gold is the most common precious metal for engagement rings. There are three types of gold that Clean Origin offers: yellow gold, white gold, and rose gold.
Yellow Gold
Yellow gold is a type of gold that has a bright yellow color. It's also known as "gold-colored," or "yellow-colored." It's often alloyed with other metals, such as copper or silver, to create a deeper yellow color. Yellow gold is the most popular variety of gold today.
White Gold
White gold is a precious metal made of gold and nickel to create a durable and long-lasting gold alloy that mimics the shimmering sheen of platinum but at a lower cost. It makes the perfect engagement ring to choose for someone looking to add an extra element of luxury to their diamond ring.
Rose Gold
A rose gold ring is a piece of jewelry made from gold that has been combined with copper and other metals to develop a pinkish color that varies from light pink to dusty copper. Although frequently considered a modern metal, rose gold actually was popular first in the 1920s. Today, a rose gold ring is seen as a romantic and whimsical testament of love.
Platinum
Platinum is an extremely rare metal that is much more expensive than gold or silver. Because it has a higher melting point, it's harder to work with than other metals.
Because of this, platinum rings tend to be more durable and longer-lasting than other types of jewelry. They're also hypoallergenic and won't tarnish over time. Like white gold, a platinum ring is silver in color and is a wonderful option for brides looking to lux up their look.
Choose Your Perfect Engagement Ring at Clean Origin
At Clean Origin, we know that finding the perfect engagement ring is a big deal. And we want to help you make it happen.
We love working with our customers to find exactly what they're looking for while ring shopping. From offering beautiful options in every style, buying an engagement ring has never been easier. Plus, with our 100-day return policy, complimentary ring resizing, and free shipping you can rest easy knowing that even if there is a snag while trying to get the perfect ring, we'll have your back.