Your diamond engagement ring is one of your most cherished possessions – a glimmering symbol of the love and commitment between you and your partner. This special piece of jewelry deserves proper care and maintenance, so it retains its beauty and meaning for many anniversaries to come. In this blog post, we'll provide engagement ring care tips for cleaning, storing, insuring, and maintaining your precious ring to preserve its brilliance. You'll learn best practices for professional inspections, at-home cleaning methods, safe storage techniques, and how to protect your ring with the right insurance coverage. Follow these engagement ring care guidelines and treat this meaningful keepsake with the same devotion you have for one another. With some basic routine care, your ring will continue sparkling as a lasting emblem of your relationship.
Key Takeaways
Regular professional checkups and gentle at-home cleaning techniques are essential for preserving an engagement ring's brilliance.
Avoid activities that could cause damage, use rhodium plating to preserve white gold rings, and insure your investment with specialized jewelry insurance coverage.
Accurately measure the finger to determine the correct size of the ring, or consult a jeweler when considering resizing it.
Now that you know what to expect, let's dive into how you can keep your engagement ring in pristine condition while protecting the memories it represents.
Maintaining Your Engagement Ring's Brilliance
Few pieces of fine jewelry hold as much meaning as an engagement ring – it symbolizes the love and commitment you share with your partner. Preserving its beauty honors what it represents. For that reason, it's only right to treat your ring with the same devotion you have for one another, and its sparkle will reflect the enduring nature of your relationship.
Regular Professional Checkups
Having your ring professionally inspected by a jeweler at least twice a year is recommended. The jeweler will examine your ring for any structural issues, loose stones, or prongs and clean it thoroughly. This professional maintenance helps catch any problems early before they become big issues. The jeweler can also advise on any needed repairs or replating to keep your ring looking its best.
At-Home Cleaning Techniques
In between professional cleanings, you can maintain the shine yourself at home. Gently scrub the ring with a soft toothbrush and warm water mixed with mild soap or detergent. Rinse thoroughly and pat dry with a soft, lint-free cloth. Alternatively, use a paste of baking soda and water to lightly scrub the ring before rinsing. Avoid using harsh chemicals or abrasives that could damage the stones or metal.
Avoiding Damage from Chemicals and Activities
Take off your ring before doing housework, yardwork, exercising, swimming, or other activities that could expose it to chemicals or hard knocks. The less day-to-day wear and tear your ring endures, the longer it will retain its original beauty. Also, avoid contact with perfumes, lotions, hair products, and other chemicals that could have adverse effects over time.
With consistent professional care and simple at-home maintenance, your cherished engagement ring will stay as brilliant and sparkling as the love it represents.
Caring for Your Ring's Metal
Beyond the sparkle of the gemstone and other precious stones lies the foundation that holds it all together – the metal setting. Preserving the metal setting of your engagement ring is of great importance as it assists in sustaining its structural soundness and overall look.
Regardless of whether your ring is crafted from white gold, platinum, or yellow gold, appropriate care is vital for its longevity. Follow these tips specific to your ring's metal type to keep it in flawless condition.
White Gold
White gold rings are commonly plated with rhodium, a durable precious metal, to maintain their bright white color and protect against scratches. Over time, this plating can wear away, causing the ring to look yellowed or dull. Plan to have your white gold ring replated with rhodium every six months to a year based on your lifestyle and how often you wear it.
Yellow Gold
Yellow gold rings should be gently cleaned with mild detergent and soft cloths to prevent scratching. Avoid prolonged exposure to chlorine, bleach, or other chemicals that can cause discoloration. Seek professional polishing periodically to maintain the warm, radiant glow of yellow gold.
Rose Gold
Rose gold rings should be cleaned similarly to yellow and white gold using mild soap and water. Over time, the copper in rose gold can oxidize, causing fading of the rosy hue. Have your ring periodically re-dipped by a professional to restore the rich color.
Platinum
Platinum is naturally white and does not require plating. Clean platinum rings regularly with mild soap and water using a soft cloth. Avoid abrasives or harsh chemicals that could damage the surface. Have your ring professionally polished every few years to keep the metal pristine.
With proper care tailored to your ring's metal type, you can preserve its special sparkle and symbolism for years of marriage to come.
Protecting Your Diamond Ring Investment
An engagement ring represents far more than just a piece of jewelry – it's a meaningful investment and family heirloom. Safeguard your ring against damage or loss with proper insurance coverage and secure storage solutions.
Get the Right Insurance
Protect your investment by insuring your ring for replacement value. Work with a provider that specializes in jewelry insurance, and be sure to get an official appraisal of the ring. Ask questions to ensure you receive comprehensive coverage.
Use Secure Storage
Keep your ring safe in a designated storage space when not wearing it. Use the original ring box or invest in a jewelry box, ring dish, or safe. The goal is to avoid misplacing the ring and reduce its exposure to dirt or accidental damage.
Consider a Safety Deposit Box
For added security, rent a security deposit box to store the ring at your bank. This prevents theft and protects against disasters like fires. Just be sure to insure the ring even when it's in the deposit box.
Taking steps to properly insure and store your cherished engagement ring will give you peace of mind. You can relax knowing your valued investment is protected, whether stored at home or adorning your finger.
Ensuring the Perfect Fit
A properly fitted engagement ring is essential for keeping your beautiful engagement ring and wedding band secure, comfortable, and flawless. Follow these tips on sizing and resizing to get the ideal fit that protects your cherished ring.
Accurately Measure
Use a ring sizer or thread to accurately determine your ring size before purchasing an engagement ring. An improper fit could lead to damage or loss down the road.
Allow for Changes
Finger size can fluctuate over time. Have your ring professionally resized by a jeweler if needed for a comfortable, secure fit. Avoid DIY resizing, which could harm the structural integrity.
Examine Regularly
Check the fit during professional cleanings and inspections. Look for gaps, slipping, or other signs that the sizing needs adjustment. A jeweler can stretch or compress the band for a custom fit.
Choose the Right Diamond Shape
The shape of your engagement ring's center stone also affects the fit. Elongated shapes like ovals and marquises may require more resizing over time than round or princess cuts.
Care During Resizing
Consult an experienced jeweler to minimize risks when resizing. Certain stones and metals require special care during adjustments to prevent damage.
By regularly checking the fit and resizing only when necessary, you can securely cherish your engagement ring for years.
TL;DR
Proper care and maintenance of your engagement ring are essential to preserve its beauty, durability, and sentimental value. From regular professional checkups and at-home cleaning techniques to insurance, storage, and proper sizing, these tips will help you cherish your ring for a lifetime. Remember, your engagement ring is a symbol of love and commitment – treat it with the care it deserves so that it remains a radiant reminder of the special bond shared between you and your partner.
Find Your Dream Engagement Ring at Clean Origin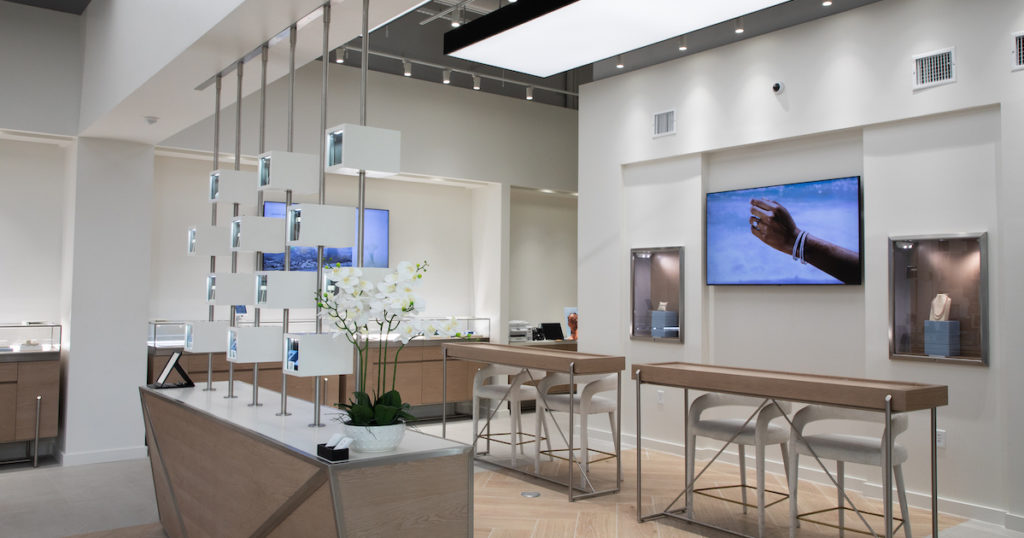 Skip the crowded mall jewelers and browse our stunning selection of engagement rings and other wedding jewelry online from the comfort of your home. We provide comprehensive education every step of the way so you can shop with confidence. Our diamond experts are always ready to answer questions and provide guidance via virtual appointments. If you would rather browse our lab-grown diamond jewelry selection in person, visit us at a nearby store!