Before you can pop the big question, you have to find an engagement ring that reflects your personal tastes and values. The thing is there are many different types of engagement rings. With all of the different ring styles to choose from, you may not know where to start. If you understand the GIA terminology associated with engagement ring styles, you can have a more enjoyable experience and an easier time finding what you are looking for.
Clean Origin has many different types of engagement rings in a wide variety of styles to meet any preference. From ornate yellow gold bands with a brilliant cut center diamond to a simpler solitaire ring, we have modern engagement rings for any taste or occasion. Learn more about some of the most popular engagement ring styles and shop examples from our collection.
Common Engagement Ring Styles
While setting refers to the technical elements of an engagement ring — often how the stone is mounted — style is a more generalized way of categorizing engagement ring aesthetic. Whether you would describe your style as more modern, classic, or vintage, you have many options to choose from. Check out some of the different types of engagement rings below to determine which one best suits your tastes.
Solitaire Engagement Ring
A solitaire engagement ring may be simple, but it's a classic engagement ring setting. Featuring a single diamond center stone mounted with either a prong or claw setting, the solitaire is ideal for brides that want more of an understated sparkle to their center diamond setting. The simplicity of a single stone and an unadorned band results in a perfect diamond engagement ring that provides an elegant and timeless look.
However, this simple engagement ring style does not mean a boring ring; you can choose either a gold, white gold or rose gold band based on your preferences. Solitaire engagement ring styles are also suitable for nearly every shape of diamond, so you can still find something that speaks to you. Shop our collection of beautiful solitaire engagement rings.
Halo Engagement Ring
If you are looking for something with a little more sparkle, a halo engagement ring is one of the most popular engagement ring types. It is characterized by a row of smaller stones that create a border around the center stone to maximize the visual impact. In fact, the smaller halo of stones reflects more light onto the center stone, which makes it appear larger.
One of the great things about halo rings is that you can customize the smaller stones to add a pop of color that contrasts nicely with the main diamond. Shop halo engagement rings that have the perfect amount of sparkle.
Vintage Engagement Ring
A vintage-inspired engagement ring is a great way to blend the past and the future for an elegant look. Whether you are interested in an Art Deco style or something more romantic retro, Clean Origin can help you find a unique setting and style that matches your preferences. We specialize in the delicate details that make vintage rings stand out. Shop vintage engagement rings for something that honors the past.
Three Stone Engagement Ring
This particular style is often regarded as one of the most romantic for the meaning associated with the trio of stones. The gems are said to represent the past, present, and future of your love, making them an especially meaningful choice. A three-stone engagement ring is also one of the most versatile engagement ring styles; choose from either three stones of equal size, one large center stone flanked by two smaller ones, a color gem in the center of diamonds, or any other combination you can think of. Clean Origin has it all, so shop our three-stone engagement rings today.
Pavé Engagement Ring
Engagement rings that feature a pavé setting are distinguished by rows of tiny diamonds embedded into the band. This style offers a little extra sparkle while maintaining a dainty look. The name has origins in the French word meaning "paved" because the small stones make the band look like it's paved with diamonds leading to the center stone.
If you want to enhance a simple ring setting, pavé will catch more light. You can also replace some of the diamonds along the band with the birthstones of your partner or your children for an added personal touch. Shop pavé engagement rings to see if this style suits your taste.
Cathedral Engagement Ring
If you tend to be always on the move and want a style that will keep your diamond protected, the cathedral style is a great choice. The shank and shoulders of the band curve up to support the diamond, and these curves mimic the arches of cathedrals and give this ring setting its name. The added height and protection from the cathedral setting make this a convenient and elegant ring. Shop our cathedral engagement rings for a sophisticated choice.
Bezel Ring Setting
A bezel ring setting is one of the most secure engagement ring styles. It is designed to protect the diamond from being scratched or falling out. The bezel setting refers to a metal border around the stone that secures it in place and protects the edges. However, this same border means less light can reflect off the diamond. This will make it appear a bit smaller than other types of engagement rings. If you think this style is right for you, shop bezel engagement rings from Clean Origin.
Channel Engagement Ring Setting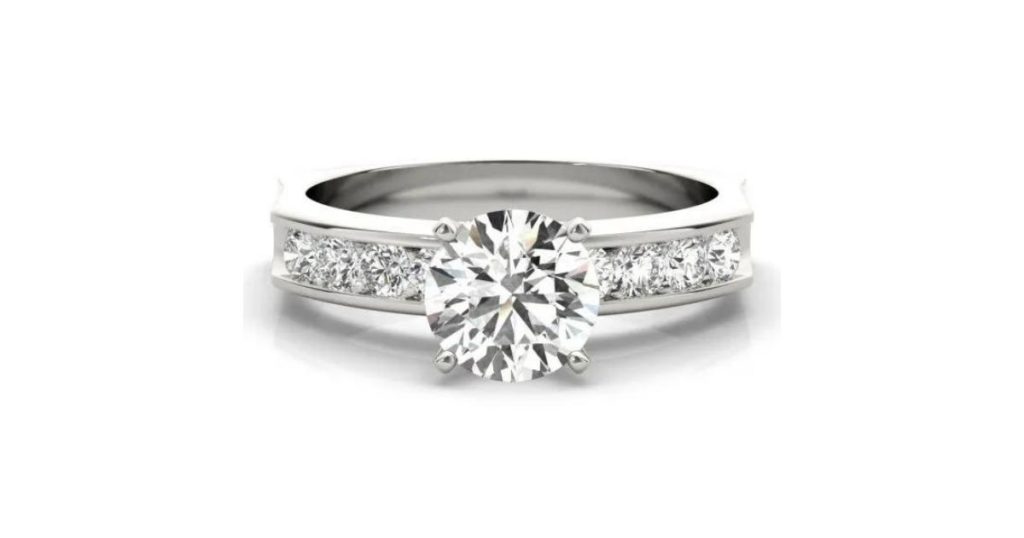 A channel setting is similar to a pavé engagement ring. Both have a row of smaller diamonds along the band. These smaller diamonds draw the eye to the center stone. Unlike a pavé setting where each stone is set into the band individually, a channel setting has a small groove in the band into which the diamonds are placed. This style is durable and stylish, as the stones are very secure in the channel. Shop channel setting engagement rings.
Color Accent Engagement Rings
For something that is a bit more personal, consider a pop of color as an accent for your engagement ring. Whether in a halo, as side stones in a three-stone ring, or set into the band, color gems can provide a more unique look and a personal feel. Shop color accent engagement rings that show off your personality.
Classic Engagement Rings
Although classic style does not refer to a single type of ring setting, there are a few particular styles that transcend the trends and provide a timeless appeal. From solitaire to three-stone rings, you can find an engagement ring that matches your tastes. Shop classic engagement ring styles here.
Your Ideal Engagement Ring Is Waiting
At Clean Origin, we want to help you find the perfect engagement ring, no matter which style you prefer. With options like vintage-inspired designs and classic or modern diamond shapes, you are sure to find your ideal ring.
Shop all of our engagement rings to discover just what you are looking for.