When planning a wedding, one of the first things to come up is wedding themes. Your choice of wedding theme will help you plan something cohesive that you love. Your theme can dictate your wedding décor, wedding dress style, and even color palette. You draw inspiration from most of what you are speaking to when you choose a wedding theme.
There are so many wedding themes out there now. It can be hard to choose just one; therefore, we put together a short list of themes as well as some tips for you.
The History of Wedding Themes
Although it seems like wedding themes have been around since the beginning of time, that isn't the case. In fact, it wasn't until after World War II that the concept of wedding themes really took off. Before then, most people had simple weddings with little to no decorations or special touches. They were simply a way for two people to get married.
However, as our society began to become more and more consumer-driven, we started seeing more elaborate weddings popping up everywhere. And as they got more elaborate, so did our expectations of them! A lot of this has to do with how much influence our media has on us: movies, TV shows, and magazines are all filled with images of beautiful brides looking stunning in their elaborate wedding dresses, surrounded by flowers and candles galore. It's no wonder that many people now expect their weddings to be just as spectacular.
How to Come Up With Different Wedding Themes
There are many wedding themes to choose from that already exist. But if you're having trouble thinking of them or want some unique wedding theme ideas, we have tips for you!
Just a Few Things…
We recommend deciding on something small first, like the color palette or whether you want fresh flowers. Once you know what details you might enjoy, use them to research top wedding themes. Whether you get inspiration for your wedding décor or the perfect wedding cake out of your research, you'll feel like your wedding theme is starting to come together.
Combining Styles of Wedding Themes
Another way to start deciding on a theme is to talk with your partner about wedding styles. What wedding colors do they like? Do you have ideas for colors, wedding décor, or floral arrangements in common when you picture your dream wedding? If both you and your partner have different dream wedding themes, focus on what you have in common. Your commonality will make a great focal point for deciding on the best wedding theme for you both. The perfect wedding theme is one you both love, so take the time to think over the details with your partner.
Checking In With the Wedding Industry
If you're stumped for wedding themes and can't seem to decide or start your planning, don't panic. You can always leverage the wedding industry, either by seeing what the popular themed wedding ideas are today in a magazine and whether you like them or by hiring a wedding planner. Many people rely on a wedding planner to help them manage their wedding planning process, from wedding budget to wedding decor to wedding reception and wedding dress. As wedding planners are the best of the best, they maintain a cutting-edge awareness of the trendiest wedding themes today and can help you decide which theme is best for you. Don't be afraid to ask for help so that your wedding style is perfect and effortless. This way, you can focus on the fun decisions and kick the hard stuff to the curb.
Simple Wedding Themes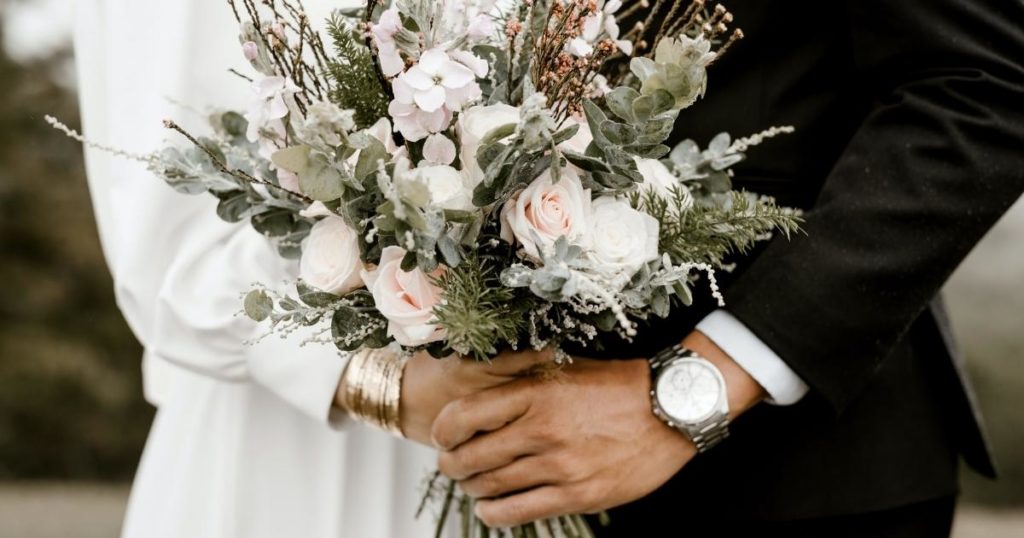 These weddings are anything but boring. They are often just the most popular wedding themes of the past, done so often and so well that now they are easier to plan and lovely to attend. While unique wedding themes can be fun, sometimes all we want out of a wedding is a beautiful celebration of love, with a chocolate wedding cake at the end.
Timeless Wedding Theme
When you think of timeless wedding themes, you likely think of a classic wedding. A classic wedding consists of traditional decor, timeless suits and wedding dress, traditional wedding ceremony, and lovely wedding reception. A classic wedding theme is all about the details and requires a light touch. Book a local chapel for the wedding, and focus on keeping your classic wedding style simple. Too much glam will overshadow the delicate grace of a traditional wedding.
Romantic Wedding Theme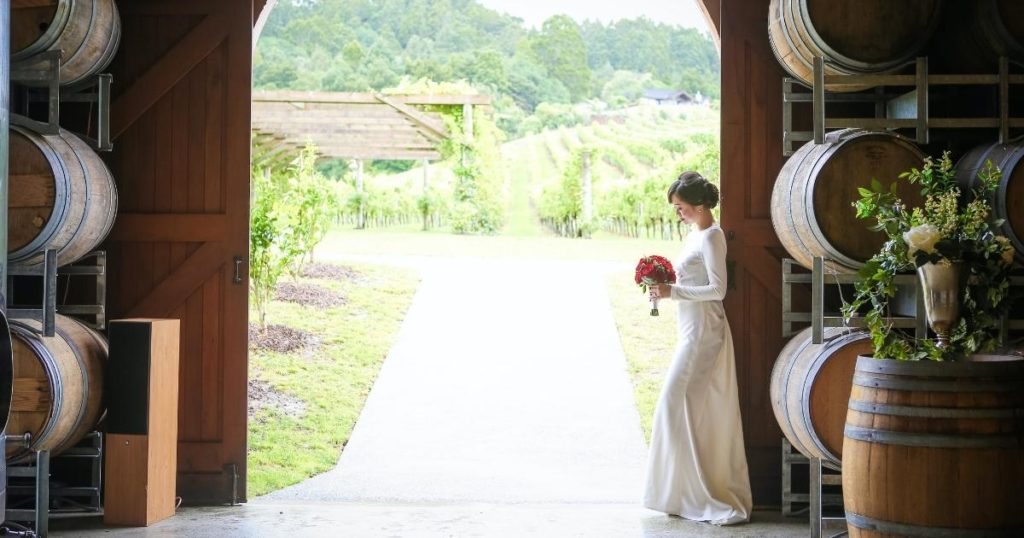 A romantic wedding theme is a balance of a few things during the ceremony and reception. Wedding theme ideas like this can take a few forms but rely on self-written vows, a romantic first dance, and soft, sweet details. A romantic wedding theme focuses on putting the best moments of the newly married couple at the forefront. Hence, a photo wall or best moment slide show are adorable additions to these weddings! Wedding planning for a romantic theme is easy to do. You choose what reminds you of your love, from wedding invitations to reception decor.
Beach Wedding Theme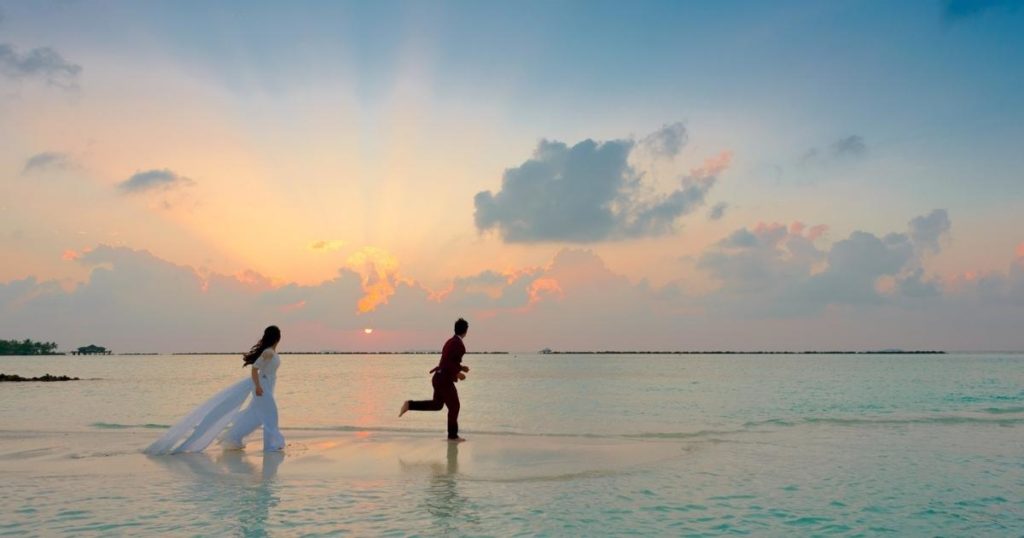 A beach wedding theme is considered simple. This is because your wedding is sure to be gorgeous with just some sand, water, and sun! Wedding themes that rely on picture-perfect locales are a fantastic way to lower ceremony and reception decoration costs.
Make sure your bridal party has bridesmaid dresses that won't get sand muddied. Also, make sure their heels won't sink into the ground for this wedding style! This is a great summer wedding theme and works for an outdoor, spring wedding, or, if you don't live by the beach, a destination wedding. Just make sure it's warm enough for a beach day and that your wedding invitations ask for beach-appropriate footwear.
Creative Wedding Themes
Some people want their wedding to stand out the most, so they go for a fun wedding theme with creative elements. You may want to consider a funky-themed wedding. Others want to find a way to incorporate a must-have detail into their wedding and find the perfect wedding theme to go with it!
Vintage Wedding Theme
A vintage wedding theme can be marvelous! To do this one, you'll have to decide what kind of vintage wedding theme interests you. When you say vintage wedding theme do you mean an art deco wedding theme? Perhaps a royal wedding theme? The details here will matter, so pick the time you're inspired by for your vintage wedding first, and then start planning the details.
Many people love this wedding theme because they can use pictures of a beloved family member's wedding day to inspire them. Whether you choose a classic vintage theme, vintage wedding day inspiration, or simply want to have vintage floral arrangements, if this style pulls you, you are in for a treat!
Alternative Theme Wedding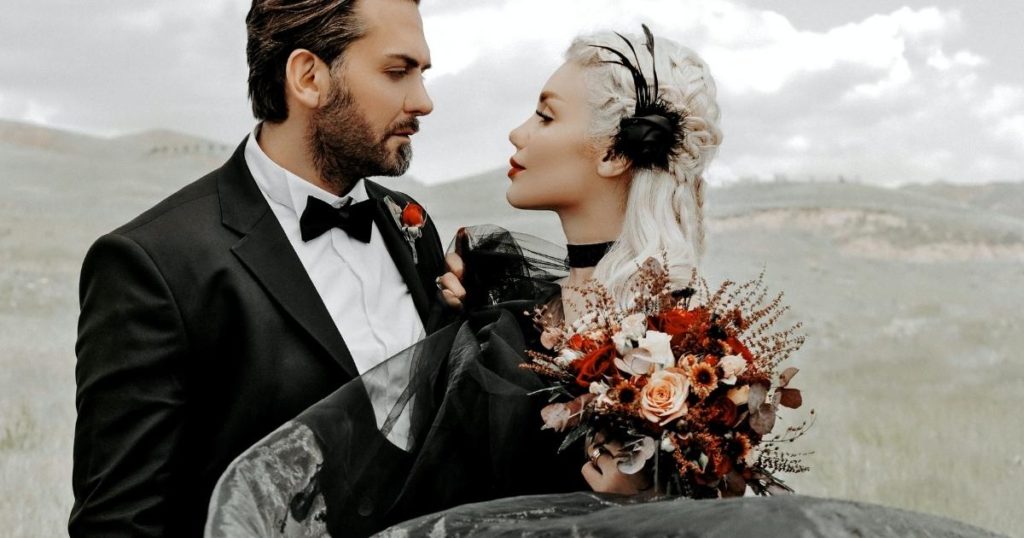 An alternative wedding theme is excellent for those looking to break out of tradition on their wedding day. Maybe you want to wear a black dress. You could have a rock n' roll band playing while you walk down the aisle. Or have your entire wedding lit by candles and fairy lights with black velvet trimmings. If you want to incorporate some punk, grunge, or emo aspects into your big day, this is the way to do it.
Our favorite tip for these types of wedding themes is to reflect the style in your dress code. You may ask your guests to attend in their best alternative outfit rather than traditional black tie wedding attire. If you plan for a fun ceremony backdrop, you can later use it to get pictures with all your loved ones in their fabulous outfits! Perhaps you will even convince grandma to rock a mohawk!
Popular Wedding Themes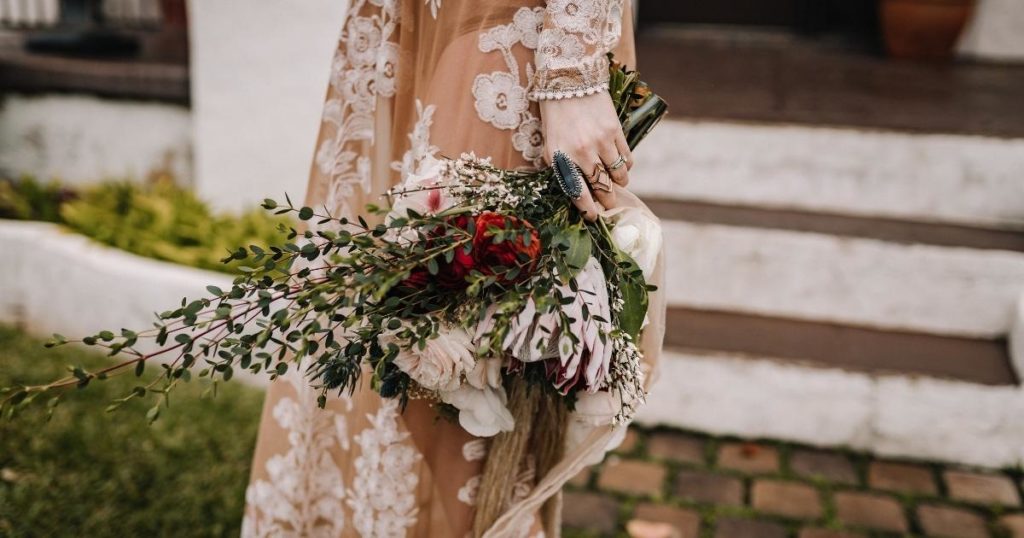 Some people are not looking for wedding themes that reflect their personal style. Instead, they are looking for wedding themes that have the pieces necessary for a fun party or for creating that classic romance. Popular wedding themes are great for this, as they can be more accessible for planning and guarantee everyone has a great time.
Rustic Wedding Theme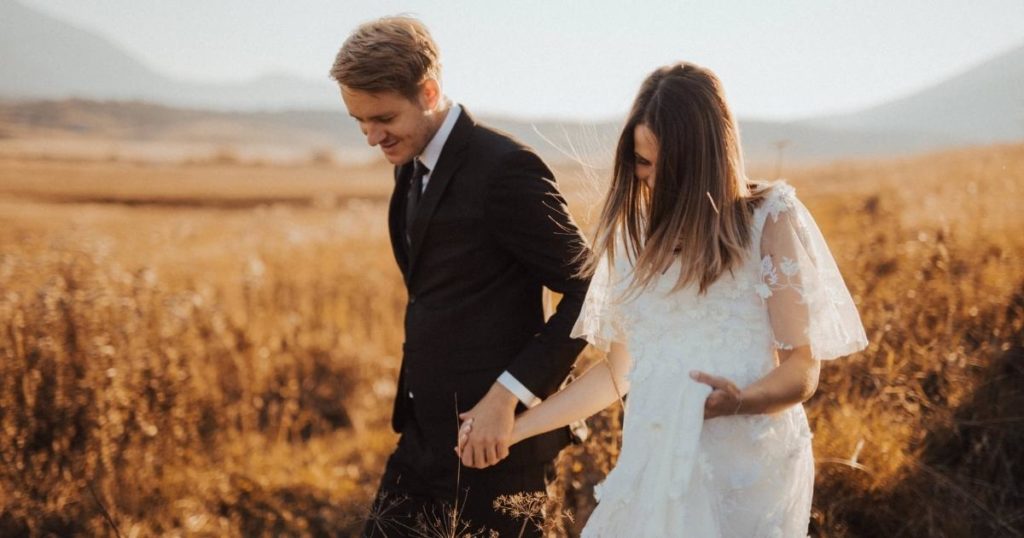 A rustic wedding theme is a great way to have a more casual, fun wedding. You accomplish this without doing away with all the fun decorations or themed pieces. You can even wear cowboy boots down the aisle with this wedding theme!
On your wedding day, themes like this tend to be reflected in an outdoor wedding venue. You may add other southern charm decor pieces like handwoven rope, picnic tables for the reception, and mason jar lighting.
A rustic theme is a great way to have your wedding feel warm. It's also a wedding theme people love because a rustic wedding has room for sweet tradition and modern joy. With a rustic wedding theme, your farm dog can take your rings down the aisle. You can square dance the night away and serve charcuterie as your appetizer! Never underestimate the power of a rustic wedding theme.
Modern Wedding Theme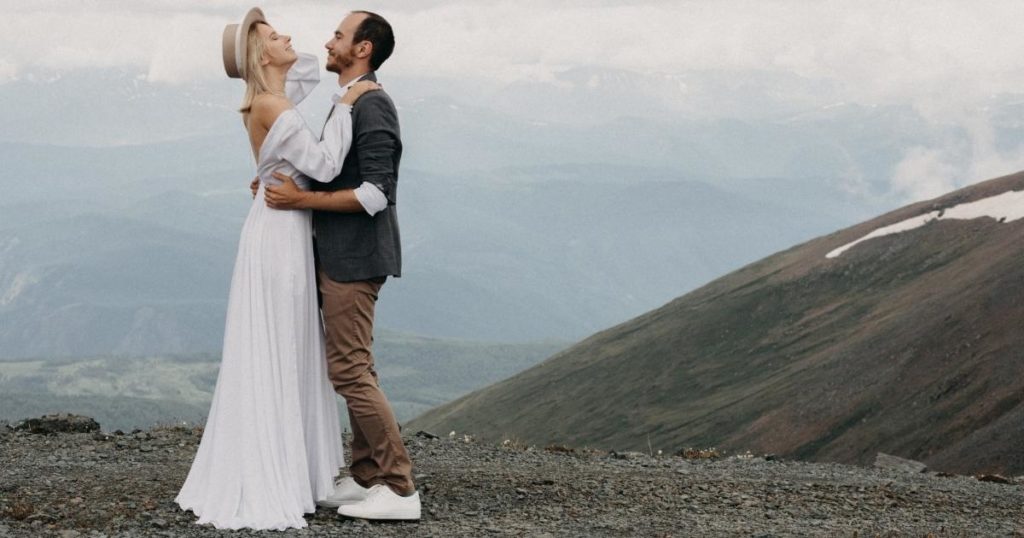 A modern wedding is one that is themed wedding based around eschewing tradition. Your dress could be knee-length. You may do away with a formal reception and instead take everyone dancing after your wedding day. You can absolutely write your own vows.
Modern wedding themes can be influenced by geometric shapes and modern architecture, but they can also be based on forgoing tradition so you can have more room for what you and your partner love.
A modern wedding can include the same color but different design bridesmaid dresses, getting married in a botanical garden, and even a coffee reception.
A fun trick is to bring in a coffee bar for your morning wedding so that people can get perfect lattes and cappuccinos on your modern wedding day. A modern themed wedding also means you can give out some nontraditional keepsakes, like an engraved bottle of flavored simple syrup, so your guests' coffee tastes like your wedding day for a few weeks to come.
Glamorous Theme Wedding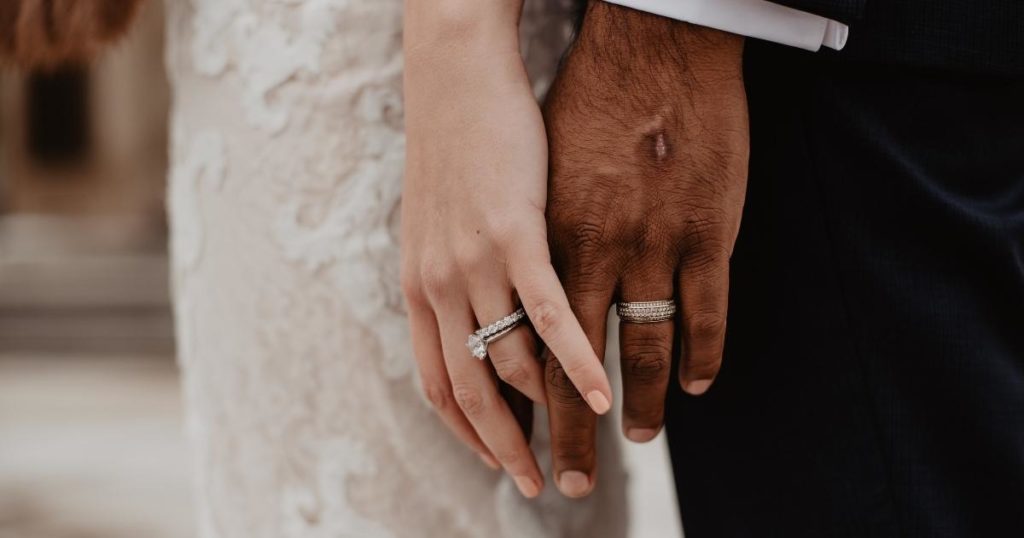 A glamorous wedding theme is not to be taken lightly. Wedding themes like this are tall orders to plan but come out fantastic when completed.
The key is controlled maximalism. Take inspiration from the Met, the Louvre, and old Hollywood with this wedding theme. Crystal chandeliers, red roses, and white tablecloths will all need to appear, and the dress code can be black tie or even the elusive white tie.
Wedding themes like this require exquisite planning so they don't stray into tacky, so don't be afraid to solicit opinions and even bring on a trained planner to help!
While this wedding theme can be hard to wrangle, the results are stunning, which is why many people choose to do it. Keep in mind the effort your wedding themes will ask of you, and you'll find the right fit!
When it Comes to Your Wedding Theme, Stay True to You
Despite there being an incredible amount of wedding themes to choose from, as long as you pay attention to what you and your partner want you really can't lose. In fact, at the end of the day, the love that you have for one another is, above all, the most important theme of the day.