What Makes a Wedding Ring Vintage?
If you're a bride (or a groom!) looking into engagement ring styles, you've probably seen the "Vintage" category on every website. You may have found various vintage wedding rings in the jewelry case in your town.
Vintage rings are one of the most popular searches in the engagement ring world. However, the terminology can get confusing. Let me explain.
Technically, the word "vintage" is supposed to mean 50 to 100 years old.
I can guarantee you most online stores haven't had those vintage wedding rings in stock for that long. "Vintage rings" are interchangeable with "antique rings" in conversation, but let me make a distinction.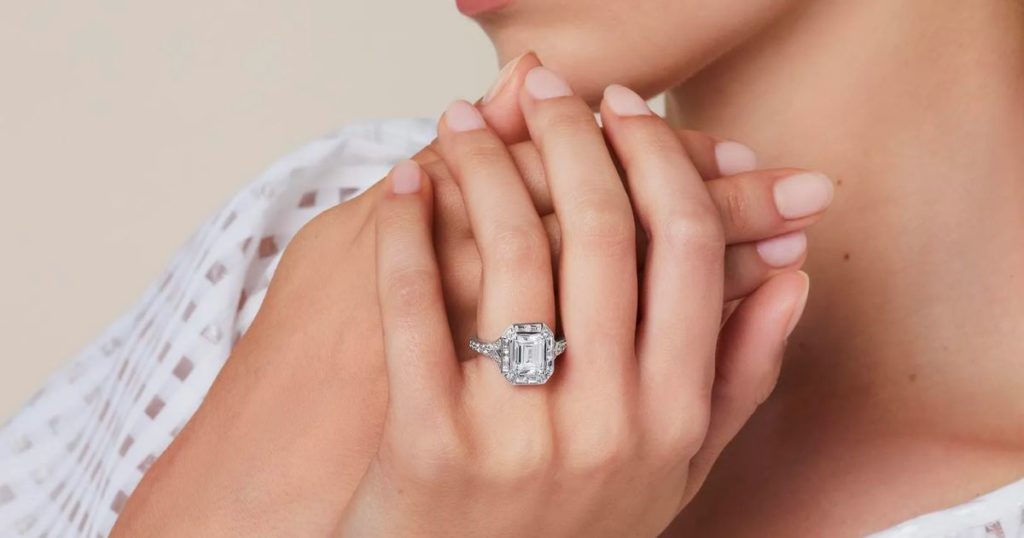 Vintage Engagement Rings vs Antique Diamond Engagement Rings
Most engagement rings that have been around for over 100 years are heirloom engagement rings or antique engagement rings. The ring metal or the diamonds could be that old.
You won't find antique engagement rings at any modern jewelry stores. You can find antique rings at estate sales, pawnshops, and thrift stores. If you're lucky, you might inherit an antique ring.
An authentic antique or vintage engagement ring would be an engagement ring created during one of the six significant jewelry periods.
So if antique diamond engagement rings refer to heirloom pieces, antique estate jewelry, or pieces from a particular era, then what are the vintage wedding rings we see today?
Even though the term is way overused in jewelry, you can best conclude that vintage engagement rings and wedding rings engagement ring styles are modeled after jewelry from a specific period.
Some vintage engagement rings take elements from the vintage style and apply them to modern engagement rings. An engagement ring can have vintage details but still follow modern-day ring trends.
An Authentic Vintage Engagement Ring is Hard to Find
Real antique and vintage engagement rings can be hard to unearth. These beauties are both expensive and highly delicate. In our minds, the perfect vintage engagement ring would be kept pristine since its creation and be something we'd treasure and wear every day of our marriage.
But with authentic vintage engagement rings, this isn't plausible. You'll be more likely to find vintage engagement rings from the more recent eras, like the Retro or the Art deco period.
You won't want to wear them every day if you get your hands on one. Many jewelers won't work on pieces like this for fear of ruining them. You'll have to take precautions.
A genuine antique or vintage ring created in one of these periods isn't great for everyday wedding rings. That doesn't mean you can't craft your dream ring today.
Vintage Ring Styles
Georgian Era 1714-1837
The Georgian era took place between the years 1714 and 1837. At this time, diamond engagement rings and wedding rings were the most popular. Big and ornamental was the style in this area. Necklaces, stone rings, brooches, and cameos were staple pieces. One of the biggest focuses in Georgian jewelry was the ring setting.
Goldsmiths were highly skilled at this time. The craftsmanship was exquisite in vintage jewelry. Everything was handmade and took a lot of time. The majority of rings were in 18K yellow gold or silver. Other metals used in this area for jewelry include iron, steel, and pinchbeck.
Antique Halo Ring
The diamond shapes popular in Georgian vintage engagement rings were the Old mine cut, rose cut, table cut, briolette, and cabochon. Today, your princess cut and round brilliant cut will be the closest to an old mine and table-cut.
Dorothy Ring
Popular motifs used in the Georgian style were foliage, flowers, ribbons, leaves, and other finite details only achievable by hand. Bold and symmetrical Baroque designs headed up the beginning of this period. It ended with the asymmetry of Rococo-style engagement rings.
Victorian Era 1835-1900
The Victorian era of vintage wedding rings was broad. It incorporated many styles throughout the period. Unlike many other eras, colored gemstones weren't so big in this one. Instead, diamonds were an ideal option for an engagement ring or wedding ring.
If you were to look at a collection of Victorian vintage wedding rings, you'd find the earliest solitaire-style rings were popular. It also was the first time bypass engagement rings came into the industry. You might find them also called tension settings today.
Bloom Solitaire
Diamond engagement rings during the Victorian vintage era featured many different shapes at the center. Round brilliants stones weren't cut yet, so vintage cuts were all the rage. Old mine cuts, European cuts, rose cuts, and emerald cuts were the focus. Popular Victorian motifs were animals, mainly birds, and snakes. Additional motifs included ribbons, hearts, and marquise shapes in the metal.
Lattice Vintage Ring
Yellow gold and rose gold were the dominant metals for these engagement rings. You'd see lots of sparkle in these settings, such as rows of accent diamonds, halos, and diamond clusters.
Art Nouveau Era 1895-1910
The Art Nouveau period is interesting because it occurred during the tail end of the Victorian era and the beginning of the Edwardian era. It was the smallest of the six notable jewelry periods.
As the name might indicate, Art Nouveau jewelry came out in France. Vintage wedding rings during this period were gorgeous, but many people thought they were gaudy. They served as another choice for the very delicate vintage wedding rings of the Edwardian era.
Sienna Ring
Edwardian jewelry was very feminine. France was dealing with societal issues surrounding women and women's rights. Feminine images, both beautiful and seducing, were used in this jewelry. It wasn't for objectification but for celebration. It shocked many.
Pela Vintage Ring
Flowers and nature-inspired designs were also popular alongside curvy and flowing lines. Colored stones were the main focus, with diamonds as accent stones.
The materials used in the craftsmanship of vintage rings didn't matter as much. The design of this jewelry collection was more about the design than its materials.
Edwardian Era 1900-1920
If you're into delicate and intricate designs on your engagement ring, the Edwardian era might have the vintage diamond engagement rings you've been looking for. Most of these vintage rings came in platinum, rather than yellow gold.
Edwardian vintage wedding rings are admired for their light and flowy designs. Filigree detailing was very popular during this time. Ring designers would take malleable pieces of thin metal to make details that would be soldered onto the engagement ring. Most often, small milgrain beads would accompany it.
Milano Ring
Vines, scrollwork, wisps, and floral motifs are the key elements of Edwardian vintage-style rings. Colored gems were more popular for center stones during this era, but diamonds were still around.
Luisant Ring
The most popular center stone shape in this period was the round. The rose cut, old mine cut, and old European cuts were the antique diamonds of this area.
Art Deco Era 1920-1940
Art deco engagement rings are a favorite era of most vintage ring searchers today. It's the most widely known era, probably because it's the most recent. Art deco engagement rings did away with the delicacy of foliage and filigree and replaced them with bold, symmetrical styles.
Estelle Ring
An Art deco vintage engagement ring is known for its sharp angles and repetition in its craftsmanship. Milgrain was introduced in this period. This involves placing tiny beads of metal side by side, usually outlining the edges of the setting, or creating details around the center stone.
Halo settings were a big part of this era, especially in bold shapes like hexagons and octagons. Most rings were set on the same level as their bands, unlike cathedral settings and other high-profile settings we see today.
Emerald and Asscher cut diamonds and colored stones entered the scene during this period. While round shapes had been popular, the angles of these diamond cuts fit perfectly into the Art deco style.
Deco Ring
The use of more expensive stones in Art deco rings decreased due to the Great Depression. People couldn't afford the center stone they wanted. Instead, they opted for less expensive ones like amethyst and garnet.
Retro Era 1940-1960
The Retro Era was the end of big and bold engagement ring designs. This period ran from 1940 to 1960. After diamonds were cut with precision and the 4Cs were established, engagement rings had diamonds instead of colored gemstones.
A vintage engagement ring from the Retro era was minimalist, much like the classic solitaire styles you see today. It was common to see a vintage-style solitaire in a bezel setting. Some wedding rings had accent stones on either side of the ring.
Birdie Ring
Platinum jewelry was banned during the war, so yellow gold and rose gold were favorites of this period. Two-toned gold was also popular with the Retro vintage style. The use of white gold began during this too.
A round brilliant was the most popular center stone shape for wedding rings at this time and remains so today. It was the first and only shape with unparalleled brilliance and exact symmetry.
Celia Ring
Gem cutters used a few of the same techniques from the Old mine cut to create a round brilliant cut.
Pros & Cons of Vintage Wedding Rings
There's no argument: vintage wedding rings are gorgeous and a favorite of most ring searchers today. That doesn't mean they don't come without their flaws. And I'm not talking about diamond inclusions either.
But first off, let's highlight the benefits of owning vintage rings.
Pro: History and art were the core inspiration for vintage styles, which many find romantic.
Pro: Vintage wedding rings today allow you to choose a metal you might not have been available for an antique ring in that period.
For example, maybe you love a style from before white gold began. Vintage-style wedding rings can grant your wish.
Pro: You can still choose a vintage ring style with any shape, like a cushion cut or a round brilliant- neither of which was invented during the early period.
Pro: Today, vintage wedding rings are more high quality and durable than they were during each jewelry period
Con: Because of how intricate the designs of vintage styles can be, they can be a pain to clean. With vines, crevices, and outlined shapes, it creates plenty of places for dirt and lotion buildup.
Con: On average, vintage rings are more expensive than minimalist-style rings because of their intricacies and many stones.
Conclusion
Each vintage period above was significant for the jewelry industry. It might be hard to find an authentic antique engagement ring from an era today. Luckily, you can find inspired vintage-style rings online.
Not every vintage ring you come across will come from one period. Some vintage engagement ring styles incorporate elements from more than one. You can also see vintage detailing like milgrain and filigree used in modern settings.
That's an ode to some who might find their tastes torn between two periods. You don't have to choose this way.
There are a lot of benefits to owning a vintage engagement ring today. They are excellent to wear as everyday jewelry because they are resilient and of better quality than antique rings.
As for the drawbacks, they don't seem to be stopping their popularity. Besides, you'd rather pay more money (that you can still afford) for a ring you love rather than simply like it, wouldn't you?
Here's one last tip. Maybe you love the look of a sparkly vintage setting outside your budget. For some, this will happen.
Instead of buying a ring setting you only like, why not choose lab-grown diamonds and afford one you love? You can feel good purchasing conflict-free diamonds, but they can also be 20-40% less expensive than mined diamonds!