Diamond cluster earrings enhance the beauty of minimal studs or drop earrings. This style of diamond earrings incorporates a cluster of small diamonds instead of the typical single-stone design.
Origin of Diamond Earrings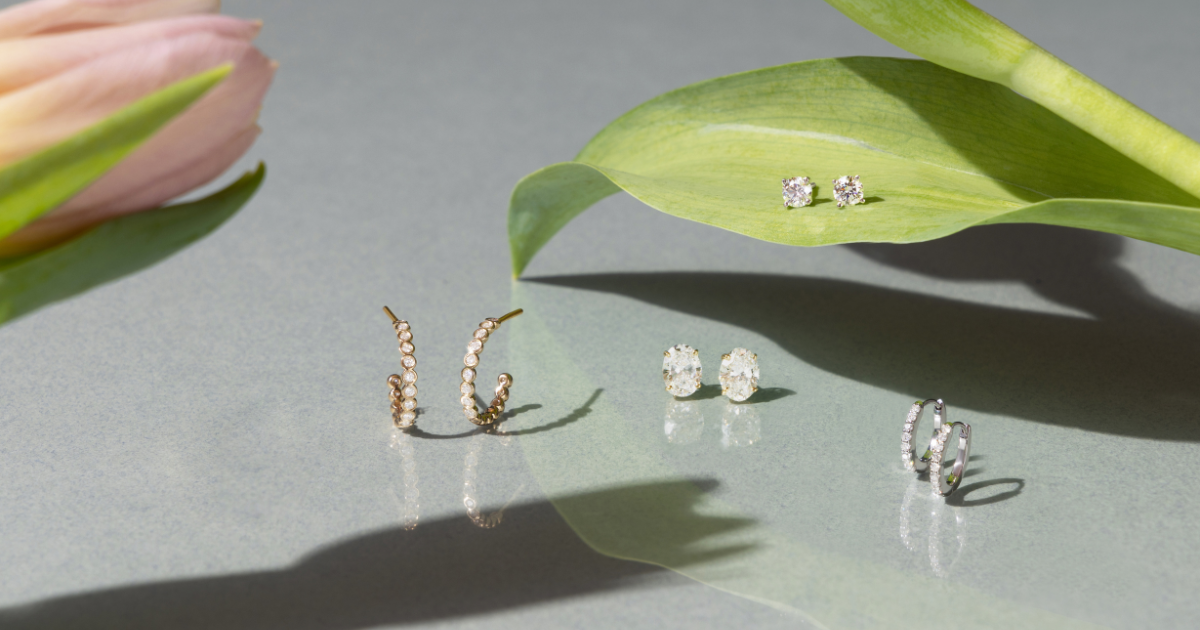 In ancient times, different cultures used jewelry to denote a person's identity and societal rank. Consequently, diamond earrings were historically only available to royals and wealthy individuals. Over time, accessories no longer have such strong associations with status but are now tools for self-expression for everyday and special occasions. Earrings we know today, particularly stud earrings, have been in style since the 1920s, and their evolution is everpresent.
Clean Origin's Diamond Cluster Earrings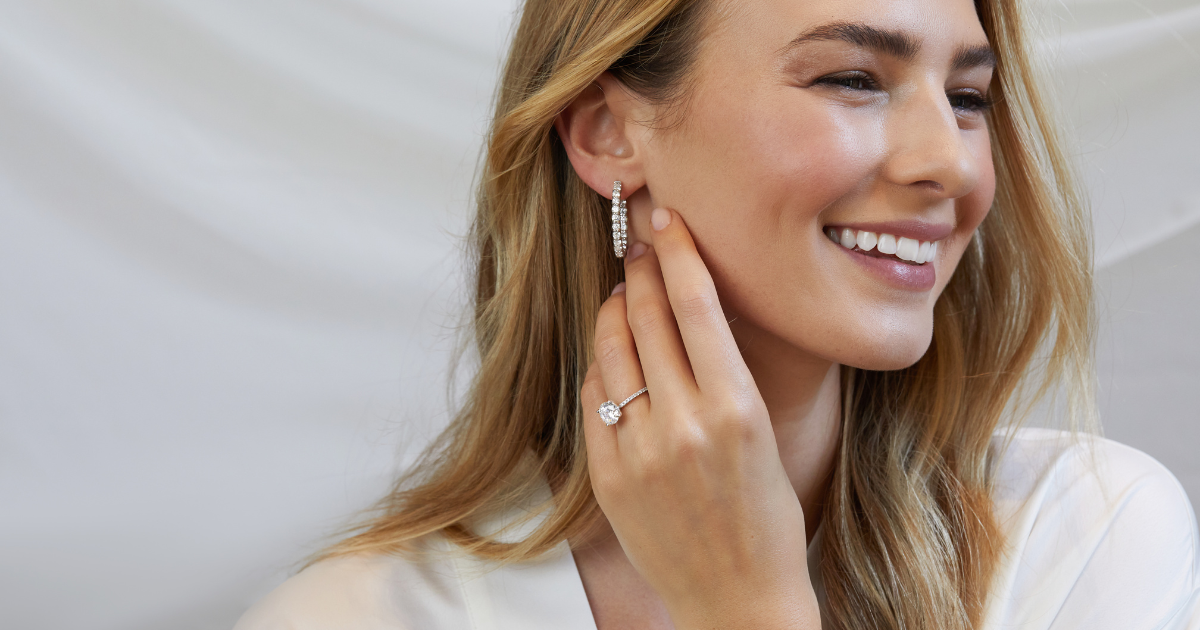 Our diamond earrings are made with care and a masterful design. We cultivate modern pieces with classic touches while also allowing you to choose a quality metal and carat weight tailored to your personal preferences.
Minimal Cluster Earrings
Enchanted Diamond Studs
Our Enchanted Diamond Studs include six total round shape lab grown diamonds in a triangle setting. Additionally, available metals for this style include 14k yellow gold and 14k white gold. Style this pair of earrings with the matching Enchanted Diamond Pendant.
Extravagant Cluster Earrings
Tinsley Petite Pave Dome Earring
The Tinsley Petite Pave Dome Earrings are stunning stud earrings with a combined 70 gorgeous lab created small diamonds. Each diamond is set with prongs and a plate available in various metals, specifically rose gold, yellow gold, and white gold. Pair these with a matching Tinsley Petite Pave Dome pendant and ring.
Constellation Diamond Stud Earrings
The Constellation Diamond Stud Earrings comprise a combined 14 exquisite small lab grown diamonds to create a gleaming diamond cluster worthy of its starry name. Find this pair in a variety of metals and carat weights that will fit your preferences– yellow gold, rose gold, and white gold.
Belle Rue Diamond Hoop Earrings
Undoubtedly, diamond cluster earrings do not have to be studs or drop earrings. In fact, diamond cluster designs exist in numerous jewelry categories. For example, here we have the Belle Rue Diamond Hoop Earrings with precious curved yellow gold metal embracing diamond set rows. This striking pair of hoop diamond earrings have a combined total of 48 dazzling stones.
Clean Origin's Halo Diamond Cluster Earrings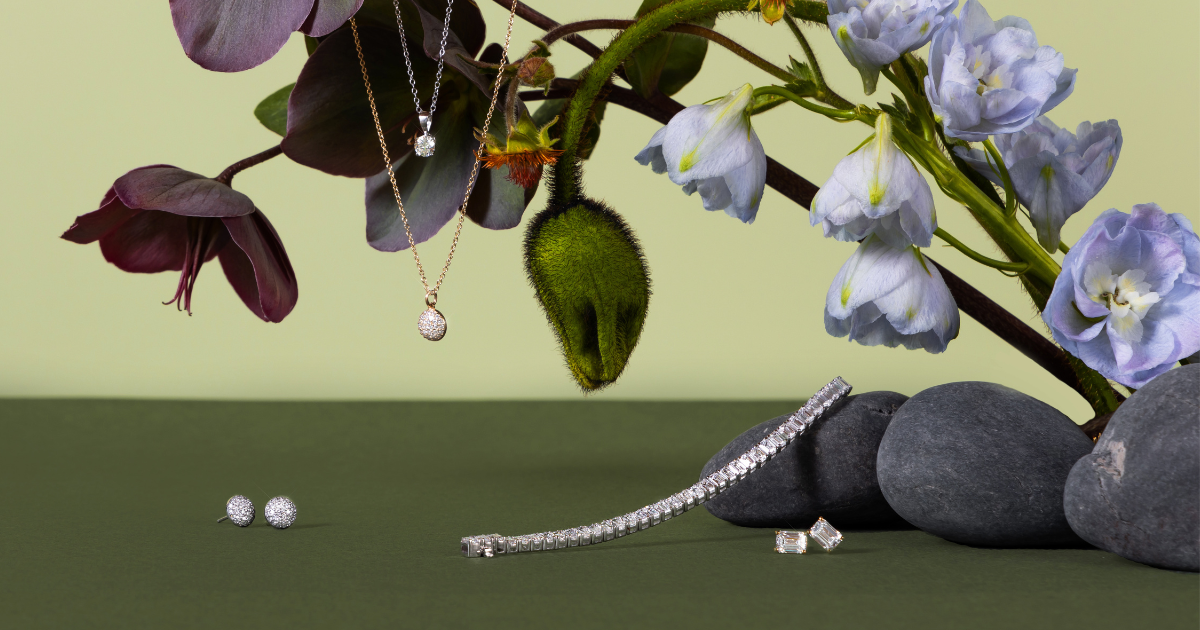 Arguably, halo studs are the original diamond cluster earrings. Their illustrious design incorporates a centerpiece surrounded by a "halo" of diamonds, generally fitting the definition of cluster diamonds. Access our outstanding collection of Halo-style cluster earrings and other accessories on our site or in-store.
Cluster Top Round Halo Studs
Each Cluster Top Round Halo Stud contains 18 small round-cut diamonds. This unique halo design isolates the halo from the multi-stone centerpiece. It is available in rose, yellow, and white gold.
Luminescent Halo Studs
The white gold Luminescent Halo Studs shown above are a classic version of the halo design. This pair of studs includes a gorgeous surrounding diamond cluster tightly hugging a round cut center stone.
Pear Halo Studs
Round-cut diamonds are not the only shape we offer! Shown above is a pair of white gold Pear Halo Stud earrings that offer a different gleam than the usual round-cut center stone.
All in all, each pair of diamond cluster earrings is designed to achieve different vibes and satisfy a plethora of jewelry preferences. Shop our site or come in-store to find your perfect pair of lab created diamond cluster earrings.