When it comes to popping the big question, a lot of marriage proposal ideas have either been overdone or are way too over the top. If you're looking for a unique, creative proposal idea that still has a personal touch and an element of surprise, you've come to the right place.
We're breaking down five different marriage proposal ideas that can each be personalized to your relationship and future fiance. Planning a marriage proposal is tricky. We'll walk you through all the steps you need to check off before you finally flash that stunning Clean Origin engagement ring.
How Do I Prepare For a Marriage Proposal?
Step 1: Research the Best Marriage Proposal Ideas
Take a deep breath. You are doing exactly what you need to be doing right now by reading this article. Marriage proposals are an exciting (and sometimes stressful) step!
Embrace all of the emotions as you seek the most romantic proposal ideas.
Step 2: Engagement Ring Shopping
Go shopping for engagement rings. Make sure you plan for enough time to receive the ring and ensure it's exactly what you want before you propose. It would be a shame if you are ready to pop the question and the moment for your dream proposal arises before your ring arrives.
Our suggestion is to purchase the ring 3-4 weeks out from when you plan on proposing and consider engagement ring insurance when you purchase. Make sure you hide the engagement ring box in a discreet place where your partner isn't likely to discover it.
Step 3: Involve the Family in Your Marriage Proposal?
Not everyone wants to pop the question in front of their future in-laws at a family dinner. Would your partner's dream proposal include their family, or just you and them? This is something to consider as you plan to get down on one knee, would your partner prefer something traditional or more creative marriage proposal ideas?
Talk with both friends and family. You might not be planning to ask anyone for permission to propose. But, if you're close with your partner's family, it can be nice to include them in either the planning or post-engagement celebration. Also, remember that the mother of the bride may insist on a proposal photographer or to be involved in the wedding planning. It may be annoying, but the more people you tell the more they will want to be involved in your special moment.
Just be warned; if the proposal is supposed to be a surprise, the fewer people you confide in, the less likely anyone will spill the beans.
Step 4: Choose the Perfect Marriage Proposal Spot
Plan where you're going to be. Location is key to the next three steps. Marriage proposals are one of those life events that you will forever remember exactly where you were when it happened. Think about whether your partner would prefer private proposal ideas or public marriage proposal ideas. The key to getting to "I do" with your wedding proposal is in the details.
Double-check that your 'spot' will be open on the day you plan to pop the question and if a proposal photographer can be available for the big moment. If it's a restaurant or place of business, call or go in to talk with a manager about your plans. Make sure you have a backup plan in case of bad weather when proposing outdoors. If you want the proposal to be private, make sure the area you've chosen is only accessible to you.
Step 5: Surprise Proposal
Make plans for your significant other. Be careful not to give any clues as to what might be in store if you want a surprise marriage proposal. If you are pondering elaborate proposal ideas it may be challenging to be inconspicuous.
Much like on your actual wedding day, your significant other will want to look nice at this pivotal moment, especially if you decide to video or photograph your proposal! Set up a morning at the spa or a lunch with her best friends at a nice restaurant. Get. Her. A. Manicure. Trust us on that one.
Step 6: Plan Your Wedding Proposal
Decide what you're going to say. Will you get on one knee to pop the question? Do you need your proposal written out before hand? Will you enlist the help of proposal planners? proposal planners are people who can help you plan your special moment. If you are really stuck or stressed, having the help of a professional proposal planner will give you peace of mind.
We'll go into detail on this later, but you'll want to do at least a bit of speech planning before the you pop the question. If your partner loves romance, think of something romantic to say or a romantic way to propose. You may want to take them to the spot where you had your first date. Anything to make your marriage proposal unique to them will be considered a romantic gesture.
Step 7: Time to Celebrate!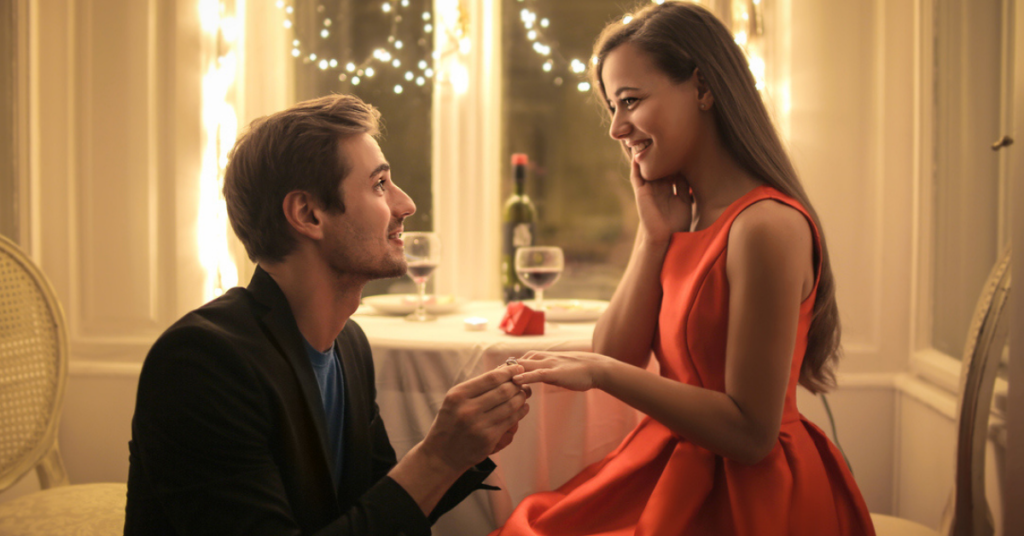 Make plans for after. You've just had the best marriage proposal idea ever…now what? Like we mentioned above, incorporating close friends and family into the after-party is a great idea.
Coming up with unique marriage proposal ideas that will leave the opportunity to celebrate with loved ones, can be challenging. Maybe get everyone together in a stunning park fo an outdoor proposal, or at the beach using some beach proposal ideas. A treasure hunt or scavenger hunt are fun ways to involve friends and family, you can have it end with your partner finding you on one knee where you had your first date offering your wedding proposal.
Treat your significant other to a nice meal either at a restaurant or in the comfort of your home. Rent a limo to drive around the city for the night or plan a campfire in the backyard to snuggle up with some good music. You don't need a huge budget for or a hot air balloon or flash mob, simply a celebration to fit both your personalities. The best proposal ideas are the ones are most meaningful to you both.
How Can I Propose in a Unique Way?
From jumbotrons to writing in the sand, you might think that pretty much all of the marriage proposal ideas have been done. But no two proposals are ever the same and there are easy ways to personalize your own proposal. Here are a few of our favorite engagement proposal ideas.
You've Got Mail
Who doesn't love a good puzzle? Stealing a bit from the 2007 chick flick 'P.S. I Love You', you'll need to perfectly schedule a few weeks of mail for this proposal idea. Whether you're sending clues or physical pieces to a "Will You Marry Me" puzzle, you'll want to make sure the execution is perfect. As your significant other is assembling the final pieces or reading the last clue, have the ring ready in hand!
Couples That Play Together…
For many couples, there's an activity that they both really enjoy doing together. Whether it's snowboarding, half marathons, or cooking, it's a special time that brings them closer together. Elevate the activity just a bit and you could have the perfect proposal idea. If you love water activities, plan a trip to a beautiful destination like Lake Tahoe and pop the question on the boat after a fun-filled day of wakeboarding. The best proposal ideas are the perfect combination of personalization and surprise!
Drop The Mic
While some couples might want a proposal that's a bit more low-key, others love the excitement of a PDP — publicly displayed proposal. One of the best ways to get the attention of all onlookers…and your future fiance, is to get ahold of a microphone. Plan a weekend getaway and talk with your flight attendants to see if a mid-flight announcement can be made. If you're going to see a favorite local band, email or call them beforehand to see if they'll let you on stage. Or, call your local radio station to see if they'll add a special message in with the nightly news. These marriage proposal ideas will work best for a partner that loves attention.
Get Personal
Maybe you're about to propose to your high school sweetheart, or you met while studying abroad in Italy. Every couple has a unique story and a history that can be incorporated into a marriage proposal idea. Maybe give them a treasure map that ends with you on one knee with a ring box.
Find something unique to your relationship and make it the focal point of the evening, such as the first restaurant where you had a date or the spot of your first kiss. Maybe the two of you can have a screening of your favorite movie or play a special song. Every couple's relationship is different , come up with a creative way to express your love story.
Make It A Party
Who doesn't love a good celebration? Find an excuse to plan a party with your friends and family and hire a professional photographer. Maybe you just moved into a new house or there's a fun holiday that calls for a get-together.
Does your partner love the holiday season? On Christmas morning you can have a gift under the Christmas tree with a ring inside. Whatever the occasion may be, it will be the perfect facade for your proposal. Not to mention, you'll already have the most important people surrounding you after she says 'I Do'!
No matter what marriage proposal ideas you come up with, specialize it for your relationship, not anyone else's. A great proposal idea is one that is particular to your relationship. With this at the core of all your decisions, you'll be sure to blow it out of the water!