So, you're ready to buy an engagement ring. Congratulations! This is a super exciting time and one that should be cherished, not stressed over. Perhaps you have Googled "buy engagement ring" and scrolled through endless options. Shopping for engagement rings online can be stressful. So, take a deep breath and have no fear… we've broken down everything on how to buy an engagement ring.
Bookmark this page for future reference because it will be a great resource throughout the entire process of shopping for engagement rings (and even after). So, without further ado, let's jump into our top tips and best solutions for engagement ring shopping.
Engagement Rings 101: Everything You Need to Know
Buying an engagement ring isn't just a one-step process; it encompasses multiple phases, all of which are essential to finding the right ring. The good news is that we've created a list that will help you break it down into something much more digestible.
Buying an Engagement Ring STEP 1: Set a Budget
This first step toward your perfect engagement ring is absolutely vital. Unfortunately, it's also often a step that many couples skip out on. Being on the same page about the price of your engagement ring will ensure that the proposal is full of excitement, rather than mood-killing comments like, "How did you afford this?" or, "This isn't the carat size I was expecting."
Setting a budget is also a good starting point for the many chats you'll likely have with your diamond expert. But more on this later. When you set a budget, you manage your partner's expectations while searching for the perfect engagement ring. Talking about the budget is just as important as talking about ring styles or engagement ring settings as you pick the right engagement ring.
Buying an Engagement Ring STEP 2: Explore Payment Options
After you decide on the cost of the engagement ring, it's time to figure out how exactly you're going to make this payment. If you're able, paying in full can often be done through a credit card or wire transfer. Most companies also offer a financing alternative. At Clean Origin, we offer financing through Affirm. This allows you the flexibility of making smaller, more easily manageable payments over the space of 12, 18, or 24 months.
Buying an Engagement Ring STEP 3: Do Your Research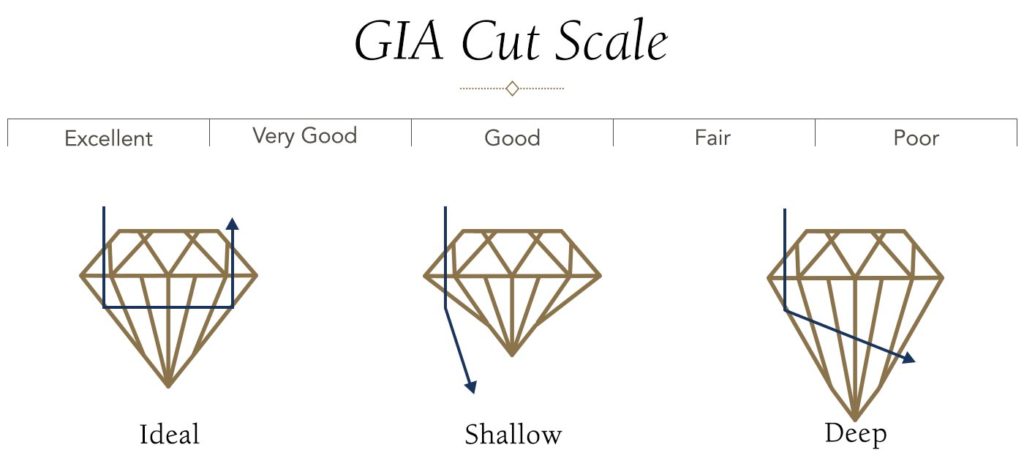 If they aren't already, the 4 C's of diamonds will be your new best friend. Cut, color, clarity, and carat are the four categories or aspects of a diamond that you'll need to specify when you make your purchase, so you'll want to be familiar with them. Here's what each one means, in layperson's terms:
A better cut means more sparkle and shine for your center stone. The right cut will ensure you get maximum bling.
Not all diamonds are 100% perfectly colorless. And the more color a diamond has, the lower quality (or value) it carries. Diamonds that are lower on the alphabetic scale will feature a more yellowish tint.
Accounts for the number of flaws or inclusions in the diamond, with higher grade diamonds having fewer inclusions.
The weight of the stone.
As mentioned above, you'll want first to let your diamond expert know how much you're looking to spend on a diamond. This will help them decide where you should be in regards to the 4 C's.
They'll also likely ask you if you have any preferences — such as more sparkle, larger diamond, etc. This will help them figure out precisely what diamond will get you the best bang for your buck. Buyer beware: make sure you are working with an actual expert, not just a salesperson. If they're constantly trying to upsell you and push you toward a diamond that you're not comfortable with, leave. You will want to work with someone who will work within your parameters, not force you outside them.
You'll also want to research the company that you're purchasing from. The best way to do this is through their reviews. You'll be able to read about the experiences of others and often find out about things like how responsive their customer service is and what types of post-purchase policies they have in place. For example, at Clean Origin, we offer the following:
100-Day Return Policy
Lifetime Manufacturer's Warranty
Free Resizing
Free Shipping
All Stones Come With a Lab Certification 
Buying an Engagement Ring STEP 4: Decide on Your Diamond Type
Although we only sell lab-grown diamonds at Clean Origin, we understand that more options are out there. We also appreciate and respect that your choice between a mined diamond and a man-made stone is personal. So, you'll need to decide which is the right choice for you.
The Best Way We Can Break It Down Is by Using Simple Facts:
Mined diamonds and lab-grown diamonds are chemically, physically, and optically identical
A lab-grown diamond can ensure a 100% ethically sourced stone
Lab-grown diamonds can be anywhere from 20-40% less expensive
Using the above facts, your own research, and personal preference, you'll likely conclude which type of diamond is the best diamond for you. If you have any questions at all, feel free to reach out to us, and we'll make sure we get it answered!
Buying an Engagement Ring STEP 5: Find Her Ring Size
Before we get into buying an engagement ring, you'll want to figure out what size ring she wears. The easiest way to find her ring size is to measure a ring she already wears on her ring finger. There are ring-size charts available online that can help you with measurement, or you can bring it to a jeweler, and they can help.
If she's not a big ring wearer or you're unsure how to slyly take a piece of her jewelry, get one of her friends or family members to help. It's not a bad idea to have them take her ring shopping 'just for fun,' or to have her mother see if her own ring fits on your future fiance. As a general rule of thumb, go up in size if you're unsure; it's much easier to resize a ring smaller than to go larger.
Buying an Engagement Ring STEP 6: Pick Your Setting
The way that you start to pick out your diamond engagement ring is sort of like 'what came first, the chicken or the egg?' But in this case, it's, 'What do you choose first, your setting or your stone?'
For the sake of simplicity, let's start with picking your setting.
There are a few main things you'll want to decide on when it comes to ring styles: the collection/type, the color, diamond shape, the metal type (yellow gold, rose gold, white gold, or platinum), and sometimes the number of prongs. There are many details to consider when buying engagement rings.
Diamond Engagement Ring Settings
There are four main styles for engagement rings: classic, solitaire, halo, and vintage. Your engagement ring style, or your significant other's style, of setting will all come down to personal taste. A classic ring is timeless but adds a bit of extra shimmer with its pavé band. A solitaire is perfect for someone who loves the beauty of simplicity.
You may even want to build a custom engagement ring to bled elements from all of these different engagement rings. At Clean Origin, you can design the perfect engagement ring online. This ensures you will get a unique ring, and you can work to build one that will suit your partner's personality.
Halos are extremely popular at the moment due to their gorgeous row of accent diamonds that encircle the center diamond — making your main stone look larger than it is. A vintage ring is often intricate and tells a story of times past. If you're unsure what kind of ring to get, it may be helpful to look at your partner's other jewelry to get a feel of what they like or talk to a jewelry expert about your options.
Should you Choose White Gold, Rose Gold, or Yellow Gold?
Color might be a bit easier to choose when it comes to precious metals. White gold or platinum are the most popular choice for their versatility with other jewelry, especially silver. Yellow gold was trendy in the late 90s, and we're starting to see yellow gold come back in style, especially as people begin to mix and match their engagement and wedding rings. Rose gold, the newest color, is perfect for someone who enjoys making a bold statement with their jewelry and loves a good trend.
If you choose an engagement ring that's any of the gold metals, you'll also have to pick between 14 and 18k gold. The difference is pretty simple. 14k contains less pure gold and thus is harder and costs less. 18k contains more pure gold and is a bit softer and a bit more expensive. It will really come down to how much activity you think you'll be doing with the ring on and how much gold you prefer to be present.
Buying an Engagement Ring STEP 7: Pick Your Diamond
Your shape will be a bit limited if you start your diamond search with a setting (and vice versa). This is simply because some settings can only accommodate specific shapes. For the most part, brilliant round diamonds will be able to fit in almost any setting — they're also the most popular shape.
Every other diamond shape is a bit more unique. Spectacular engagement rings come in all shapes and sizes. Find the perfect loose diamond first if you have your eyes set on something like an emerald or oval. Then, narrow your search to only look at settings that can fit your preferred shape. You also may be searching for a particular carat weight. Sometimes different shapes with the same carat weight appear larger because of the cut. Knowing which diamond shapes you are interested in may help you decide on carat weight. When looking at custom rings, all of these decisions will help you as you shop diamonds.
If you have any questions feel free to reach out to one of our diamond experts for help.
Other Helpful Resources
What are Lab-Grown Diamonds?
You may have heard about ethical lab-created diamonds. They are real, certified diamonds that go through GIA grading just like those mined from the earth. Lab-grown diamonds are always conflict-free diamonds, as you don't have to worry about slave labor when you go with the ethical lab-created option. Even a diamond expert can not tell the difference with the naked eye.
If your partner is concerned about the planet, a lab-grown diamond will be the perfect diamond for them. Additionally, choosing lab-grown affects diamond prices, as you will likely pay 20-40% less than what it would cost to pull a diamond from the earth. You may be able to afford a higher quality diamond or a larger stone with higher carat weight. Alternatively, you can choose to spend more on your wedding bands.
How much should you spend on a ring?
How much you spend should not be set by anyone but you and your partner. The three-month rule that most people refer to was a marketing scheme made up years ago to get men to spend more money on a ring. As we mentioned, you should discuss the budget of your ring with your significant other. Come to a conclusion together based on your financial health and personal choices.
Clean Origin is the largest online retailer of exclusively lab-grown diamonds in the world. You will get a real diamond ring in usually about three to four weeks. When looking to buy engagement rings online, you must trust your diamond store. At Clean Origin, you can work with a diamond expert to build a beautiful ring or learn which ring styles will work best for you.
How do I choose an engagement ring?
Learning how to buy an engagement ring can seem overwhelming with so many options available. Consider what is important to you. Do you want a custom ring? Do you have an affinity for a particular ring style?
First, follow steps 1-5 above and narrow down where you're going to buy your ring. Then, if you're unsure of what diamond and setting to choose, look to your partner's closest friends and family for help. It's likely that she's either sent them pictures of her dream ring, made comments about someone else's, or has it sitting on her wedding Pinterest board.
What if you are still stuck?
We know that shopping online for fine jewelry can be frustrating. You may have looked at endless online jeweler websites and struggled to find the perfect Jewelry store for your needs. You may have shopped at a local jeweler, but they just don't have the variety you get with online jewelry stores. And It may be wise to set up a virtual appointment and ask for help if you are still stuck and need guidance. Not all jewelry stores are created equal, but if you keep working, you should be able to find the diamond ring of your dreams.
If you're picking out your own engagement ring and struggling with making a decision, we suggest trying a few different styles. Often, this will help you narrow down your search based on how they actually look on your finger or the feeling you get when you put it on! Many love the classic simple solitaire setting. It may also be fun to search through the selection of loose diamonds to see if you fall in love with a particular stone.
When buying wedding rings or an engagement ring, don't let this be a stressful decision. Take your time, follow our guide to buying an engagement ring 101, and have fun doing it! If all else fails, rest assured that we offer a generous 100-day return policy.