When shopping for affordable wedding rings or engagement rings, you want to make sure you're getting the best deal. Wedding rings don't have to cost a fortune to be meaningful. You also don't have to settle for cheap wedding rings that won't last or don't look the same. A great selection of affordable wedding rings and affordable engagement rings makes the perfect wedding jewelry.
Many ring styles are available, from rose gold to yellow gold to sterling silver. The most important thing to look for is a ring that stands out. In the end, it represents a unique love story and union of two people who love each other. Your wedding rings become special because of the meaning you give them, not their price tag. We hope you find the perfect wedding rings for you and your partner and have fun shopping. Here are some tips for saving your budget when shopping for an engagement ring.
Go for Classic Styles
You can still get a quality handcrafted wedding ring at an affordable price. If you are interested in contemporary and modern styles, you may be able to stick to a lower budget. An engagement ring with a center stone and a nice band is classic and beautiful. If you purchase a ring with a single gemstone, you also save on a timeless style.
Clean Origin carries simple preset solitaire rings that are simple yet finely crafted. The style is classic, and the total price of the ring is very affordable, especially compared to the price of loose diamonds. Clean Origin also offers a wide variety of wedding ring sets. Whether you love rose gold, halo engagement rings, lab-grown gemstones, or a unique diamond shape, Clean Origin has bridal jewelry you'll love.
Metals for Affordable Engagement Rings
There are several metals to choose from for a wedding ring. Picking the suitable metal for affordability and longevity will make your wedding ring sets last for years to come. Tungsten, cobalt, and titanium rings are great options for modern engagement rings. These metals are newer and less expensive but have excellent durability for everyday wear. They are common for men's wedding bands or engagement rings for women.
Silver is another common option, as well as palladium. If you choose silver, stick to sterling silver and make sure the craftsmanship is of good quality. This is often more affordable than white gold metal for a ring setting. You can expect the platinum metal to be more expensive so take note if the engagement ring you're looking at is made of platinum or not.
Choose Lab-Grown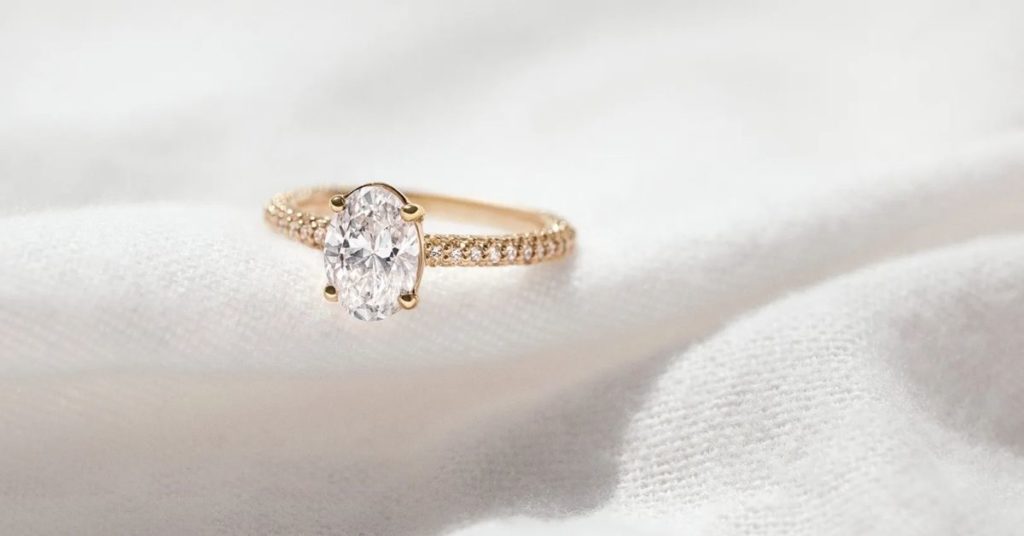 Lab-grown diamonds significantly reduce your carbon footprint. They provide a beautiful selection of engagement rings and wedding rings, but they are also ethical, which benefits the environment and the workers involved in the diamond mining business. Buying lab-grown saves money and guarantees you are getting a 100% ethically sourced diamond.
Since lab-grown diamonds do not have to be mined and shipped from mines, they cost significantly less than their natural mined counterparts. The only difference is that they were made in a lab setting rather than through natural forces.
Clean Origin's diamond selection features diamonds of exceptional quality at a great price. They average around $500 – $600, much less compared to the $1000-$4000 price tag of mined diamonds of the same quality. This round-cut half-carat diamond from Clean Origin has a nearly colorless color grade, an ideal cut, and a VS2 clarity grade for only $650.
Affordable Wedding Bands
Wedding bands are just as important as the engagement ring. If you don't want to spend a fortune on bridal jewelry or wedding bands, it's essential to look for affordable wedding bands as well. You can mix and match styles or get the same style for the wedding band of each partner. Clean Origin has a collection for both men and women to find the perfect wedding band.
This Classic Comfort Fit Wedding Band for women is available in different metals like white gold, rose gold, yellow gold, and platinum. It is a straightforward style that will look good with any outfit for years.
This Men's Classic Domed Wedding Band is another great option. With this ring and others from Clean Origin, you can choose the exact metal you want and create the perfect wedding band at easily affordable prices.
Check Shipping and Return Policies
If you want to be the most financially savvy, make sure you know and trust where you're buying your wedding rings. Nowadays, people can shop online for diamonds and wedding rings, which makes it convenient and easy to look for the perfect ring in the comfort of your home. Ensure you know the shipping and return policies for the store before shopping for affordable engagement rings. You don't want to be surprised when it comes to checkout.
Clean Origin has free overnight shipping on all custom engagement rings and loose diamonds. All other orders have free standard two-business-day shipping. This way, you know you're getting the best quality jewelry and don't have to pay a fortune to get it when you need it. You can check out their website for all the budget-friendly engagement rings they sell.
Make Sure Your Wedding Ring Diamond Has a Certificate
When you're trying to save money, it can be easy to fall victim to scams or deals that seem too good to be true. Certified diamonds have an official certificate from an accredited gemological laboratory. This ensures the diamond is the exact quality that is stated. The Gemological Institute of America is one of the leading gemological laboratories that grade diamonds and provides certificates.
Shop Smart for Wedding Rings
It is easy to find an affordable engagement ring for your partner if you know where to look. Clean Origin has a great selection of wedding ring sets, bridal sets, and ring styles for any occasion. There are several ways to save money on wedding jewelry. If you're diligent and take some time to learn why wedding rings cost and how much they do, you're on your way to finding the perfect rings. Clean Origin is happy to provide best-selling gemstones and wedding jewelry to make you and your partner feel special.