Searching for the perfect engagement ring on a $5000 budget may seem daunting at first. But with some savvy shopping, you can find gorgeous, high-quality diamond engagement rings that fit both your budget and your partner's style. In this guide, we'll walk you through choosing the ideal diamond cut, metal, and setting to create a ring that makes a big impression without the hefty price tag. You'll learn insider tips on how to maximize size while prioritizing sparkle and quality. By the end, you'll know how to find the perfect $5000 engagement ring to capture the magic of your proposal and create memories that will last a lifetime.
Key Takeaways
Consider the diamond size, shape, setting, and quality for a perfect $5000 engagement ring.
Choose from a variety of classic or vintage-inspired solitaire designs with different metal options to match any personal style.
Discovering Your Ideal Diamond Size and Shape for a $5,000 Engagement Ring
Selecting the optimal diamond size and shape is crucial when choosing a diamond ring, especially when working with a $3000 to $5000 budget. The sweet spot for diamond carat weight in this price range falls between 1.00 and 2.00 carats. Savvy ring shopping means avoiding the marked-up, ready-made diamond rings at many local jewelers. Instead, focus your search on retailers that offer custom-designed engagement rings where you can tailor the diamond details to maximize size and sparkle while staying within your budget. This personalized approach results in the best value and the engagement ring that perfectly suits your partner's style.
Choosing the Best Diamond Shape for Your Budget
When shopping for a $5000 engagement ring, selecting the optimal diamond shape is key to maximizing sparkle and style. The most popular and budget-friendly diamond shapes in this price range include:
Consider both your budget and style preferences when choosing a diamond shape. For instance, round diamonds are more expensive but offer superior sparkle – a priority for many ring shoppers. The more affordable princess cut can compromise some brilliance for size. Keeping your priorities and options in mind will lead you to the perfect shape to stay within your $5000 budget.
Maximizing Diamond Size for Your Budget
Maximizing diamond size without sacrificing sparkle or quality is the name of the game. The goal is to land the largest diamond possible that still looks dazzling and flawless to the eye.
For many, a high-quality diamond of just under 1 carat is an ideal fit for this budget. The right complementary engagement ring settings can also help make that diamond appear even larger. For instance, Pavé bands and halo settings surround the center stone with extra sparkle. This added shine can create the illusion of a bigger diamond. It also provides extra visual impact without the higher price tag.
Choosing the Perfect Ring Setting for Your Diamond
Selecting the ideal engagement ring setting is just as important as finding the perfect diamond. The setting not only enhances the beauty of your center stone but also expresses your unique style.
Solitaire Setting: Sophisticatedly Showcasing Your Diamond
Solitaire settings spotlight your diamond in a gorgeously minimalist way. With the stone held by simple metal prongs or a sleek bezel, nothing distracts from its brilliance. The versatility of the solitaire allows it to accommodate any diamond shape and amplify its sparkle from all angles. The array of solitaire options makes finding a refined yet unique showcase for your diamond effortless.
Halo Setting: Adding Drama and Brilliance
For those desiring extra sparkle, halo settings surround the center diamond with a frame of smaller stones. This creates an eye-catching, brilliant effect that makes the main diamond appear larger. There are many halo variations to select from, including single, double, triple, oval, or pear halos. The tapered baguette halo offers a uniquely elegant twist. The main benefits of the halo setting are the amplified size and radiance it lends. With so many dazzling options, you can find a halo that perfectly complements your diamond.
Vintage-Inspired Setting: Timeless Romance and Charm
For a touch of antique glamour, vintage-inspired settings often feature delicate filigree and alluring design details. This transports your ring back in time with grace and romance. Settings like the decorated band, halo, and three-stone are common vintage-inspired options. Each has its own aesthetic, like the secure four-prong or the protective bezel wrap. Choosing a distinct vintage setting creates a one-of-a-kind ring brimming with old-world charm. It provides the perfect background to recount your enchanting love story for generations to come.
Prioritizing Diamond Quality Factors for a $5000 Engagement Ring
Once you have a good understanding of the diamond size, shape, and setting options, it's important to prioritize the main quality factors when purchasing an engagement ring within your $5000 budget. These quality factors are known as the "4Cs" – cut, clarity, color, and carat weight. Striking the right balance among these factors is crucial for a beautiful, budget-friendly engagement ring.
Finding the Sweet Spot for Color and Clarity
For a $5000 budget, focus on diamonds in the G-H diamond color range and SI1-SI2 clarity range. This combination offers an ideal balance of beauty and affordability. The near-colorless hues and minor inclusions are difficult to detect with the naked eye. For solitaire settings, a G-H color grade provides optimal light reflection. And when set, faint inclusions in SI1-SI2 diamonds are hardly discernible. This frees up your budget to maximize size and sparkle.
The Critical Importance of Cut
Of the 4Cs, cut quality is king for engagement rings. A top-rated ideal or excellent cut ensures maximum brilliance and fire. Even if the other Cs are perfect, a poorly cut diamond will lack luster. Prioritizing cut gives you the most bang for your buck. An ideal cut diamond scintillates brightly and masks any minor color or clarity flaws. This C should be at the top of your checklist for dazzling sparkle.
Look for Trusted Diamond Certification
To verify quality, look for certification from a respected grading lab. A diamond grading report from institutions like GIA and IGS provides detailed assessments of a diamond's 4Cs. They confirm the diamond's exact measurements and attributes. Certification gives you confidence that you're investing in a high-quality diamond that aligns with your budget. It's the best way to guarantee optimal sparkle and value in your ring.
Choosing the Ideal Metal for Your Engagement Ring
The metal selected for your engagement ring is the foundation for showcasing your diamond. The most common metals for engagement rings are gold and platinum, each offering distinct characteristics and visual appeal. For a $5000 engagement ring, 14K gold (white, yellow, or rose) is recommended.
Yellow Gold: Timeless Warmth and Richness
Yellow gold's enduring warm glow makes it a timeless choice. Its versatility pairs elegantly with any diamond shape and range of settings from solitaire to halo. Yellow gold brings a traditional yet rich aesthetic that celebrates milestones for years to come.
White Metals: A Contemporary Look
White metals like white gold provide a modern, sleek look. Their silvery sheen nicely complements both classic and contemporary ring designs. While periodic re-plating is needed to maintain luster, white metals' versatility makes them a sought-after option for engagement rings and other jewelry.
Rose Gold: Romantic Blush Tones
The romantic hue of rose gold adds a unique touch of warmth. Its pinkish tint complements all skin tones and creates a distinctive vintage-inspired look. Rose gold offers a beautiful alternative for those seeking something beyond traditional white or yellow metals.
Platinum: Unmatched Durability and Luxury
Platinum is treasured for its natural white hue, strength, and durability. As a high-quality metal, platinum offers superior resistance to damage over time. Its luxurious finish and lasting legacy make it a worthwhile investment for an heirloom-quality engagement ring.
Lab Grown Diamonds: An Alternative Option
For those seeking an ethical and wallet-friendly alternative, lab grown diamonds are a dazzling option for engagement rings. Lab grown diamonds are real, authentic diamonds – the only difference between lab diamonds and natural diamonds is their origin.
Lab grown diamonds possess identical optical, chemical, and physical properties to mined diamonds, thanks to their creation in high-tech lab environments.
Priced around 20-40% less than mined diamonds, lab grown diamonds provide significant savings. This allows higher quality within any budget.
The manufacturing process is environmentally friendly, eliminating destructive diamond mining practices. Lab grown diamonds offer guilt-free shine.
Just like natural diamonds, lab grown diamonds can be certified by respected organizations like GIA and IGS. Ensure authenticity by working with reputable, transparent sellers like Clean Origin!
TL;DR
Searching for that dream engagement ring doesn't have to be daunting, even on a $5000 budget. With savvy shopping, you can find a gorgeous ring that overflows with beauty, meaning, and timeless romance. By focusing on the details – optimal diamond shape and setting, quality color cut, and the perfect metal that matches your style – you can create a one-of-a-kind piece that makes a big statement at an affordable price. Remember what matters most while staying within your budget – celebrating your unique love. The ring is merely a symbol of the lifetime of memories you'll make together. With the tips in this guide, you can find the ring meant for you.
Find Your Dream Engagement Ring At Clean Origin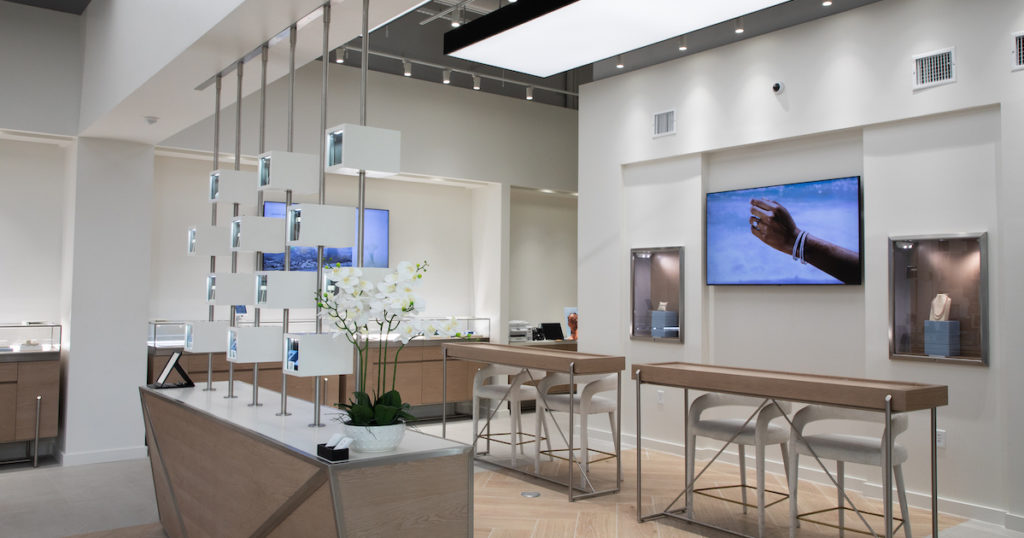 Skip the chaos of crowded mall jewelers. With us, you can browse a breathtaking selection of ethically sourced diamond rings easily online, right from your home.
We empower you to shop with confidence every step of the way. Expert guidance and education are always available through virtual appointments with our diamond specialists. They're happy to answer any questions and provide recommendations tailored to your style and budget.
If you'd like to view our lab grown diamond jewelry in person, we welcome you to schedule a relaxing personalized visit at one of our nearby locations.
From online to in-store, we make finding your ideal engagement ring fuss-free and even fun. Our goal is to ensure you walk away with a ring that captures the essence of your love story.