Mens diamond earrings are a fashion staple for men who want to add something extra to their style. Whether you sport classic stud earrings or generate a completely unique look, here are some important factors to keep in mind while you find the right earrings for you.
How to Shop for Mens Diamond Earrings
If you're ready to invest in high-quality diamond stud earrings, it's helpful to have some baseline knowledge of what to look for. Each pair of diamond studs is unique, so you have to identify what is important to you when it comes to a diamond. Do you value carat over clarity? Do you have a specific diamond cut in mind?
Also, clear or white diamonds aren't the only ones on the market. Colored diamond earrings are an alternative style that shows your unique personality. From blue diamonds to black diamonds, diamond color is an important consideration when it comes to men's earrings.
You also should consider what precious metals you tend to wear. Whether it's sterling silver, yellow gold, rose gold, white gold, or platinum, fine jewelry should coordinate with the metals you tend to wear.
Lastly, you have to determine which type of earrings you'd like. Many shoppers go for diamond stud earrings because of their versatility. Men's diamond earrings also come in a hoop, huggie, or drop shape. No matter which shape speaks to you, you're definitely in for some sparkle when it comes to diamonds.
The Four C's
When you're buying diamond jewelry, always keep in mind the Four C's, which are the four main ways that jewelers determine a diamond's worth. You as the customer can decide which of the Four C's is your priority and which you're willing to accept a lower grade.
Knowing what aspects you want your diamond earrings to have will give you exactly the type of jewelry you want (while maybe saving you a buck or two at the same time).
Diamond Carat
Carat is the weight of a diamond. Not to be confused with karat, which is a way that jewelers measure the purity of gold.
A common misconception about carat is that carat directly corresponds to size. While diamonds that look bigger tend to have a higher carat, the measurement is a little more complicated than that.
Carat determines how much a diamond weighs, not how big it is. One carat is approximately 200 milligrams. As the carat increases, diamond price increases as well.
An extra consideration with diamond earrings is the total carat weight. Oftentimes, jewelers and diamond retailers will list a total carat weight for a pair of earrings, especially diamond stud earrings. The total carat weight is how much the diamonds weigh per pair. To find the carat weight of a single earring, divide the total carat weight in half.
Diamond Color
Color is just what it sounds like: the color of your diamonds. The most common diamonds are white diamonds without color, but colored diamonds are popular among those who want a little something extra with their diamonds.
Some diamonds have color because of trace amounts of other chemicals or compounds that alter their appearance. White diamonds themselves range from D to Z on the color scale. Diamonds with a D rating are perfectly colorless while Z diamonds have a strong yellow tint.
White diamonds decrease in value as their color rating goes down. However, colored diamonds are much more expensive because of their rarity. Fancy-colored diamonds have their own color scales for each type of diamond.
Red and pink diamonds are the rarest colored diamonds, meaning they are the most expensive. Blue diamonds and black diamonds are also increasing in popularity for their versatility and unique appearance.
Diamond Cut
Another important factor when it comes to diamond earrings, especially diamond studs, is the cut of your diamond earrings.
Many people confuse diamond cut and diamond shape. The shape is the outline of your diamond, such as round, oval, or emerald (rectangular). The cut of a diamond describes how the stone reflects light, also known as its brilliance.
Cut represents the skill of the jeweler who actually cut the diamond. The polish, facets, and symmetry of a stone all influence the way light refracts when it hits the diamond. Round brilliant diamonds, which are the most common cut, are the only diamonds with a specific cut grade.
Diamond Clarity
Diamond clarity measures how many natural inclusions or imperfections made their way into a diamond. Diamonds that are "eye clean" won't have visible imperfections to the naked eye, but they still might have imperfections that a jeweler can see at a 10x magnification level.
What's the difference between inclusions and imperfections? Inclusions occur within the actual diamond and have been there since the diamond was formed. Even lab grown diamonds can have inclusions.
Imperfections or blemishes happen as the jeweler cuts and polishes the diamond. These appear on the surface of the diamond and can include chips and cracks.
Different Diamond Shapes
Another major consideration when picking your diamond earrings is the shape of the diamond itself, especially with diamond studs. Here are five of the most common diamond stud earring shapes to consider when deciding on your unique style.
Round Brilliant-Cut Diamonds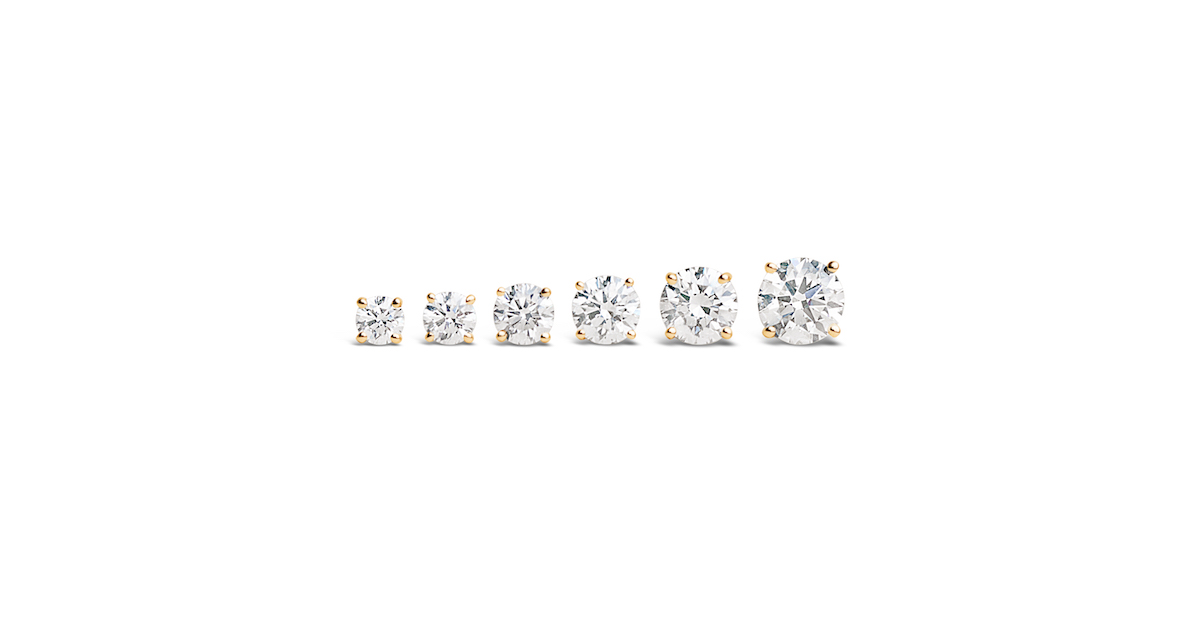 Round brilliant diamonds are the ultimate timeless choice when it comes to diamond stud earrings. This is the stunning cut you picture when you think of engagement rings. This simple, versatile shape is a favorite across generations because of how it refracts light and works in a variety of settings.
A round brilliant diamond stud earring will be symmetrical with at least 58 different facets. Because round diamonds refract so much light, they hide color better than other cuts. If you're looking to compromise on one of the C's to save some money, a pair of round brilliant diamond stud earrings in a lower color might be for you.
Oval-Cut Diamonds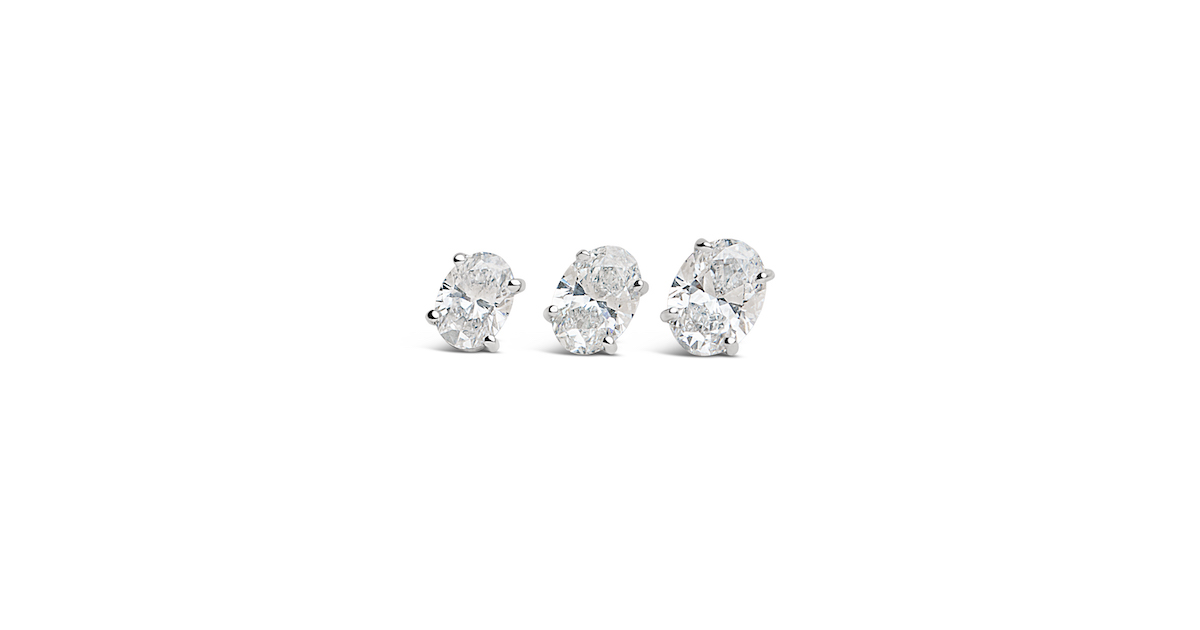 Oval diamonds are an option if you love a classic round brilliant diamond, but want a more unique diamond shape. This diamond cut also hides imperfections well, so you can compromise on clarity to save a little money on your big purchase.
One benefit of oval diamonds is that they can appear larger than they are. The elongated shape draws the eye to the outside of the diamond, making it look bigger than it is. This effect can work in your favor if you want a larger-looking diamond for a lower price.
Princess-Cut Diamonds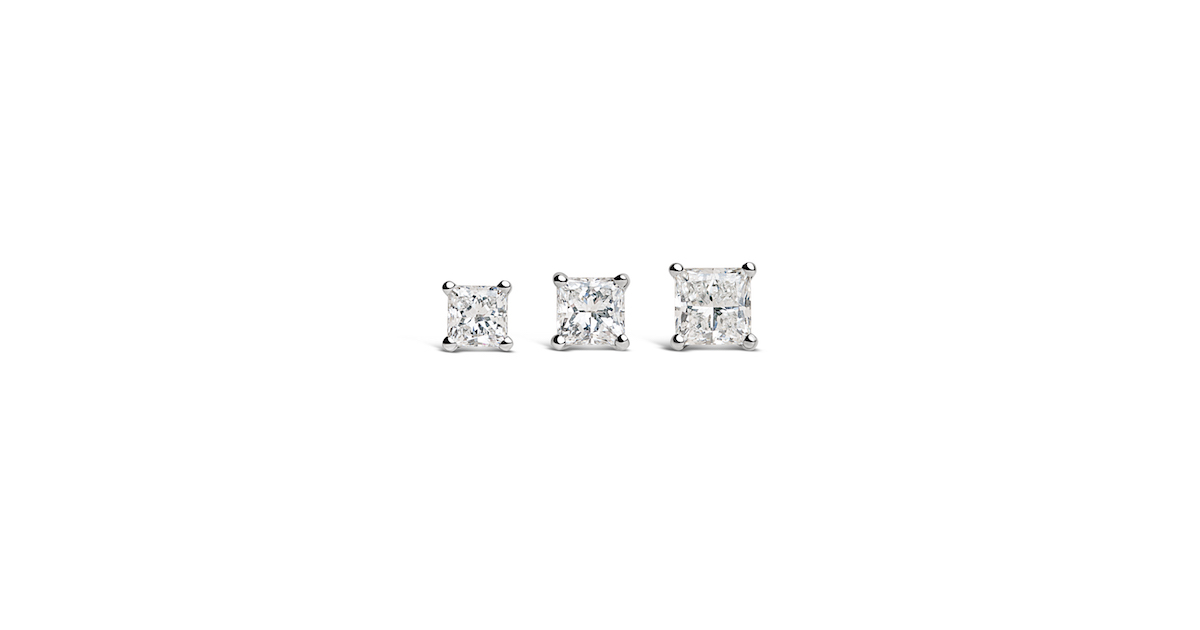 Don't let the name fool you; princess-cut diamonds are for all genders! This classic square-shaped cut has truly withstood the test of time when it comes to the diamond stud.
Princess-cut diamonds are a great place to start for men who are considering wearing earrings. The cut uses a good chunk of uncut diamond, meaning that these diamonds can be less expensive than other cuts. They also work well with virtually any setting, giving you lots of options when it comes to your diamond stud earrings.
Emerald-Cut Diamonds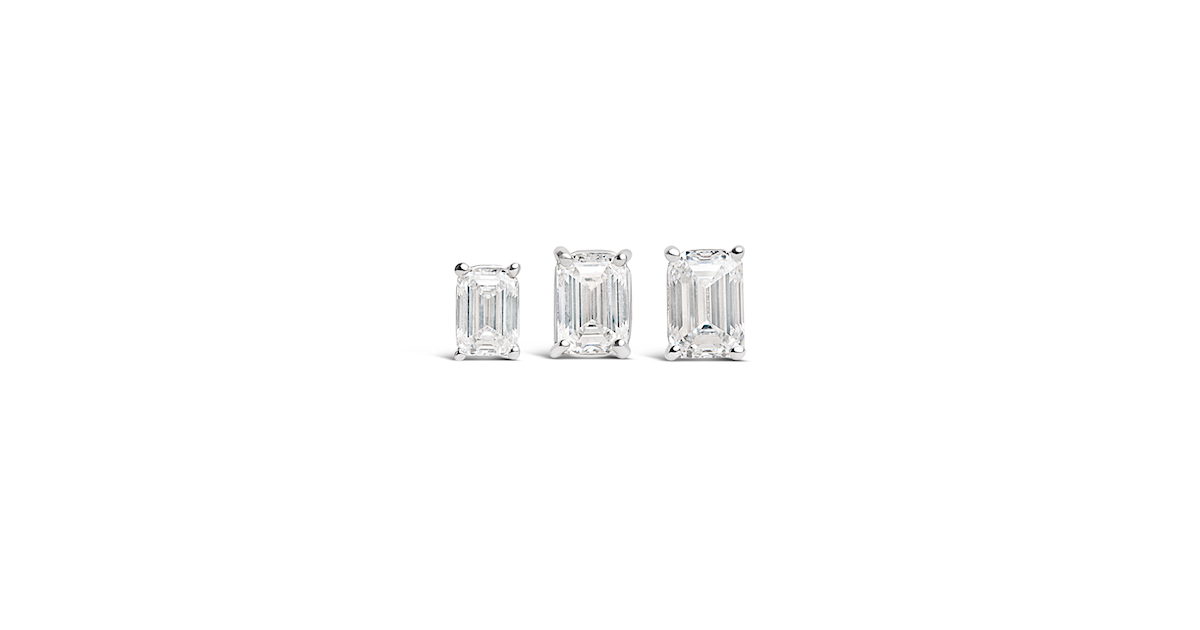 Emerald-cut diamonds are a classic shape that evoked a vintage feeling. The large table (the flat top of the diamond) makes emerald-cut diamonds appear much larger than they actually are, making these a great option for fashion studs.
When you're purchasing jewelry with emerald diamonds, make sure to keep in mind the clarity and color. Emerald-cut diamonds have a more open cut, meaning it's easier to see into the center of the diamond. Diamonds with lower clarity and color grades will retain their visual imperfections, so you might consider investing in a higher-grade diamond if you have your heart set on emerald.
Pear-Cut Diamonds
If you're shopping for diamond stud earrings that are the perfect balance of old and new, look no further than pear-cut diamonds. Pear-cut diamonds work with a variety of earring styles from stud to statement.
Like other fancy-cut diamonds, a pear-cut diamond's elongated point gives the appearance that the diamond is larger than reality. This effect can offset two phenomena that tend to happen with pear cuts: the bowtie effect and a darker point. Bowties create a dark spot at the center of the diamond and can show up in pear-cut diamonds. A darker point on a pear-cut diamond can happen with diamonds larger than three carats.
Precious Metals
While the diamond is the star of the show, your earrings need precious metal to keep them together. Think of precious metals as your diamonds' support system!
At Clean Origin, we proudly use recycled metal as a part of our commitment to the environment. Like diamond mines, gold mines have a history of poor working conditions and negative environmental impacts. We certify that our metal is fit for reuse with the Responsible Jewelry Council, meaning our precious metals are just as high-quality as they would be if they came directly from the ground.
Here's a guide to the various precious metals that you can incorporate into your diamond earrings.
White Gold
Did you know that most jewelry gold today isn't just pure gold? That's the case with white gold, which is actually a mix of metals. Pure gold isn't strong enough to withstand everyday wear, so jewelers fortify pure gold with other metals.
White gold is pure gold mixed with other metals like silver, palladium, and nickel. Often, jewelers coat it in rhodium plating for extra strength.
Rose Gold
Rose gold is fairly new to the jewelry scene. This precious metal is also a combination of metals, often combining pure gold with silver and copper. These metals give rose gold its signature pink color.
Rose gold is especially popular with millennials. More and more millennial shoppers are looking for new and groundbreaking styles, which is why so many are attracted to this unique precious metal.
Yellow Gold
Yellow gold has that golden appearance that we think of when we think of gold. Often mixed with alloy metals like zinc and copper, yellow gold has the closest appearance to true pure gold.
This precious metal hit its peak in the 1990s but has seen a resurgence in the past few years. Regardless of trends, this fabulous metal is a classic that stands the test of time.
Platinum
If you have an active lifestyle and need jewelry that is extra strong, platinum is the precious metal for you. Platinum is stronger than gold and has a similar color to white gold, but is often more muted and slightly less shiny.
Platinum has a higher percentage of precious metal at about 90% platinum. The remaining 10% can be alloy metals like copper or palladium. This means that platinum is often more expensive than gold precious metals.
Different Types of Diamond Earrings for Men
One of the ways you can use jewelry to show off your unique style is by picking what type of earrings you want to sport. Typically, men's earrings are simple and understated, acting as a background piece rather than a statement. However, men's fashion is diverse and varied. Whether you want simple black diamond studs or earrings that make a statement, there are lots of options at your disposal.
Diamond Studs
A classic diamond stud earring is a fantastic piece of jewelry for someone who's just beginning to wear earrings or wants a classic, tried-and-true look.
Certified 4 Prong Diamond Studs
You can't go wrong with 4 prong diamond studs! This pair of earrings is all about classic style. Round brilliant diamonds set in white gold make a beautiful combination that will pair seamlessly with any style. You can also layer multiple round brilliant studs in one ear if you have more than one piercing per ear. Vary the carat size and color for a fresh take on this traditional style.
1 CT TW Luminescent Halo Studs
Halo settings are one of the most popular styles right now in jewelry. A men's diamond earring with a halo setting will make the center diamond look even bigger. This effect creates the image of a larger diamond for the price of a smaller one.
Princess-Cut Diamond Stud Earrings
Princess-cut diamond stud earrings are both traditional and modern at the same time. The square cut and striking angles of these diamonds have been a long-time favorite, but we're seeing a definite resurgence in this shape over the past few years. A dazzling pair of princess-cut diamond earrings are sure to age well in your jewelry collection.
Emerald Diamond Stud Earrings
A pair of emerald-cut diamond studs take the classic elegance of princess-cut diamonds and give them a little extra vintage flair. The step cut of emerald diamonds is part of what makes them so striking and interesting to look at. Rather than an explosion of facets, emerald-cut diamonds allow their natural beauty to shine through.
1/2 CT TW Constellation Diamond Stud Earrings
Are you on the hunt for the best deals when it comes to diamond jewelry? Look no further than these constellation cluster earrings. An earring with this style generates lots of sparkle for a fraction of the price. This particular pair features fourteen lab-grown diamonds that are as sparkly as can be.
Soho Oval 1/3 CT TW Stud Earrings
Elevate the look of a round brilliant diamond earring with this oval-cut set. The elongated lines enable this style of diamond to look longer and larger. It also retains the classic style of a round brilliant diamond but updates the look just enough to be modern and fresh.
Diamond Hoops
Diamond hoop earrings are another popular style of earrings for men. Precious metal hoops are what many consider the most common, but there's actually a wide array of hoops available for your jewelry style.
Lux 15MM Hoops
The Lux 15MM Hoops are an updated take on standard gold hoop earrings. These J-shaped hoop earrings have a secure post backing, but swoop down to create the allusion of a hoop while maintaining optimum comfort. Embedded with 32 dazzling lab-grown diamonds, these hoops are sure to stun.
Vita Hoops
The Vita Hoops are the perfect mix between a hoop and a huggie (which you can read about below). This earring sits further away from the lobe because of its square shape. However, its size creates a style that you can easily mix with huggie earrings for a one-of-a-kind look.
Diamond Huggies
Huggies are a popular style of men's diamond earrings because they add more flash than a standard stud but still sit close to the ear. This type of earring is subtle enough for everyday wear and bold enough to make a statement.
Vici Huggies
The Vici Huggies update a well-loved huggie shape by adding a round brilliant diamond dangle. This huggie earring adds extra sparkle and flash to any ear and is also a great option for layering with other pieces from our Diem collection.
Cecilia 12MM Huggies
One thing to consider when you purchase diamond earrings is the way that they'll age over time. Will your investment pieces still be in style 20, 30, and 40 years in the future? With the Cecilia 12MM Huggies, you don't have to worry about that question. These timeless earrings are a jewelry staple and will certainly be a worthwhile purchase.
Diamond Drops
Why pick one diamond earring style when you could pick multiple? That's the real draw of diamond drop earring styles: they combine diamond studs and diamond dangles to create something fresh and unexpected.
Caligo Dangling Studs
The Caligo Dangling Studs are a drop earring style that you'll love to wear with any outfit. The double diamond adds a little extra something special to your earrings. Combine the classic round brilliant diamond with a modern bezel setting and you've got a high-quality pair of earrings that is both beautiful and secure.
Single Tempus Earring Jacket

The Single Tempus Earring Jacket is for men who want an earring style that truly stands out. The earring jacket attaches to the back of a diamond stud, creating a customizable drop earring. Add the earring jacket to your favorite pair of studs for a look that is truly your own.
Ready to Shop?
Now that you have clarity on what type of earrings you want to purchase, it's time to take the last step and get your dream diamond earrings!
Many millennials these days are turning to online diamond companies for their convenience and transparency. By shopping online, you're able to get high-quality diamonds delivered right to your door. Clean Origin also has a 100-day return policy, so you can shop with peace of mind that you'll be able to find the exact right pair of earrings for you.
Clean Origin also has in-person showrooms. If you prefer an in-person experience, a Clean Origin jewelry consultant can work with you in-store to find the perfect diamond earrings. You can even shop online and do store pickup today!