We're commonly told if you want to be in style, shop trends. It is easy to become swept up in the latest jewelry craze but timeless fashion is the key to the longevity of your wardrobe and accessories. Pairing stunning earring jackets with diamond studs is surely one of those things that are here to stay.
Keep reading to learn all about what jackets are and what makes them so unique.
What Are Diamond Earring Jackets?
Earring jackets are small pieces of jewelry that you can wear alongside your diamond stud earrings. Adding an earring jacket to a simple, classic diamond stud earring is like adding a jacket to your outfit—it effortlessly changes and elevates the style of your look.
For example, a simple, classic diamond stud earring can be transformed into a statement piece by adding an earring jacket. A small, dainty stud earring paired with a large and bold jacket looks elegant and chic.
How Do Earring Jackets Work?
If you're looking for a new way to wear your earrings, an earring jacket is a way to go. When considering purchasing an earring jacket, it's important to understand that a jacket is not an earring but an accessory to your earring. As such, the jacket does not come with a post or a back but instead, has a small hole for you to slip the earring post through and connect with the backing.
Use your jacket as described above. When you want to add a touch of sparkle simply slip your diamond stud earring through the hole in the jacket so that your diamond sits comfortably facing out and the jacket frames the diamond. Attach everything together by joining them with the earring backing as you would normally secure an earring.
Are There Different Types of Earring Jackets?
Earring jackets come in a variety of shapes and sizes. Clean Origin offers a variety of diamond earring jackets that are sure to benefit you on any occasion: whether it be a luxurious date night with a partner or an everyday trip into the office.
Earring Jackets by Metal
Clean Origin is proud to offer a variety of shiny and shimmering premium types of metal. Shop mix metals for a unique look or match metal to metal for a defined luxurious style.
Rose Gold Earrings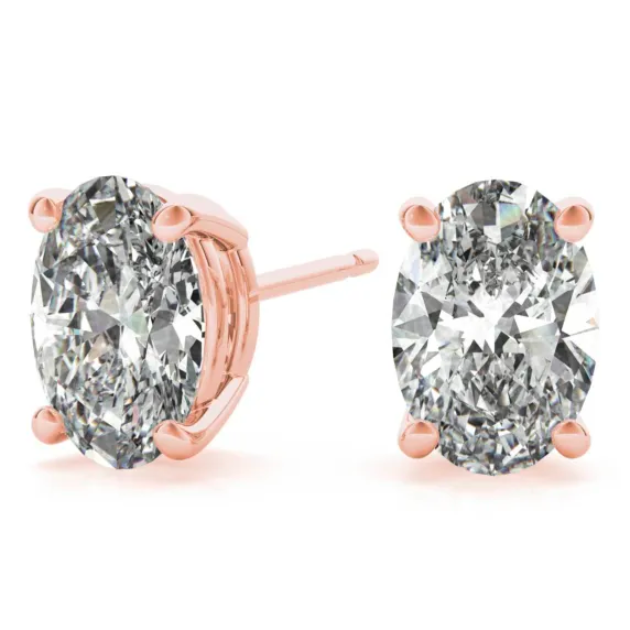 Invoke the romanticism of rose gold with earring jackets that are simple, elegant, and easy to use.
The beautiful rose gold is known for its warm tones and subtle shimmer—it's perfect for any occasion. The earring jackets are designed to be worn with any outfit or occasion, so you can make sure that your style never goes out of date.
Yellow Gold Earrings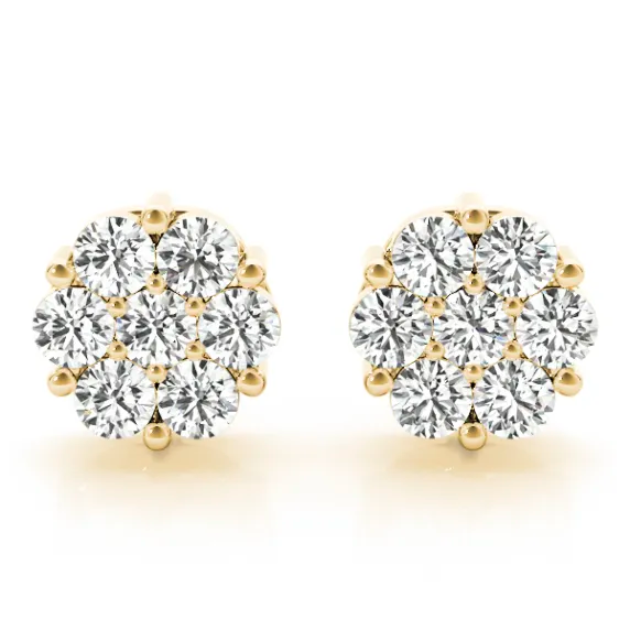 Our yellow gold earring jackets are the perfect way to take your look from classic to contemporary. The gold metal gleams and perfectly highlights the brilliance of your diamond earrings. When in doubt, you can't go wrong in choosing yellow gold.
White Gold Earrings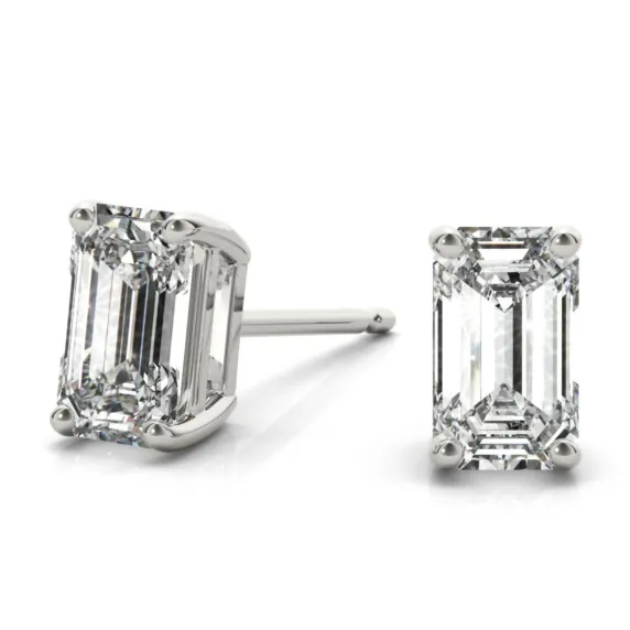 If your love language is jewelry, why not purchase our white gold earring jackets? Here shining white gold perfectly complements the brightness of the diamonds that total 1 carat.
The earring jackets are designed to fit any standard pair of stud earrings and make them look like a million bucks. They feature a secure snap closure and can be worn on their own or with other jewelry to make an outfit look more complete.
Popular Styles of the Earring Jacket
Find your perfect earring style. Shop either halo or single-earring jackets to discover a range of styles, from minimalist to bold.
Halo Jackets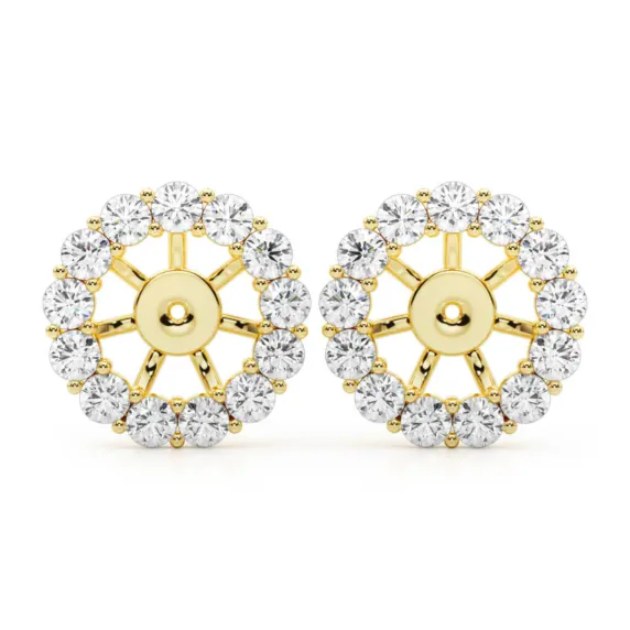 Halo earrings are the perfect choice for those who love to sparkle. You can wear them with anything from a cocktail dress to jeans and a t-shirt, so whether you're dressing up or dressing down, these earrings will always look great.
As its name suggests, a halo earring creates a halo-like effect around your stud. Halo jackets create an elegant, yet interesting effect and will add just the right amount of shine to any outfit. Unlike a single jacket, halo earrings are sold as a pair.
Single Jacket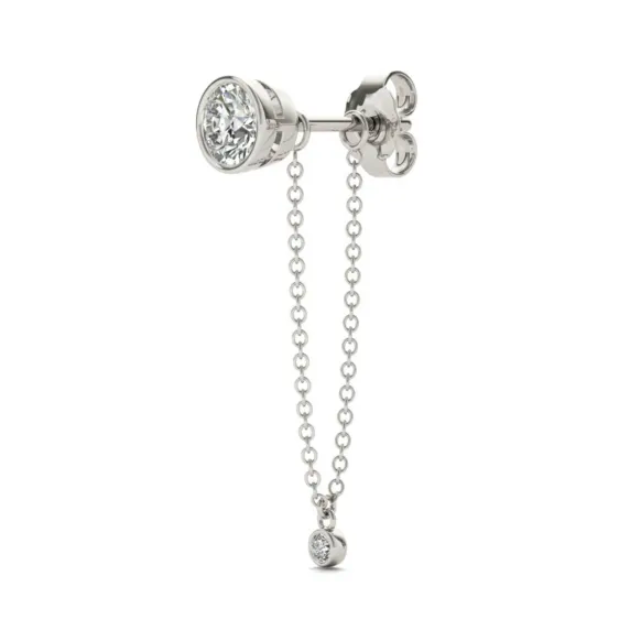 Single jackets add sophisticated glamour and movement to your everyday look. Our solitary diamond jackets come in a variety of styles that allow you to express your unique sense of style.
How to Pair an Earring Jacket with Diamond Stud Earrings
You may be wondering how to easily mix and match diamond studs with jackets. Luckily it isn't too difficult, especially when you keep the following in mind:
Consider the Occasion
When deciding how to pair a diamond stud earring with an earring jacket, you need to consider the occasion.
If it's a casual event, such as a birthday party or going out for drinks with friends, you might want to go with something simple and elegant. Not wearing formal attire, but still require some nice jewelry, try pairing a diamond stud earring with an earring jacket in silver or gold tones.
If you're going to a wedding or another formal occasion, the ideal choice would be a halo setting in white gold or platinum. This will make your jewelry pop against the dark colors of your dress and shoes. If you don't want to wear something too elaborate, consider choosing something in rose gold instead of white gold or platinum for an understated look that still stands out from the crowd (and draws attention). For example, consider wearing rose gold diamond stud earrings with rose gold drop earrings for a lovely contrast between metals and styles!
Indulge in Your Style
When selecting the perfect pair of diamond stud earrings, it's important to consider your individual style.
The way that you dress, accessorize, and walk around the world can all help you decide between classic and modern. If you're more comfortable in a suit and heels, then perhaps a classic look is best for you. If you're more likely to be found wearing jeans and sneakers, then maybe something more modern will be more appropriate for your needs.
Put Yourself First
Sure, you could spend hours analyzing the pros and cons of a decision. You could turn it over in your mind and try to imagine what the consequences will be if you choose one thing over another. But at the end of the day, all that matters is what YOU like.
You know what's good for you better than anyone else—so make an educated guess, then go with it, plus, when you shop Clean Origin's stunning selection of jacket earrings you really can't go wrong!
Discover Earring Jackets That You'll Love at Clean Origin
Clean Origin has a stunning assortment of jacket earrings that you or your partner are sure to love. All of our diamonds are made in a lab. This allows for premium ethical gemstones to sell at a fraction of the cost of naturally mined diamonds.
Plus, with free shipping, a 100-day return policy, and a Forever Service plan, you can rest easy knowing that your beautiful diamond jacket will last you a lifetime.