While hard to find in brick-and-mortar stores, the 2 carat diamond ring is seeing a surge in popularity thanks to the prevalence of online shopping. In fact, 2 carat diamond rings are some of the most popular engagement ring options for the modern couple. This is likely because while this diamond is double the carat weight of a 1-carat diamond, it looks much larger. Additionally, the 2-carat diamond's lower availability means it's more valuable than its carat weight suggests.
Just be warned: Not all 2-carat diamond rings live up to the hype. You'll find a range of styles, shapes, and qualities as you shop for a 2-carat diamond; and it's worth noting that a higher price may not mean a better diamond.
Diamond Size vs. Diamond Carat
When it comes to diamonds, it's common for people to confuse carat for size. But even though a higher carat diamond might seem larger than a lower carat diamond, the reality is that carats are a measurement of weight, not size. Size refers to how large a diamond looks.
Diamond Size
Diamond size refers to factors like table surface area, which is the visible "top" of the diamond as it sits in a ring. As such, certain diamond shapes will appear larger or smaller than other shapes of the same carat.
Alternatively, a diamond's carat is a specific measurement of weight.
Diamond Carat
The term carat was coined in 1907 at the General Conference on Weights and Measures. Carat refers to the weight of the diamond.
A single carat is 200 milligrams and is divided into 100 "points." This allows diamond experts to measure diamonds to the one hundredth decimal place. This also lets them make precise measurements and decide a price.
What's Special About a 2 Carat Diamond Ring?
A 2 carat diamond weighs 400 milligrams or 0.4 grams. To put this into perspective, a 2 carat diamond weighs about as much as a half of a raisin. That may sound small, but in diamond terms 0.4 grams is fairly large.
2 carat diamonds are flashy and valuable. They tend to look larger (depending on the shape) than their carat weight suggests. And, because they are large to begin with, you likely won't ever feel like you have to upgrade to something bigger. 2 carat diamonds come in many shapes and can be made to fit tons of settings.
Ring Clarity Rating for a 2 Carat Diamond
Diamonds are graded according to the 4 C's. Cut, color, clarity, and carat are the key factors that determine the quality (and price) of a diamond. Diamonds that are higher quality in some areas but much lower quality in others (such as a diamond with a high-quality cut but has a yellowing color), will be of lower value than a diamond that scores well throughout.
When shopping for a 2 carat diamond, pay attention to the diamond's clarity.
The Gemological Institute of America (GIA) created a scale to measure diamond clarity. Internally flawless (IF) diamonds are the highest quality. These are followed — listed from higher quality to lowest quality — by diamonds with very very small inclusions 1 (VVS1), then very very small inclusions 2 (VVS2), very small inclusions 1 (VS1), very small inclusions 2 (VS2), small inclusions 1 (SI1), small inclusions 2 (SI2), and then finally inclusions 1 (I1), and inclusions 2 (I2).
Given the larger table of the 2 carat diamond, any inclusions or surface defects are highly visible.
But even though a larger table equals more eye visible inclusions, don't feel like you need to limit your search only to IF-grade diamonds. If you can find a 2 carat diamond that looks clean and clear to the naked eye — even if it's further down the scale — then you may be able to find one that not only looks great, but also costs less.
Price of a 2 Carat Diamond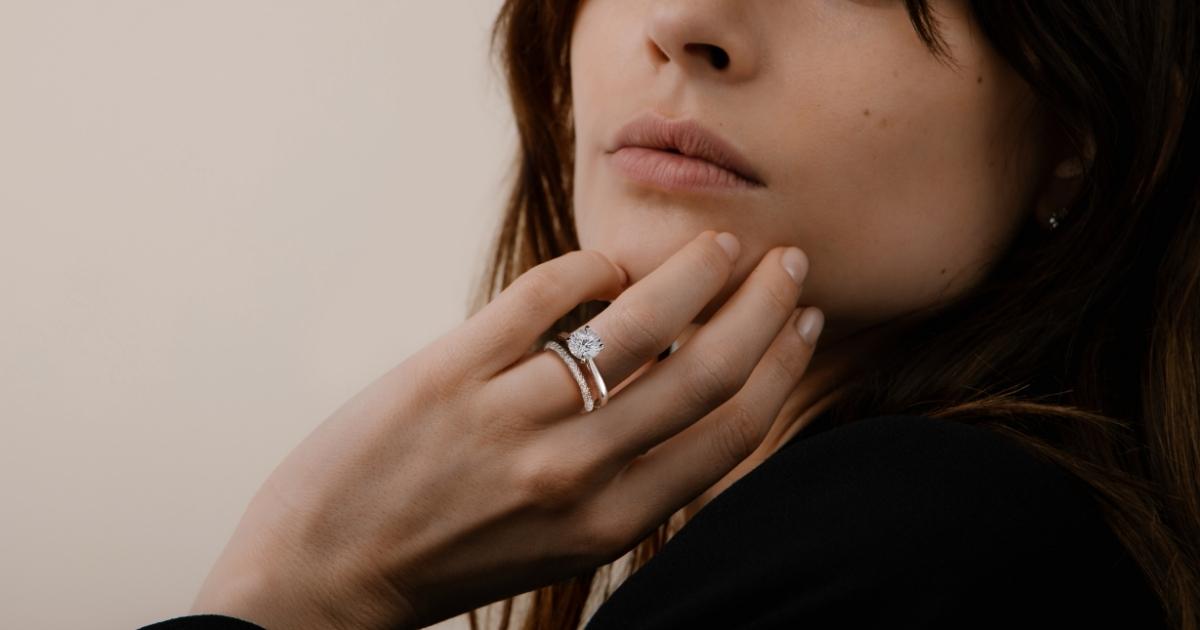 Many people assume that if a 1-carat diamond ring costs $4,000, then the same ring with a 2 carat diamond should cost $8,000. That is far from the truth.
Good quality 2 carat diamonds are rare. This means the price of a high-quality 2 carat diamond ring will cost more than double that of a high-quality 1-carat diamond ring. If you're in the market for a good-quality 2 carat mined diamond ring, expect to pay $20,000 or more.
2 Carat Lab Grown Diamonds
As an alternative, many diamond buyers choose lab grown diamonds. Lab grown diamonds are physically and chemically the same as mined diamonds; they are diamonds in every sense of the word.
The only differences between lab grown diamonds and mined diamonds are that lab grown diamonds are grown in controlled lab conditions, and they cost much less than traditional diamonds. At Clean Origin, we offer 2 carat diamond rings for $7,000 to $10,000 — all with exceptional cut, color, and clarity. 
2 Carat Diamond Ring Styles
When considering a 2-carat diamond, especially for an engagement ring, the ideal style will highlight the beauty of your diamond. But it should also reflect your taste. Let's take a look at some options that range from minimalistic to ornate.
Solitaire
The classic solitaire features a single diamond set on a simple but elegant band. On its own, a 2 carat diamond is stunning. It can stand alone without extra features. But if you want something a little extra, a hidden halo is the perfect option.
Seraphina Solitaire Ring
At first glance, our Seraphina Solitaire Ring looks like a standard solitaire. But if you look closer, you will be delighted to find a modern hidden halo of 26 sparkling diamonds just below the center stone. This setting is compatible with a round diamond shape up to 5.5 carats in weight, so it will easily accommodate your exquisite 2 carat diamond.
Halo
Halo diamond rings include a circle of small accent diamonds around the center stone. They are popular because they add some extra shine. However, their recent surge in popularity is mostly because a halo can make any size center diamond look larger. If you love your 2 carat diamond but want to enhance it a bit more, consider a halo setting.
Pave Set Pear Shape Halo Ring
If you're going to enhance your 2 carat diamond with a halo, then why not go big with a pave band? Along with a stunning diamond halo, our Pave Set Pear Shape Halo Ring features a band of reverse-tapered accent diamonds for a grand total of 60 gemstones!
As the name implies, this setting is compatible with a pear shape diamond, and only a pear shape. It can accommodate a diamond up to 2.25 carats, so it is perfect for your 2 carat gemstone.
Classic
A classic setting adds an element of timelessness to any engagement ring. In a classic setting, much like in solitaire settings, your center diamond is the focus. It brings attention to your 2 carat gemstone with the option to be creative with the band.
Want extra sparkle? Choose a band encrusted with diamonds. Prefer something understated with a unique touch? Choose a band that twists and blends two metals–like rose gold and white gold.
Mayfair Ring
Our Mayfair Ring is a breathtaking example of a classic 2 carat ring. Six lab grown diamonds grace the shoulders of this beauty, leading the eye up to the center stone.
It is compatible with almost any diamond shape, including radiant, cushion, princess, pear, emerald, oval, and round. And it can accommodate a diamond ranging from .45 to 4 carats.
Three-Stone
The sentiment behind three-stone rings is quite beautiful; it represents the past, present, and future of your love. Each of these three significant periods in your lives together is represented by three diamonds.
Leslie ring
Our Leslie Ring is a beautiful three-stone with a vintage feel that makes for a showstopping 2 carat statement piece. And bordering the two smaller diamonds are intricate beading details that enhance the ring's vintage style.
Compatible diamond shapes include cushion, oval, round, and emerald. However, we think a 2 carat emerald shape really adds to its vintage vibe. This ring can accommodate a diamond anywhere from .45-5.25 carats.
Vintage
If you hold a special place in your heart for simpler times, then the nostalgia of the vintage style likely appeals to you you. This type of ring's Art Deco look and mid-century modern motifs give the feel of a bygone era, but with the advantages of a modern piece of jewelry–especially if you choose a lab created diamond.
Mabel Ring
This ornate Art-Deco-inspired ring features a princess cut center diamond. It is accented with a halo of diamonds that extend underneath the center stone, as well as a single row of diamonds that wrap half way around the ring's band. The total number of gemstones in this vintage-inspired stunner is 44.
This piece is only compatible with a princess cut diamond, and easily fits a diamond from .90-3.50 carats.
Our Recommendations When Shopping for a 2 Carat Diamond Ring
When shopping, it's not enough to know how large you want the diamond to be, or even what shape you prefer. Here are some of our top recommendations to take into account before you make a purchase:
Don't Settle for a Low-quality Cut
To get the most out of your 2 carat diamond you shouldn't settle for a less than excellent cut. The diamond's cut will impact its brilliance and fire. And with the 2-carat diamond's larger table, brilliance and fire are going to be apparent.
Keep an Eye on the Color
Most diamonds are higher quality when they have less natural color. However, there's only a subtle difference between completely colorless and nearly colorless.
We suggest you shop for a diamond that falls between G and I on the GIA color scale — the diamond will appear colorless, and you won't pay for more than you need.
At the same time, be aware that the metal of the engagement ring may also affect how the color of the diamond appears. Closely inspect the color of the diamond in your ring before you commit.
Consider a Lab Grown Diamond
As addressed above, lab created diamonds are identical to mined diamonds in every respect. The main differences between the two are their origin and price.
Lab grown diamonds are ethical and environmentally friendly, without the negative issues associated with mined diamonds. And they cost a lot less–in fact, they cost around 20-40% less.
Choosing a lab grown diamond allows you to get a higher quality stone for your budget. Because we only offer man-made stones, we can keep the prices friendly without cutting into quality.
Consult With an Expert About a 2 Carat Diamond Ring
Choosing a diamond is a personal journey, but that's not to say you shouldn't bring along a guide. Our diamond experts are here to help you find the perfect diamond.
Contact us today, and let us help you find the 2-carat diamond of your dreams.