An oval engagement ring is a stunning and elegant testament to the power of your love. So do your engagement ring a service by pairing it with a wedding band that works to complement the natural beauty of your ring. Not sure where to start? We've covered you with our list of the best wedding bands for your oval rings. Keep reading to find out!
What Makes the Perfect Wedding Band?
The perfect wedding band is one that not only matches your personality and lifestyle but also fits nicely on your fingers. It should be comfortable enough that you forget you're wearing it while stylish enough to accent your unique engagement ring.
At Clean Origin, we offer a wide selection of designs that you can choose from to create the exact look you want for your special day. Plus, because each wedding band is created with recycled metal and lab created diamonds, you can feel confident that you get not only the best wedding band for your buck but also the most ethical diamond.
Without further ado, let's get into it!
Contoured Wedding Band
Contoured wedding bands are an elegant and versatile expression of your love. They are also perfect for oval engagement rings, thanks to a slight dip in the bands that help highlight and accentuate the round diamonds in your oval ring.
Curved wedding bands are a popular trend that is especially helpful for adding extra bling to your engagement ring. The curve creates a silhouette that elegantly draws attention by directing the eye to your center stone while creating a uniform look.
And it's not just the oval-cut diamond that works best with curved wedding bands. All diamond shapes are complemented by this universally beloved style.
Anissa Diamond Band
One of the more subtle contoured wedding bands, the Anissa Diamond Band sits flush on the skin to ensure comfort while delivering unmistakable blingy appeal for any setting of an oval engagement ring.
Three-stone engagement rings can be gently nestled within the contoured band to create additional sparkle and joy. Or, an oval-cut diamond with a halo setting can be worn to subtly spark intrigue.
Aphrodite Band
Simplistically stunning, the Aphrodite wedding band mixes rigid lines with brilliant flashes of light to create a complementary wedding band to any oval engagement ring. 23 diamonds partially envelop the comfortable band for a total of 1/8 carats that help highlight your center stone while providing glitz and glamour.
Stack two Aphrodites above and below your solitaire oval engagement ring to create a faux halo setting that will dazzle onlookers, or add just one Aphrodite to an already blinged-out halo setting to create maximum sparkle.
Grande Dolce Vita Band
Life is indeed sweet when the Grande Dolce Vita wedding band is on your finger. Containing 18 glittering diamonds and a wide dip, this wedding band is perfect for oval engagement rings that need some extra bling.
Available in 14k or 18k white gold, yellow gold, rose gold, and platinum, you can rest easy knowing that you can match the band to any engagement ring you might have. Plus, because the diamonds have been elegantly set within a channel, you can feel relaxed knowing that they are safe and secure.
Classic Wedding Band
Honor time and tradition with classic styles of wedding bands in a variety of precious metals.
In fact, it was the wedding band that first signified the lifelong devotion between two people, not the engagement ring. Ancient Egyptians first popularized the tradition of sharing wedding bands by placing a wedding band, often made of wood, onto their intended ring finger. Over the years, the engagement ring was added to the mix in a variety of styles, but the ring and wedding band combo has stayed the same.
Classic wedding bands are great for the bride who desires simplicity but isn't willing to compromise on quality or style. Available in a variety of precious metal colors ranging from white gold to yellow gold to rose gold and platinum, oval engagement rings are able to be mixed and matched to their wearer's content.
Women's Low Profile Flat Band
Creamy rose gold accentuates the smooth lines and comfortable fit of the Women's Low Profile Flat Wedding Ring. Its sleek lines are effortlessly paired with its creamy color to produce a ring that serves to accentuate any rose gold oval diamond.
Perfectly classic, the Women's Low Profile is sure to stand the test of time and is destined to become a family heirloom as it is lovingly passed from generation to generation.
Knife Edge Band
Looking for a modern and edgy take to the wedding band? Look no further than the Knife Edge Band. Available in a variety of sizes and starting at 2mms, this thin wedding band is ideal for brides that love mixing styles.
Aptly named for its distinctive knife edge, this wedding band slopes gently upward and meets at the unique edge. We can easily see this wedding ring paired with an oval diamond framed in pavé diamonds and set in stunning yellow gold.
Braided Band
With a detailed braided texture, the Braided Band is sure to add a pop of style to any engagement ring. One of the more unique wedding bands, the braided band fits comfortably on the finger and can help highlight the soft feminine lines of oval engagement rings.
Pair the braided band with a solitaire engagement ring for a look that screams high fashion. Or, go bold with a diamond eternity band as your engagement ring to match the chunky texture of the braid.
Matching Wedding Band
A matching engagement ring and wedding band set is a look worth checking out. The two rings complement each other in shape and style, so you don't need to make any difficult decisions about which one comes first. Plus, they tell the world that your love is perfect!
Estelle Band
This dreamy wedding ring set sets the standard for unparalleled Art Deco beauty. Totally 1/4 of a carat, the Estelle Band mixes and matches small and large round diamonds to create a diverse array of sparkles.
An intricately beaded texture is added for visual appeal as rows of melee diamonds beam brightly forth. Paired with the Estelle Ring, this wedding ring set proves once and for all that Art Deco is not dead.
Cadenza Bridal Set
The Cadenza Bridal set is all about celebration. Its ocean-like waves are a playful take on love and marriage. 37-brilliant stones encircle the finger for a stunning engagement ring and wedding band that will have family and friends alike gasping in awe.
Double Pear Halo Wedding Ring Set
If you're not one to shy away from maximum sparkle and brilliance, then consider the Double Pear Halo Wedding Ring Set. Not one, not two, but three halos circle the center oval diamond for a look that is anything but minimalistic.
Eternity Wedding Band
If you're looking for a wedding ring that rivals the sparkle of your engagement ring, consider the eternity style.
An eternity band is a beautiful way to show off your love and commitment to each other. The center of the ring is usually made up of diamonds, but you can also find them with sapphires and other gemstones. Eternity bands are available in different widths, so whether you like a thin band or one that sits high on your finger, there's sure to be an option for you.
An eternity wedding band can be worn with any style engagement ring or as its own piece if you prefer not to wear two rings together.
4.2mm Classic Oval Wedding Band
If you're looking for a wedding band that will be just as stunning as your engagement ring, look no further than the 4.2mm Classic Oval Wedding Band.
This band is a perfect match to your oval engagement ring—it features 19 oval cut diamonds that wrap fully around the band, giving you all of the sparkle without any of the weight.
And if you're looking to make sure your wedding bands are just as impressive as your engagement rings, this may be an excellent choice. The 4.2mm Classic Oval Wedding Band is not afraid to bring the sparkle—in fact, it's ready and waiting with 19 beautiful round-cut diamonds that will have everyone in awe!
Tess Eternity Band
If you're looking for an ultra-thin wedding band, look no further than the Tess Eternity.
This simple, understated design is the perfect choice for the discerning bride. It's elegant, classic, and timeless. Round diamonds wrap fully around the band, creating a completely straight line that draws the eye and perfectly complements the classic solitaire engagement ring.
Montague Marquise Wedding Band
Want to play with shapes? Consider the Montague Marquise Wedding Band that contains pave diamonds wrapped fully around the geometrically pleasing unique diamond accented ring.
The Montague Marquise Wedding Band is a daring yet classic ring that will add a touch of modern flair to any outfit. It features a unique diamond-accented design that wraps around the entire ring, allowing you to wear your engagement ring on your wedding day and then change it up later in life by wearing this beautiful piece as a wedding band.
Find the Best Selection of Wedding Bands at Clean Origin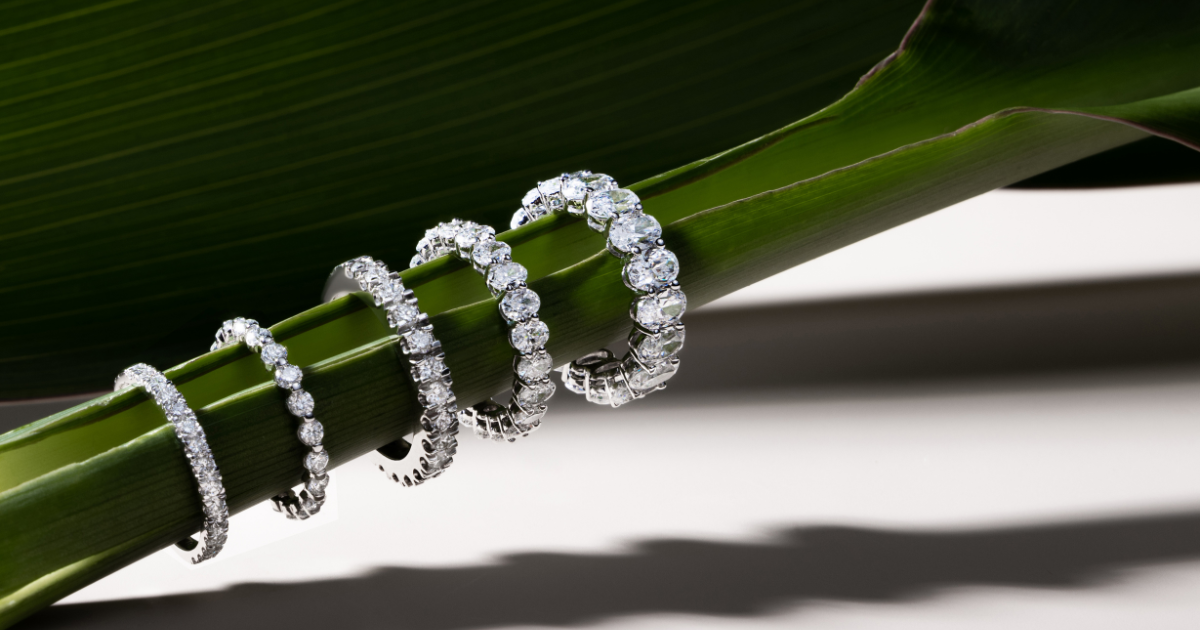 We are proud to offer the best selection of wedding bands at Clean Origin.
We have a wide variety of styles, from traditional to modern, so you can find exactly what you're looking for. Whether you want a simple platinum wedding band or something more ornate, we've got it all!
Our goal is to help you find the perfect ring for your special day. We want to make sure that your purchase is something that you love and cherish for years to come.