Have you found your special someone but are not sure about sealing the deal? Many people struggle with this because they fall deeply in love after just a few months of dating. Then they wonder: How soon is too soon to propose?
True love is a beautiful experience no one wants to end. Wanting to take the relationship a step further is always something lovers have in mind. But who defines these timelines?
This article aims to help guide more couples through this decision-making process and to help them find answers on how soon it is too soon to propose.
Only You and Your Partner Know How Soon Is Too Soon to Propose
You and your partner alone determine engagement timelines. If you are in the early stages of your relationship it is easy to be blinded by love and daydream about wedding bells. Therefore, before you rush your timeline, slow down to consider a few things. Here are a few questions you and your significant other can answer to help decide:
Do you agree it is time?
How do you handle disagreement and conflict?
Are your families happy with your relationship?
How much money do you have saved?
Do you know how many children you want to have?
How do you want to raise your children?
Do you have religious differences?
You will answer many more questions before you decide to get married, and you can create custom questions based on your relationship. Do not feel pressured into marriage; instead, see the question and answer process as growth for your relationship. So take your time and have the "big" conversations before saying I do.
Not Sure When to Propose?
Asking a partner to marry you is one of the most crucial parts of any person's life. And these are some guidelines to help you understand if it's a good time.
Propose if You Are in Love
The first reason to get engaged is that you are in love. Over time you have enjoyed each other's company and believe it is meant to be.
You Use "We" and Not "I"
You find yourself using "we" and "us" in general conversations, even when not necessary. If you have noticed this it shows you are thinking about yourself and your partner as a unit. It's a good sign that you are ready for marriage.
When They Are Dropping Hints
When they drop hints you will know your partner is ready. They talk about weddings a lot and mention how nice an engagement ring would look on their finger. Consider this a sign and be prepared to get engaged.
You Reach a Major Milestone
You have probably set out to achieve something before you think of marriage and have reached it. Most couples decide they want to be financially stable enough to afford a car or a house before they get engaged. And some people want to finish their degrees first. Regardless, you don't have to wait until you have everything together to get an engagement ring for your partner.
You Share a House Together
Marriage also means being together and sharing the same space. If you have started living together and it has been going well, it isn't a bad idea to propose. You know your partner keeps the toilet clean and is good at arranging the living room.
You Don't Want to Remain Single
If you enjoy being in a relationship with this person and the single life isn't for you anymore, why not take it a step further? This shows you are ready to marry them.
You Have Support From Your Families
When you are thinking of proposing you may also wonder what your family would think. Having the support of your family and friends makes the wedding more achievable.
You Want to Spend Your Future With This Person
Do you dread the idea of spending the rest of your life with this person? Can you imagine living without them? Are you afraid to discuss your goals, dreams, and plans with them? Is your life together unenjoyable? Are you nervous about a long-term commitment? If you've answered "no" to all of these questions, plan your engagement.
You Support Each Other
When you are with someone who supports things that matter to you, you should plan your wedding. They're always there to share your wins and losses, and they are always available when you need them. How soon is too soon to propose shouldn't be too difficult to decide. You should be on your way to planning an engagement and a wedding.
Past Relationships Shouldn't Decide if It's Too Soon to Propose
Most couples leave their past relationships with lessons learned and promise to do better in their next relationship. Oftentimes, individuals will take those lessons and go their separate ways only to meet another person and get engaged much sooner than expected. The important thing is to ensure you are with someone you are willing to spend the rest of your life with. But first, take note of the following;
Deal with any issues from your previous relationships that might affect your current relationship
Ensure you have talked about any important matter before proposing
Know what you did right and improve on it
Know what you did wrong and avoid it
Your past relationships are in the past. This time, focus on keeping a healthy relationship.
Proposal Tips
Once you realize you are a good match, the urge to drop on one knee and pop the question fills your mind. You want everything to be perfect, and so do we, but before you buy an engagement ring here are a few guidelines to help you.
Be on the Same Page
Make sure this is something you both want. Talk about marriage as part of your conversations. Find out how they feel about taking the next big step; you can tell your partner is ready from the things they say. If you are both on the same page you are sure to have a successful proposal.
Let Your Parents Know
As old-fashioned as this may seem, it is always a good idea to tell the parents–especially if you have a good relationship with them. Let them in on it. They might offer great tips that can help you.
Make Sure You Have the Ring
You want to get the perfect ring, so pay attention to the jewelry they wear. Do they wear gold, rose gold, or diamond jewelry? You could also start a conversation around friends about ring ideas to hear what your partner has to say. Be sure to get their correct size.
You could ask them, but if you don't want to drop hints use one of their rings for measurement. Another method is wearing their ring on your finger and marking where it stops. Expert jewelers can also determine your partner's size, or check out this ring size chart.
Ask a Professional
Proposal planners can help you pull off a successful proposal. It may be expensive, but if it's important to you it's an investment worth making. Anything for love!
Rehearse
You do not want to mess this up. Rehearse your words carefully, and do not forget to ask "will you marry me." Obvious, right? Yes, but you may be nervous so don't forget that important question.
Choose the Right Moment
Do your best to remain calm. Once you ensure that everything is right and everyone is in position, you will not have any reason to be nervous.
Have Someone Take Pictures
Are you going to let this big day pass without capturing it? You should have a professional photographer (or even a friend) ready to take beautiful pictures for you. You will cherish your pictures for a lifetime.
The Moment We Have Been Waiting For: Pop the Question
Let your partner enjoy the surprise. With all of the emotions flying around, slide the ring on their finger and celebrate.
Still Unsure About How Soon Is Too Soon to Propose? Consider Relationship Milestones
Dating is a time for partners to get to know each other. In this period you learn a lot about each other. You come to understand your likes and dislikes, and your favorite things and places. The two of you will also learn about each other's family and friends. You find out how compatible you are with each other with the hope of having a successful marriage.
There isn't a perfect time or length to propose to your partner. Instead of thinking about the right time, think about relationship milestones. Worry less about how soon is too soon to propose, and more about whether you have specific experiences before getting engaged. But at the end of the day, every relationship timeline is unique, so you shouldn't compare yours to others.
What Experts Say Makes a Successful Marriage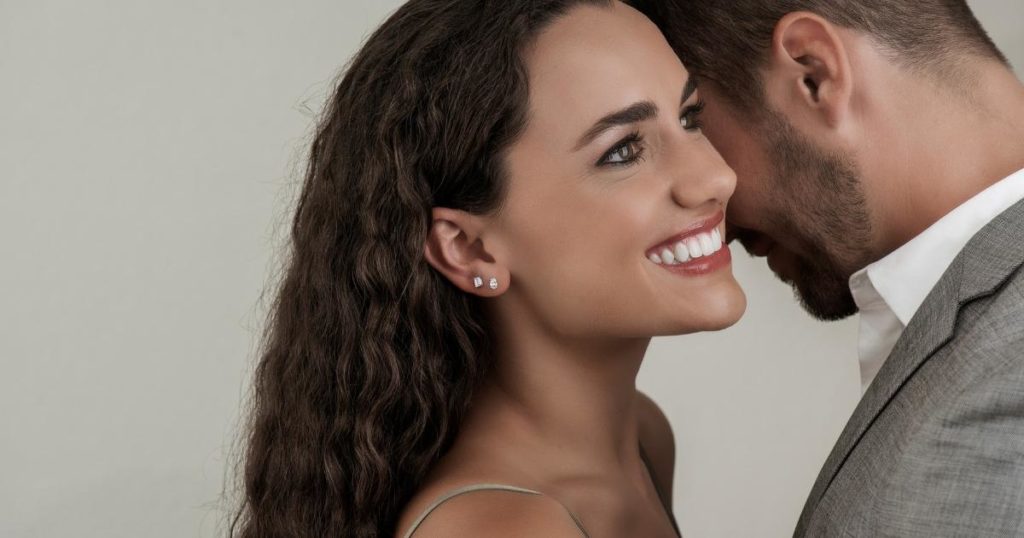 Most experts recommend one or two years but we believe that a successful marriage depends on your level of commitment and the desire to make it work than the number of years you date.
Experts also suggest you learn from your past relationships to determine how soon to propose if you have had any. It would be best if you also focused on how ready you are for marriage regardless of your desired date.
There is no right or wrong time to determine when to get engaged or if your marriage will last, but if you are both intentional and ready to put in the work, there is hope for a lasting marriage.
If you know you have found the one we are here for you. Allow us to help you find the perfect ring for your partner.