Earrings come in many shapes and sizes. If you're shopping for a new pair of earrings for your jewelry collection, take a look at our earring size chart for some helpful tips.
Whether you have traditional ear lobe piercings or cartilage piercings, exploring the different sizes of earrings will help you find the perfect fit.
The Best Earrings For Your Face Shape
If you know this, then you can start looking for the perfect pair of earrings that will complement your face shape to make a statement or bring a subtle elegance to your look.
For wider faces, look for earrings that elongate the face like oval or emerald cut diamonds. Drop earrings that hang down will also elongate the face. Large hoops and earrings also help to balance out the face.
For longer faces, look for round diamonds or other symmetrical shapes like princess or Asscher cut diamonds. Diamond studs are also great for adding that extra glamor without making your face look too long.
For angular faces, rounded earrings help soften the face. Round diamond studs and hoops are great options.
Stud Earrings
Studs are some of the most versatile earrings because you can wear them with practically anything. They are simple for everyday wear but can be elegant and sophisticated enough to dress up any outfit.
When shopping for stud earrings that aren't diamonds or other gemstones, there may not be standard sizing. It is best to look for the specific measurement or try a pair of earrings on yourself before deciding if they are the right size.
Diamond Jewelry
There are many earrings that feature beautiful diamonds. And of course, you should feel free to play around with the diamond shape, diamond color, or metal to create a unique look.
Check out Clean Origin's pink diamond stud earrings and blue diamond earrings for something different than traditional diamonds.
Diamond Stud Earrings
Diamond stud earring sizes, like most diamond jewelry sizes, are categorized by the total carat weight of the diamond itself. These carat weights correlate closely with the size of the diamond so it is easy to tell the size of the earrings.
Typical diamond studs range from 0.25 carats to 4.00 carats. Although, these sizes can vary slightly depending on the shape of the diamond. Since the round diamond is the largest cut and most common diamond, we're using it as an example for the diamond size chart.
Diamond Stud Earring Size Chart
The following chart indicates the carat weight of a diamond along with its corresponding diameter.
| | |
| --- | --- |
| Carat Weight | Diameter (mm) |
| 0.25 | 4.1 mm |
| 0.5 | 5.1 mm |
| 0.75 | 5.8 mm |
| 1.0 | 6.4 mm |
| 1.25 | 7.1 mm |
| 1.5 | 7.4 mm |
| 2.0 | 8.1 mm |
| 3.0 | 9.3 mm |
| 4.0 | 10.2 mm |
Hoop Earring Size Chart
Hoop earrings also come in many different sizes and it may be tricky to know the exact size you want. In addition, you may wear different size hoops for different occasions or outfits.
Tiny Hoop Earrings – Up to 15mm
Very small hoop earrings are commonly worn by kids, as well as men and women who want simple hoops for everyday wear.
Small Hoop Earrings – 15 to 25 mm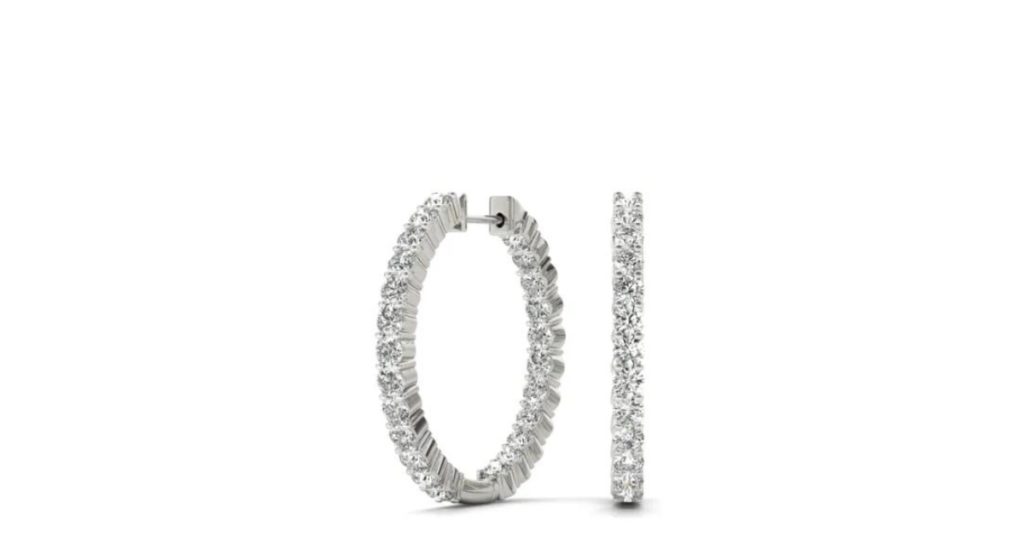 Small hoops are also great for every day as they add a little bit of glamour to every outfit. You can either get simple hoops like huggies that you always keep on or find ones with charms to match your personality.
Medium Hoop Earrings – 25 to 45 mm
Medium hoop earrings can vary a lot in size. For example, these hoops can be thinner like larger hoops or thicker with designs like braids and notches.
Medium hoops will hang below the ear midway between your earlobe and the start of your jawline.
Large Hoop Earrings – 45 – 75 mm
Large hoops are great for a night out or if you want to spice up an outfit. They draw attention to the face and frame the face nicely.
Large hoops can hang anywhere from the earlobe to the chin. Often they are thinner, but you may still be able to find thick large hoops with diamonds or other designs.
Extra Large Hoop Earrings – 75 to 140 mm
Extra large hoop earrings truly make a bold statement. They are often seen on the red carpet or worn by models on the runway. Many designers have used the extra large hoop trend to draw attention to the face.
You can wear extra large hoops however you want, but it is important to be careful and not catch the earrings on anything.
Drop Earrings
When looking for drop earrings, look for the length of the earring to see how far it will hang.
Smaller drop earrings with a simple pendant may be around 2 – 4 cm (0.75 – 1.5 in). A general length for long drop earrings is 4 to 6 cm (1.5 to 2.3 in). Longer drop earrings that are 7 – 9 cm (2.5 – 3.5 in) will hang just below your jawline or around halfway down your neck.
Drop earrings can be as long as 20 cm (7-8 in). If you know what length you want, you can measure from the piercing down to your preferred length.
Clean Origin Earrings
While you're shopping, don't forget to check out Clean Origin's wonderful selection of diamond stud earrings and diamond hoop earrings.
You can always contact us or set up a virtual appointment for extra guidance on finding the perfect pair of earrings for you!