Every single anniversary is a reason to celebrate, but to reach a decade with your partner is a significant milestone! It's essential to make sure you pick out the perfect 10 year anniversary gift. You will want to choose a gift that represents the strength and beauty of your love, as well as the value of your lasting relationship.
The next significant anniversary you'll likely celebrate will be your 25th, and then your half a century! So you should make sure to enjoy life's most memorable moments and think about your anniversary gifts with care.
10 Year Anniversary Gift Ideas for a Decade of Memories
With a decade of memories together, you've surely seen each other through it all. Like your wedding vows may have said, you have seen sickness, health, date night, arguments, passion, and stress. Your partnership has weathered the test of time for 10 years and is absolutely worth celebrating. Ten years is a testimony to the love and commitment you've both put so much effort into. There's a lot to celebrate – therefore, you will need the perfect gift for this beautiful milestone!
Picking out a 10-year gift that represents your love for your special someone can undoubtedly be a daunting task. So we've compiled a list of the best gift ideas to help show thoughtfulness and love. This list will also help you make your celebration as magical as your relationship.
Read on to learn about these 10-year anniversary gift ideas. We will also give you some examples of what kind of special gift you can give your spouse to celebrate a decade of love.
A Traditional 10 Year Modern Gift: Tin Anniversary Gift Ideas
It is common for each anniversary to have a material associated with it. The materials represent the strength of your marriage, and also the stage of life you are both in together. In medieval times, tin and aluminum were the traditional gifts for your ten-year wedding anniversary.
Tin and aluminum's durability and strength symbolized marriage that stands throughout the test of time; but today it can make for a unique gift at best. While tin and aluminum were rare and valuable at the time, they are now common materials for home decor.
On your tenth anniversary, you may find that the perfect present to symbolize your loving union is a modern take on the traditional tin. There may be some beautiful gifts out there made of tin, but you may be looking for something more glamorous to give to your special someone.
Diamond jewelry is a more modern anniversary present, and is especially known for its unmatched density. Diamonds symbolize endurance and strength of love, and they are also a symbol of the 10th year anniversary. Here at Clean Origin, we believe in 100% authentic, 100% quality, and 100% ethical lab grown diamonds and gifts that you'll indeed both love and feel good about.
Tin as a 10 Year Anniversary Gift
If you're set on sticking with tradition but want to get a lovely gift to celebrate your 10th wedding anniversary, consider an etched tin ring bowl for your diamond jewelry.
Another alternative would be a painting done of your wedding day on aluminum or tin. Metal sheet paintings have a special glow due to their reflective canvas–and they can be a fantastic sentimental keepsake. You can even make tin paintings together as a fun type of bonding activity! Who doesn't love DIY projects?
Of course, these gifts are a lovely complement to a date night! Alternatively, you could give an eternity band to update an engagement ring or a memorable trip to somewhere new in the world. A 10th wedding anniversary is absolutely an occasion to celebrate, and definitely one to be done up big.
Choosing a Modern Alternative 10 Year Anniversary Gift to Tin
When you reach ten years together, you may want to commemorate your marriage and life together in a new way. Want a modern way to find the best gifts for your 10th anniversary? Consider the original value of tin and aluminum. Tin and aluminum were rare and valuable because they were deemed versatile, durable materials that were just being created at the time.
A modern option is looking at recycled metal or lab grown gems in fine jewelry. This way, you are gifting a miracle of science and honoring tradition. But you're also updating your gift to meet an appropriate price point to celebrate the last decade together.
While similar in color, we recommend staying away from non-durable metals like pure silver or sterling silver. We say this because they are too soft to withstand the test of time–which makes a poor metaphor for your successful marriage. Whatever you choose, make sure it is a symbol of your love.
Diamonds: The Perfect 10 Year Anniversary Gift
Whether you're looking to go all out or stay on a budget, you can find the perfect 10-year gift for your spouse here at Clean Origin. You'll have no problem finding that special piece for an extraordinary occasion.
Diamond Necklaces
Diamond necklaces make not only a fashionable but an easy gift without having to figure out your partner's ring size. You can simply choose a style that you think they'll cherish forever. Not sure what style your partner will love the most? Our 100-day return policy allows you plenty of time to ensure that it's perfect. Here are some of our top picks:
Half Moon Bay Diamond Pendant
Our Half Moon Bay Diamond Pendant is not only a classic but features 17 dazzling lab grown diamonds. Available in rose gold as well, you can choose a style as unique as your love.
Ortus Y Necklace
A beautiful minimalist piece, the 1/4CT Ortus necklace draws extreme attention to your decolletage with 28 pave-set lab grown diamonds on an 18″ chain.
1 CT. TW. Perfect Heart Pendant
Your partner will be sure to love this diamond heart pendant for years to come. Adorned with 16 lab created diamonds, this sparkling beauty is the perfect 10-year anniversary gift.
Diamond Bracelets
At Clean Origin, our diamond bracelets without a doubt make the perfect 10-year gift for your partner to wear every day. You can choose from tennis bracelets to more delicate accessories, but you really can't go wrong no matter what you choose.
14kt White Gold Arc en Ciel Bracelet
For this heirloom-worthy bracelet, round lab grown diamonds are kite-set in this classic style. It comes in either 14k yellow or white gold – which makes for effortless style.
1 1/2 ct Yellow Gold Petite Diamond Bracelet
Simple and elegant, our yellow gold petite diamond bracelet features a dazzling row of diamonds. This is the perfect gift for that special someone who loves some sparkle as well as shine.
Classic 3CT Tennis Bracelet
A shimmering row of lab created diamonds will encircle their wrist with sparkle and shine. This piece indeed makes a nice addition to anyone's jewelry collection.
Diamond Earrings for a 10 Year Anniversary Gift
Diamond earrings are not only stunning, but they are also a simple and easy gift to give. With options ranging from timeless shapes to dazzling hoops, you'll be sure to find something your partner will adore.
Pear Shaped Diamond Stud Earrings
Our pear-shaped stud earrings are unique and one-of-a-kind. They feature one rounded end and one sharply pointed end which, as a result, makes them a unique mix of round brilliant and marquise shapes.
Caligo Dangling Studs
Part of our Diem Collection, the Caligo dangling studs feature a total weight of 1/2CT, with each earring holding two bezel-set round lab grown diamonds.
Princess Diamond Stud Earrings
This pair of modern, princess-cut diamond stud earrings features a square top, four beveled sides, and a point resembling an upside-down pyramid beneath the surface of the stone; these earrings are perfect for royalty.
Diamond Rings for a 10 Year Anniversary Gift
Diamond rings are, without a doubt, a perfect 10-year anniversary gift. If your wedding planner did not advise you to pick up an eternity band for a later wedding anniversary, then you better start scrolling! From minimal and to more unique and dazzling, here are our top picks:
½ CT. TW Stella Diamond Ring
Our Stella Diamond Ring features 17 lab created diamonds totaling 1/2 carat. This timeless ring is available in your choice of 5 precious metals.
Montague Marquise Eternity Band
Round and marquise-shaped milgrain frames make a romantic eternity band with a vintage touch – perfect for that special someone who loves a timeless and classic look.
Buckingham Eternity Band
The Buckingham eternity band is fit for a queen. It has double rows of milgrain swooping into marquise and diamond shapes that frame 18 lab created diamonds.
Emballage Eternity Band
To celebrate your 10 year anniversary, why not celebrate infinity as well? With this infinity-style eternity band, there are two bands of high polish gold set with 100 sparkling lab created diamonds. They are gracefully intertwined and sure to leave your special someone grinning.
Basque Eternity Band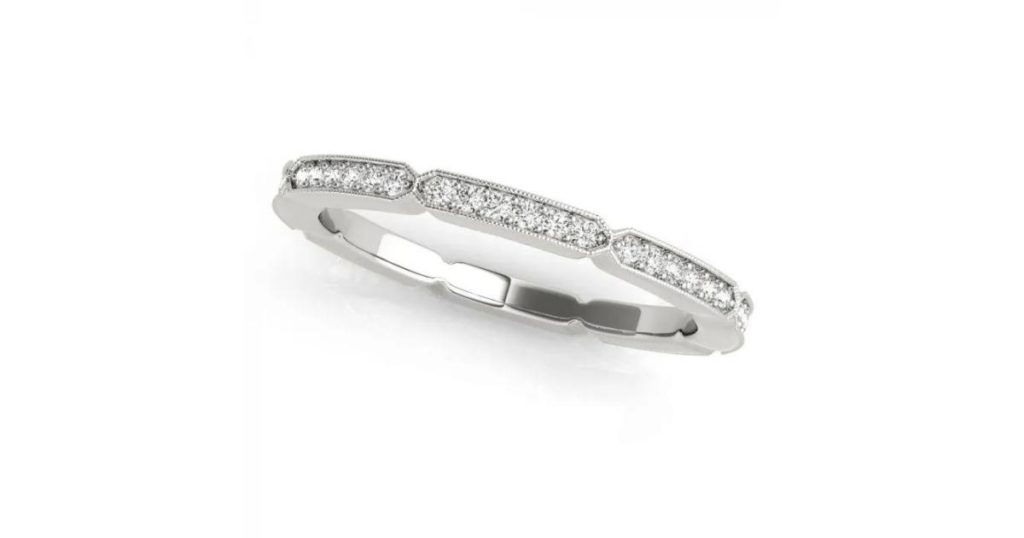 Our Basque eternity band is romantic and delicate with a vintage touch–simple, but absolutely stunning (particularly in white gold). It makes the perfect addition to a 10 year anniversary.
Choosing the Perfect 10 Year Wedding Anniversary Gift
Selecting the perfect 10th wedding anniversary gift can be simple when choosing from our wide variety of stunning and lab grown diamonds. Fine jewelry that lasts a lifetime always leaves an impression, and it can be the perfect gift. From an ideal bracelet to a gorgeous diamond necklace, your special someone will be sure to cherish it forever.
Are you looking for a 10-year anniversary gift for couples? Or a fantastic 10-year anniversary gift for him? There are many excellent, sentimental 10 year anniversary gifts for that man in your life, or matching bands you can both share that can be stackable to your already-existing wedding ring or to be worn in place.
Many couples choose a 10-year anniversary ring or choose a stackable wedding band as a meaningful present to commemorate an entire decade together. And we've got a wide selection to choose from. 
Celebrating 10 years of marriage is both a fun and monumental milestone. Show your significant other how much you care with a lab grown diamond anniversary gift from Clean Origin.
Whether you choose to go the traditional or modern route, our lab grown diamonds will make a great 10-year anniversary gift. And, after a decade spent together, they are also sure to show your love and affection for your partner.