Every anniversary date is worth celebrating, but achieving a decade with your partner is a significant milestone anniversary! It's important to select the perfect 10th-anniversary gift carefully. You'll want to choose a gift that symbolizes the endurance and splendor of your love and the worth of your longstanding relationship.
10 Year Anniversary Gift Ideas for a Decade of Memories
After ten years of being together, undoubtedly, you have been through it all with each other. From sickness to health, date nights to arguments, passion to stress, and everything in between, your partnership has stood the test of time and is worth celebrating. Your commitment and love for each other have been evident throughout the years. To mark this beautiful milestone, you will need the perfect gift. However, finding the right one that encapsulates your love for your significant other can be daunting. That's why we have compiled a list of the best gift ideas to help express your thoughtfulness and love. With these gift ideas, you can make your celebration as magical as your relationship. Furthermore, continue reading to discover our suggestions for 10 year anniversary gifts and some examples of special gifts you can give your beloved partner.
10 Years – Tin Anniversary
Anniversaries often have a specific material that represents the strength of your marriage and the stage of life you are in together. In medieval times, tin and aluminum were traditional gifts for the tenth wedding anniversary, symbolizing the durability and strength of a marriage that stands the test of time. However, these materials are common and may not make for the most unique and meaningful gifts. While there are beautiful tin gifts, you may be looking for something more glamorous. On your tenth wedding date anniversary, consider a modern take on the traditional gift to find the perfect present that symbolizes your loving union.
Diamond jewelry is a more modern gift for anniversaries. Diamonds symbolize endurance and strength of love, and they are also a symbol of the 10th anniversary. Here at Clean Origin, we believe in 100% authentic, 100% quality, and 100% ethical lab grown diamonds and gifts that you'll indeed both love and feel good about.
Diamonds: The Perfect Tenth Anniversary Gift
At Clean Origin, we offer a range of 10th wedding anniversary gift ideas for your spouse that fit any budget. Whether you want to splurge or save, we have the perfect piece to make your special occasion unforgettable.
Necklaces
Diamond necklaces make a fashionable and easy gift without having to figure out your partner's ring size. You can choose a style that you think they'll cherish forever. Not sure what style your partner will love the most? Our 100-day return policy allows you plenty of time to ensure it's perfect. Here are some of our top picks:
Half Moon Bay Diamond Pendant
Our Half Moon Bay Diamond Pendant is not only a classic but features 17 dazzling lab grown diamonds. Available in rose gold as well, you can choose a style as unique as your love.
Ortus Y Necklace
A beautiful minimalist piece, the 1/4CT Ortus necklace draws extreme attention to your decolletage with 28 pave-set lab grown diamonds on an 18″ chain.
1 CT. TW. Perfect Heart Pendant
Your partner will be sure to love this diamond heart pendant for years to come. Adorned with 16 lab created diamonds, this sparkling beauty is the perfect 10-year anniversary gift.
Bracelets
At Clean Origin, our diamond bracelets undoubtedly make the perfect 10-year gift for your partner to wear daily. You can choose from tennis bracelets to more delicate accessories, but you really can't go wrong no matter what you choose. 
14kt White Gold Arc en Ciel Bracelet
For this heirloom-worthy bracelet, round lab grown diamonds are kite-set in this classic style. It comes in either 14k yellow or white gold – which makes for effortless style.
1 1/2 ct Yellow Gold Petite Diamond Bracelet
Simple and elegant, our yellow gold petite diamond bracelet features a dazzling row of diamonds. This is the perfect gift for that special someone who loves some sparkle as well as shine.
Classic 3CT Tennis Bracelet
A shimmering row of lab created diamonds will encircle their wrist with sparkle and shine. This piece indeed makes a nice addition to anyone's jewelry collection.
Earrings for a 10 Year Anniversary Gift
Diamond earrings are not only breathtaking but also a hassle-free gift to present. You can choose from various designs, from classic shapes to dazzling hoops, to find the perfect match for your partner.
Pear Shaped Diamond Stud Earrings
Our pear-shaped stud earrings are unique and one-of-a-kind. They feature one rounded end and one sharply pointed end which, as a result, makes them a unique mix of round brilliant and marquise shapes.
Caligo Dangling Studs
Part of our Diem Collection, the Caligo dangling studs feature a total weight of 1/2CT, with each earring holding two bezel-set round lab grown diamonds.
Princess Diamond Stud Earrings
This pair of modern, princess-cut diamond stud earrings features a square top, four beveled sides, and a point resembling an upside-down pyramid beneath the surface of the stone; these earrings are perfect for royalty.
Rings for a 10 Year Anniversary Gift
A diamond ring is an ideal gift for a 10-year wedding anniversary. Suppose your wedding planner didn't suggest getting an eternity band to accompany your wedding rings for a future anniversary. In that case, it's time to start looking! We've compiled a list of our top picks, ranging from simple to more distinctive and stunning designs.
½ CT. TW Stella Diamond Ring
Our Stella Diamond Ring features 17 lab created diamonds totaling 1/2 carat. This timeless ring is available in your choice of 5 precious metals.
Montague Marquise Eternity Band
Round and marquise-shaped milgrain frames make a romantic eternity band with a vintage touch – perfect for that special someone who loves a timeless and classic look.
Buckingham Eternity Band
The Buckingham eternity band is fit for a queen. It has double rows of milgrain swooping into marquise and diamond shapes that frame 18 lab created diamonds.
Emballage Eternity Band
To celebrate your 10 year anniversary, why not celebrate infinity as well? With this infinity-style eternity band, there are two bands of high polish gold set with 100 sparkling lab created diamonds. They are gracefully intertwined and sure to leave your special someone grinning.
Basque Eternity Band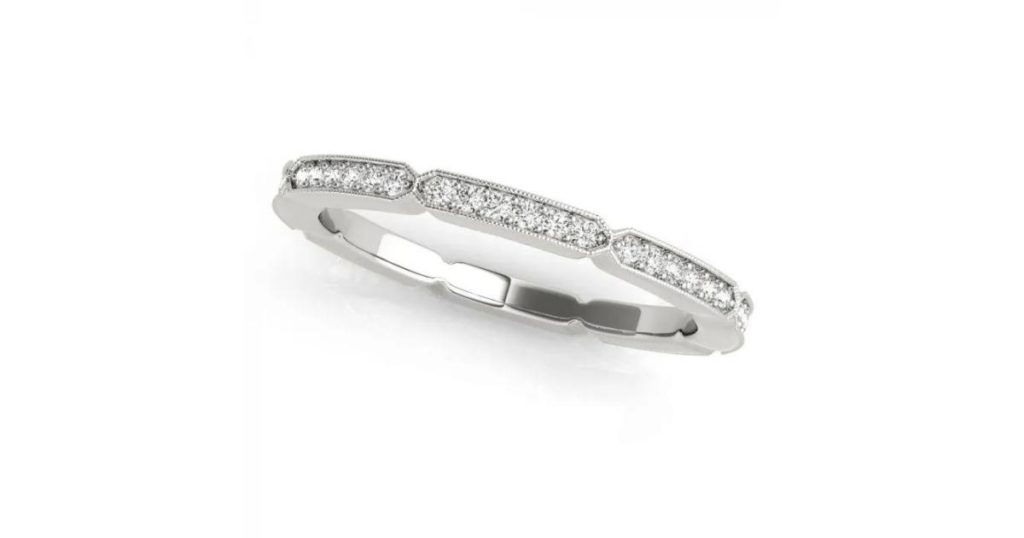 Our Basque eternity band is romantic and delicate with a vintage touch–simple, but absolutely stunning (particularly in white gold). It makes the perfect addition to a 10 year anniversary.
Choosing the Perfect 10 Year Wedding Anniversary Gift
Celebrating a 10-year marriage anniversary is indeed a significant event that deserves special recognition. To truly show your love and appreciation for your significant other, you may want to consider gifting them a lab grown diamond from Clean Origin, which comes in a stunning gift box. This thoughtful gesture will undoubtedly help you express your love and gratitude in a meaningful way. Additionally, you could create a personalized playlist featuring your wedding song and share it with your beloved partner, making your celebration as enchanting as your relationship.
Our lab grown diamond collection offers a wide range of options catering to traditional and modern tastes. No matter your choice, it will be a beautiful and timeless reminder of your love for your partner, especially after spending a decade together.