Small diamond earrings are perfect for everyday wear. From diamond studs to hoop earrings, jewelry comes in many different styles and sizes. Shop for a cute pair of small diamond earrings from our lab grown diamond collection today!
Small Diamonds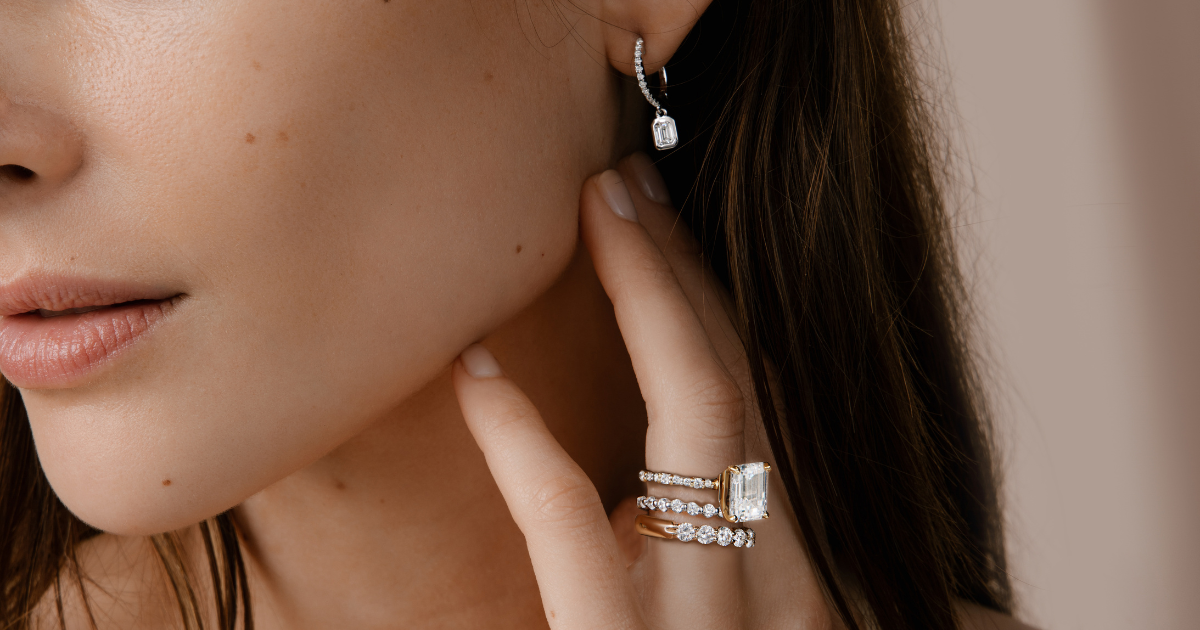 Small diamonds are excellent for a clustered effect. They are also an understated embellishment to any piece of jewelry. However, not everyone is looking for small diamond earrings, or any small diamond jewelry in general, for its size.
It's no secret that small-carat weight diamonds are generally more affordable than larger stones. To assist in your search for the perfect small diamond, we go over some aspects that give small gems the illusion of looking bigger.
How the 4C's Affect Diamond Size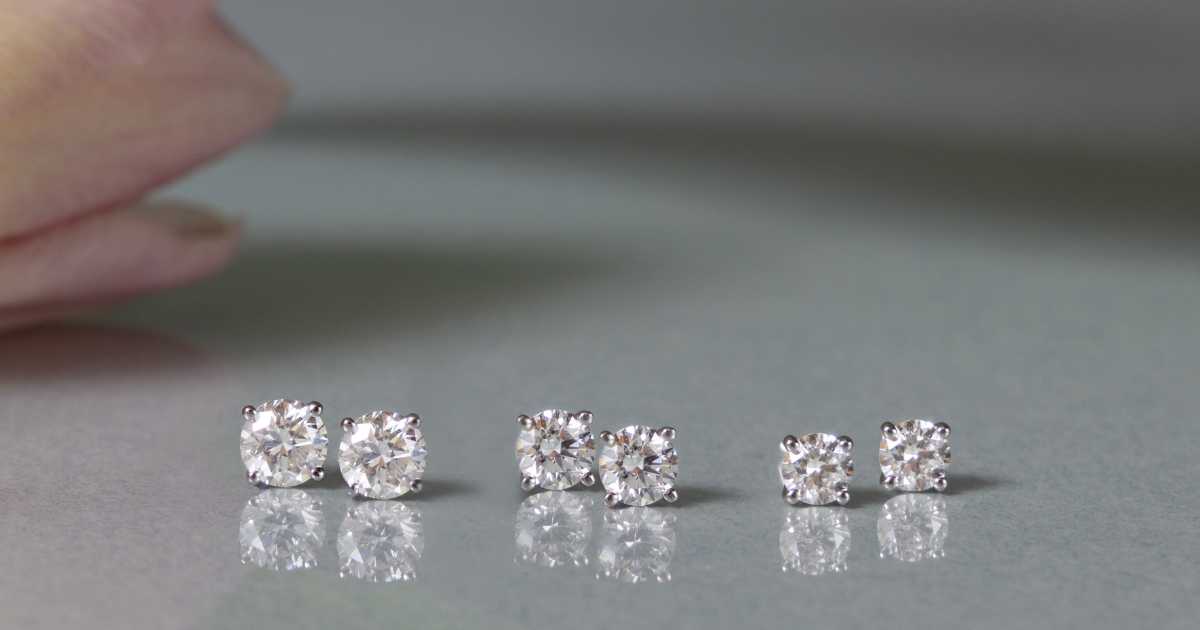 A diamond earring's appearance depends on the carat, clarity, color, and cut, also known as the 4C's.
Carat Weight
Carat weight describes the mass of a diamond. This is the most literal indicator of how big a diamond is because it is a direct weight measurement. In addition to a carat weight, let's discover how other factors can affect how large the diamond appears.
Cut
A diamond's sparkle is mainly dependent on its shape and facets, a.k.a. cut. The more light that the diamond can reflect, the larger it appears. With that, lengthier diamonds with a great number of facets tend to appear bigger in size even if their carat weight is low. Examples of diamond cuts that will successfully give a large illusion are marquise and emerald cuts.
Clarity
Clarity refers to the diamond purity and flaws found in a diamond. The fewer flaws apparent, also called inclusions and blemishes, the more light that the diamond can reflect. The higher the diamond's clarity, the larger the diamond may appear.
Color
Surprisingly, choosing a color diamond can make the gem look larger. Color stones like yellow and light pink may appear more expansive than purely white traditional diamonds.
Tips for Making Small Diamonds Appear Larger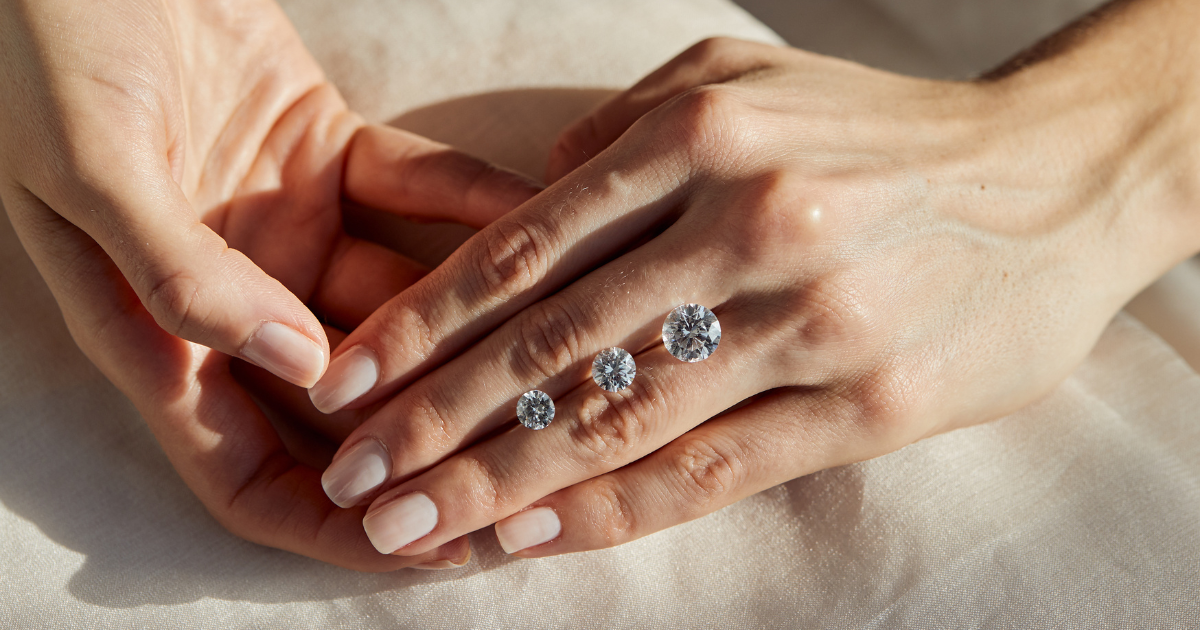 Small diamonds are affordable and gorgeous. You can allude to having a larger diamond by carefully comparing and contrasting the 4C's as well as a few other aspects of diamond jewelry.
Similar to diamond rings, diamond earrings have different settings. An earring that is deeply set may be hidden by the metal surrounding it, similarly if the prongs are large. So, to ensure your diamond can shine at its maximum capacity, allow the diamond to sit in its metal as unobstructed as possible.
Clean Origin's Small Diamond Earring Styles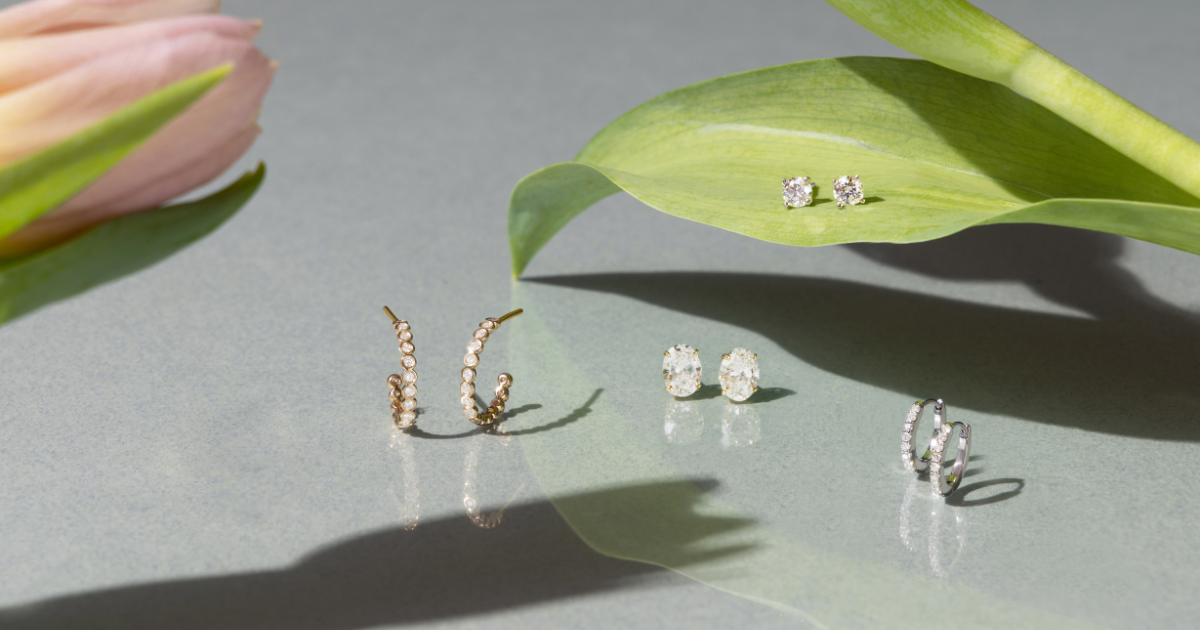 If everyday wear and simplicity is your goal, we have you covered. Here are a few viable options from our lab created diamond earring collection.
Small Stud Earrings
Clara Stud Earrings
The Clara studs are from our Diem Collection and feature two round lab grown diamonds in a bezel setting. This pair of small diamond earrings start at ¼ carat total weight in addition to an average diamond color of G/H.
Borealis Stud Earrings
Here are the Borealis stud earrings surrounded by a flower-like setting. Also a member of the Diem collection family, these earrings feature two round-cut diamonds with an average clarity of SI and average diamond color of G/H. Shop the ¼ total carat weight version of these earrings, starting at $385.
Constellation Stud Earrings
The Constellation stud earrings incorporate a cluster of our ethically sourced diamonds with an average diamond color of F/G and clarity of VS/SI. The ½ carat total weight variety of this design includes 14 total round small diamonds, starting at $510.
Soho Emerald Stud Earrings
The Soho Emerald Stud Earrings feature a gorgeous SI clarity with an average diamond color of G/H. If you want your jewelry to stand out, choosing to wear emerald stones and other cuts absolutely are a great way to stand out with minimal pieces. This pair of earrings start at $585 for a stunning ⅓ total diamond weight.
Small Hoop and Drop Earrings
Veni Huggies
The Veni Huggies feature 22 total diamonds between the dangling emerald stone and the round stones on the hoop. Clean Origin's Huggies are small hoop earrings made to cuff your ear lobe.
The Veni features the dangling piece, while the Cecelia 12mm Huggies shown below do without it. While both are diamond studded, their minuscule differences satisfy opposing jewelry preferences.
The Veni Huggies include ⅝ total diamond weight with G/H color. Similarly, the Cecilia 12mm Huggies include a G/H diamond color with 16 stones at a 1/7 total diamond weight.
Cecelia 12mm Huggies
Caligo Dangling Studs
The Caligo Dangling Stud earrings incorporate 4 round stones. Each stone has SI clarity, G/H diamond color, and all together ½ total diamond weight. Choose your metal in this style starting at $625. The Caligo design offers an elongated iteration of the minimal Clara diamond stud earrings.
Pear Halo Leverback Earrings
The Pear Halo Leverback Earrings have 34 stones with SI diamond clarity and G/H color. The center pear shape diamond is ⅓ CT and is surrounded by multiple round diamonds.
Small and Mighty
No matter how small your diamond is, Clean Origin crafts it with care. We only offer diamonds we believe are worth your purchase. In contrast to other jewelers, with us, you do not have to worry about contributing to unethical diamond mining practices. Shop our lab grown diamond collections for all your jewelry needs, and contact us if you need any assistance with your purchase.