Diamond necklaces are timeless pieces, and anyone can model their beauty. The simplicity of a diamond necklace is classic in how it lies across your skin to accentuate any outfit. Our lab created diamond jewelry collection includes a range of professionally crafted lab diamond necklaces. Check out our catalog to find the best simple diamond necklace for you.
Types of Diamond Necklaces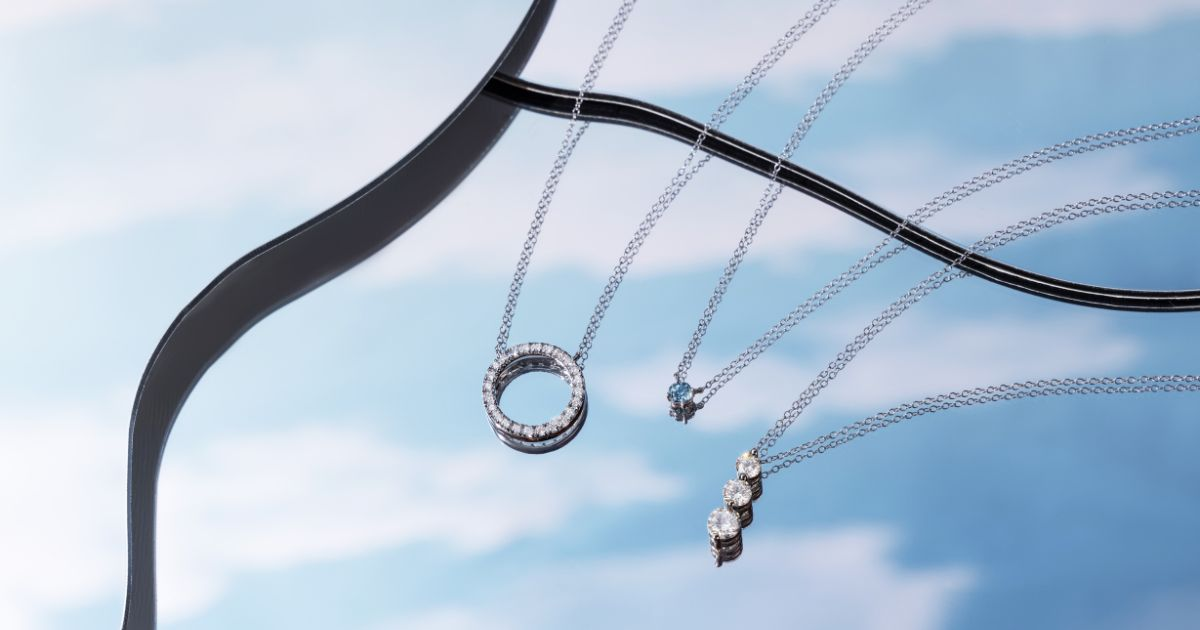 Diamond necklace designs exist within a few familiar categories. These are reminiscent of diamond settings on an engagement ring or bracelet. Shop for them in rose gold, yellow gold, and white gold in-store or online.
Tennis Necklaces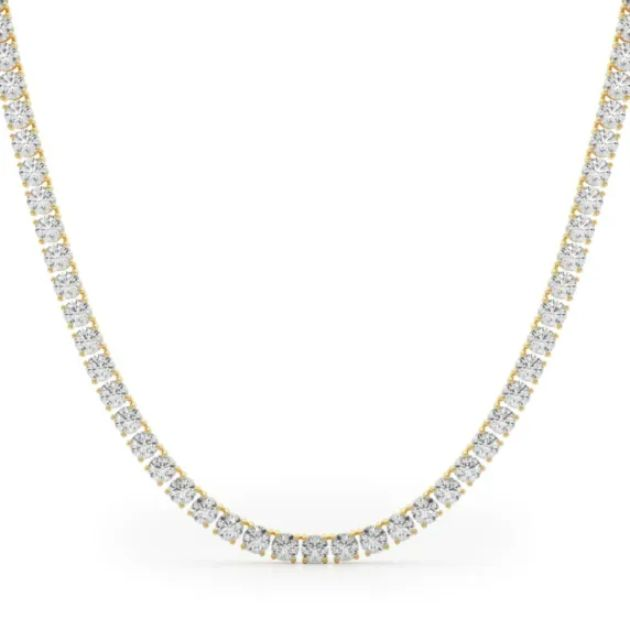 Ever heard of a tennis bracelet? Well, the diamond-studded design also exists in necklace form. Clean Origin offers three overall styles of tennis necklaces: Classic Tennis Necklace, Graduated Tennis Necklace, and the Gatsby Tennis Necklace. Find these in yellow gold and white gold metal.
Solitaire Necklaces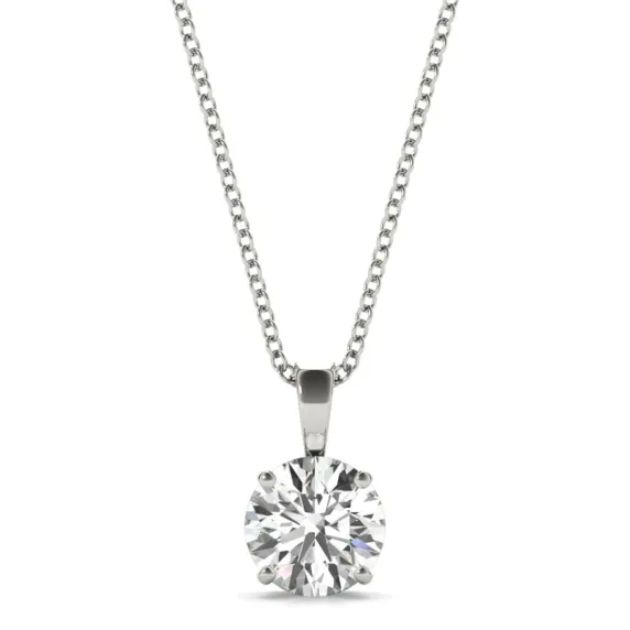 A diamond solitaire necklace features a single stone at the center of the chain. Our Solitaire Diamond Pendant showcases this with a gorgeous lab created round diamond as the focal piece.
Most of our jewelry catalog comes in various metal colors like white gold and yellow gold. Also, discover other diamond necklace designs featuring rose gold metal.
Drop and Bar Necklaces
Drop diamond necklaces are an extension of the solitaire design featuring multiple diamonds at the center of the chain. The diamonds are arranged from north to south, replicating a raindrop. Our Classic 3-stone Pendant shows three round diamonds in 3 different carat sizes.
A bar diamond necklace features a metal bar with diamonds running along the front. This design appears both horizontal and vertical. Our Ortus Y Necklace showcases the vertical bar, with a Y chain offering both a bar and a drop diamond necklace design.
Halo and Circle Necklaces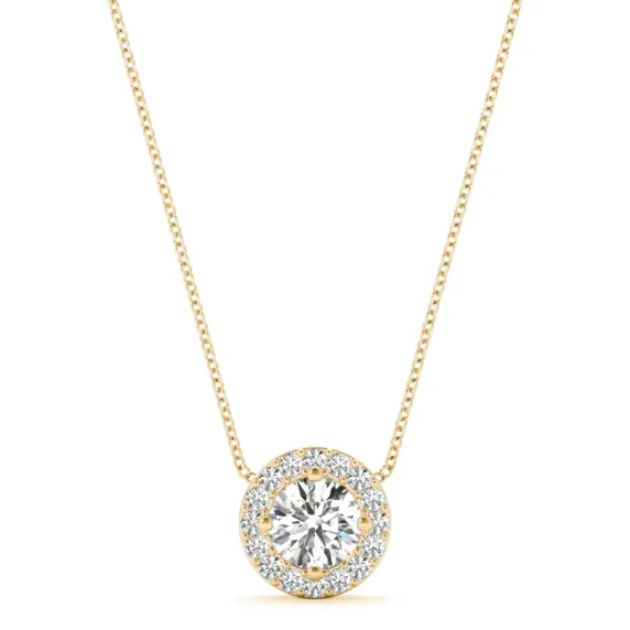 A halo diamond necklace features a center stone with a diamond-studded halo surrounding it, as seen with our Luminescent Halo Pendant.
Unlike the halo design, circle necklaces do not feature a focal stone. This style emphasizes eternity, similar to an eternity band but in necklace form. Our Eternity pendant is a classic example of this technique. We also offer a different take with our Sunburst and Perfect Heart pendants.
How to Style Simple Diamond Necklaces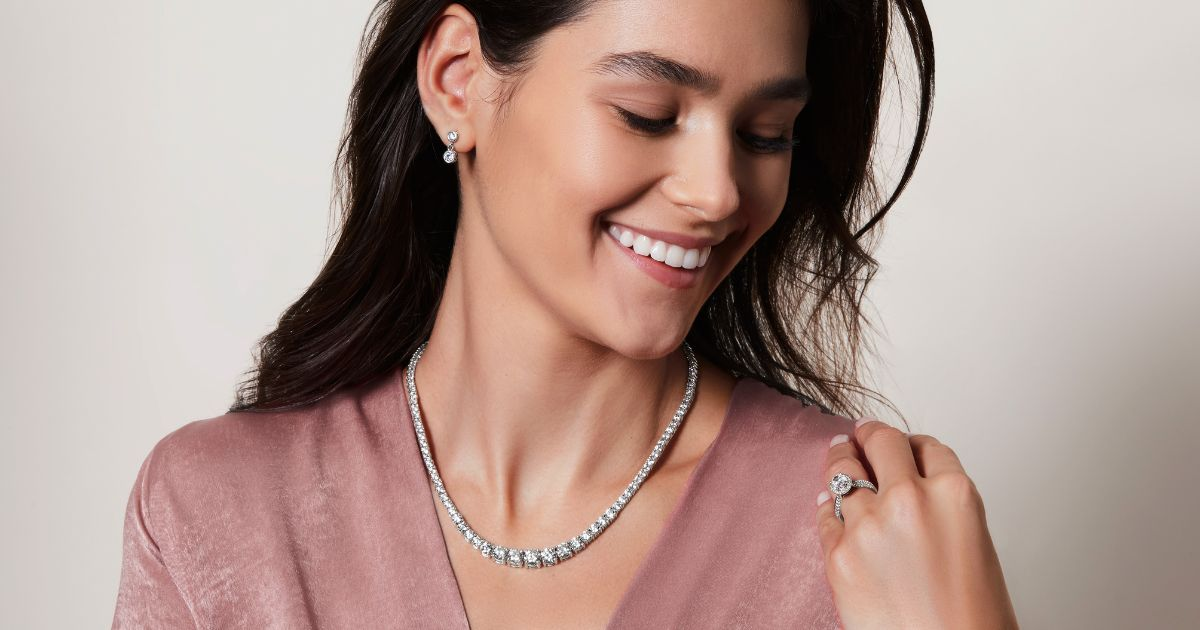 Styling a diamond necklace starts with the color. White and yellow gold are phenomenal options to start with, as they are likely to capture the essence of both your cool-toned and warm-toned outfits.
If you want to approach your jewelry fashions with a bit of creativity, the possibilities are endless. True fans of jewelry know when to embrace the beauty of more than one piece at a time. Stacking diamond jewelry works for just about any piece. Stack earrings along your ear, bracelets on your wrist, rings on your fingers, and necklaces around your neck. Furthermore, try the mixed metals technique for a two-tone, or tri-tone design.