Diamond earrings are a classic gift. They go perfectly with every engagement ring, wedding band, perfect diamond pendants, and so much more. There are so many different earrings, settings, diamonds, and several other distinguishing facts that allow for the perfect pair of earrings to find the perfect set of ears. It can be overwhelming to find the perfect diamond earrings for women with so many options. Let's start with the basics by looking at different earring styles.
Buying Diamond Earrings: What to Look For
When shopping for diamond earrings, it can be tough to know what to look for. We have a great diamond earrings guide for you, starting with the widely applicable basics for buying diamond stud earrings. There are three specific things to look for when looking at diamond stud earrings; diamond quality, diamond shape, and setting style.
Quality
Quality guidelines on diamond earrings are far less strict than the guidelines for diamond rings. Rings are much more likely to be inspected and admired closely than earrings, and they can often even be hidden behind hair. The diamonds used for earrings can have minor imperfections and flaws that don't change the appearance much. You can allocate this money not spent on near-perfect diamonds to buying diamonds with more carat weight. The thing that matters when it comes to diamond studs is that the pair of earrings match in shape and weight.
Shape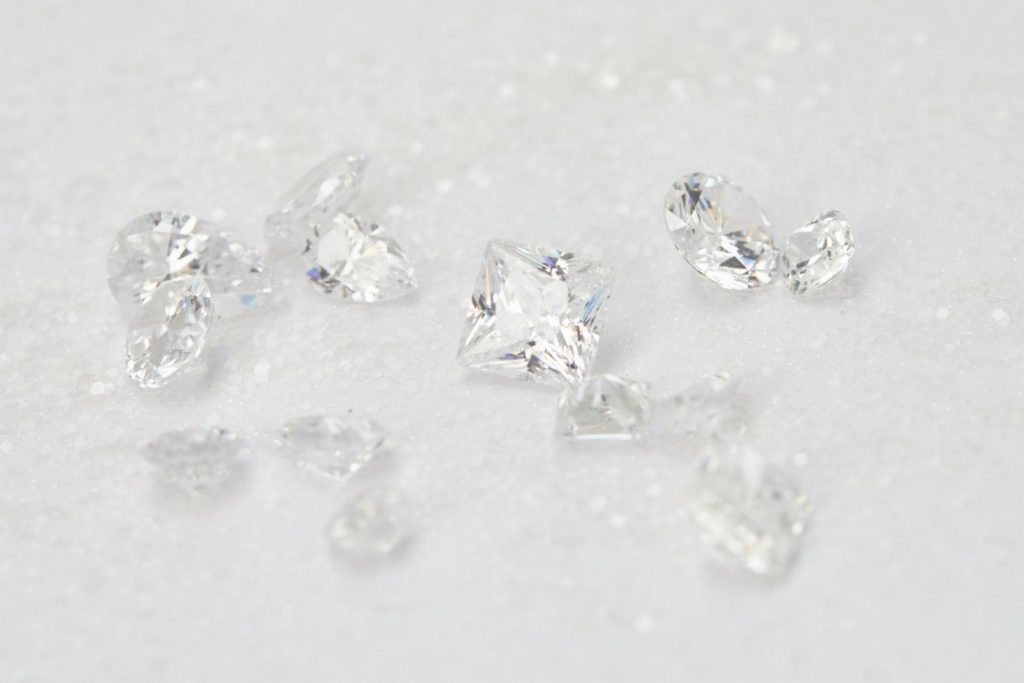 There are a couple of diamond shapes that shine as stud earrings. With earrings, as previously mentioned, one of the most important factors is that the diamond cut matches perfectly. Some shapes, such as pear and marquise, are extremely difficult to cut the same. For diamond stud earrings, it's best to stick with round, Asscher, and princess cut diamonds. These shapes have beautiful equal proportions that make them easier to match up.
Setting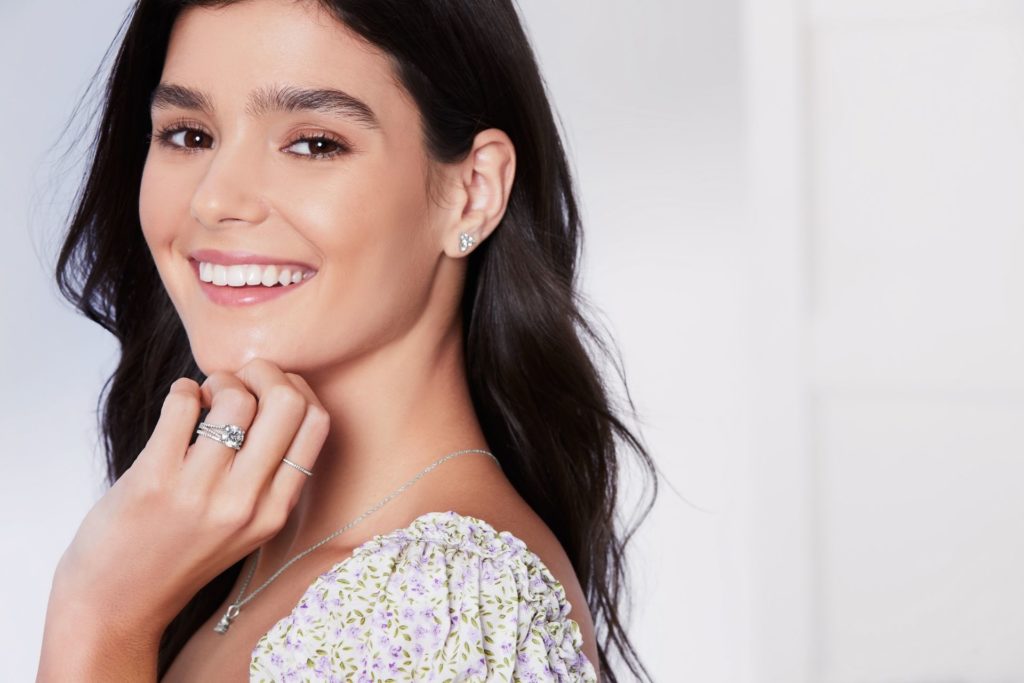 The setting of a pair of studs is also crucial to the overall appearance. Once you've chosen the diamond shape, it's time to pick the best fitting setting. There are many settings to choose from, so we listed some of the more popular shapes for diamond earrings, starting with diamond studs and stud earrings.
Buying Diamond Stud Earrings: Types
Studs are simple and elegant pieces of jewelry to wear that can be either dressed up or dressed down. While engagement rings are lovely, a pair of diamond studs is considered the perfect diamond gift. Each year, they are on many people's wish lists, whether they're fashion studs or classic jewelry. They are fantastic everyday earrings but still cause heads to turn. Check with your jewelry consultant about diamond studs, as they are primarily considered the gateway to engagement rings.
Basket Studs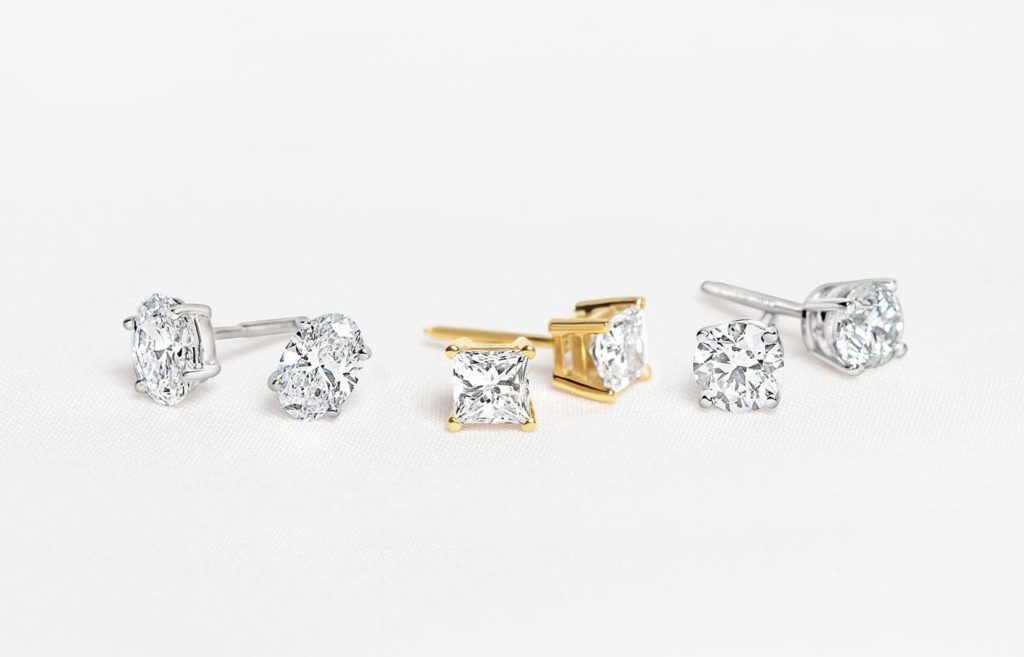 The basket setting is a classic minimalist way to showcase your diamond, especially with Asscher and princess cut diamonds. These are the original shape for solitaire diamond studs and a much-beloved diamond stud shape. Diamond stud earrings like these are a clear favorite due to their unique shape and fire. These are a fantastic pick if you want diamond stud earrings that really glitter.
Halo Studs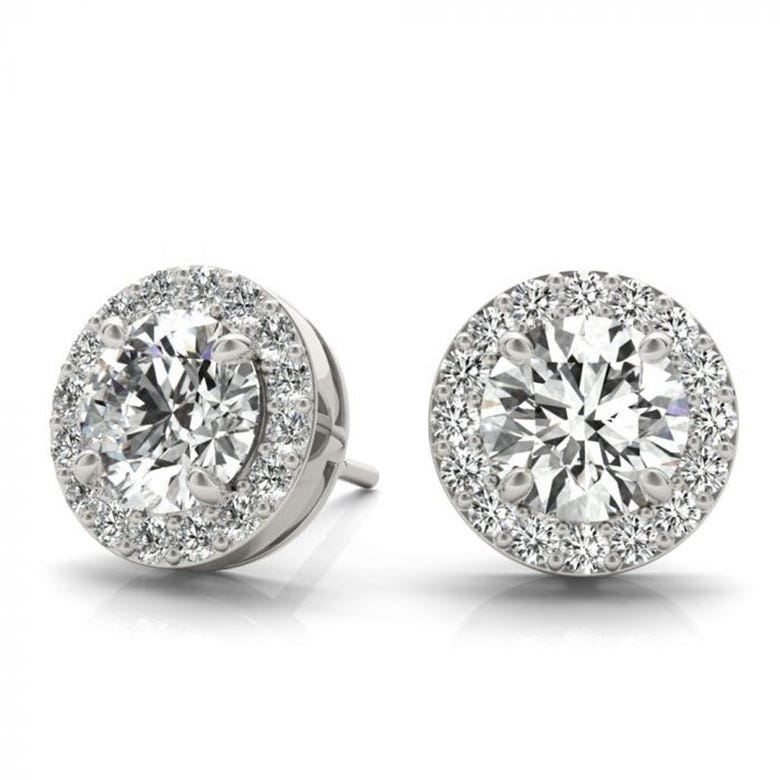 Are you looking for some extra sparkle in your diamond stud earrings without too many additional dollar signs? The halo setting is a great way to amp up the sparkle of the earring pair without having to pay for more carat weight. It is a timeless romantic look that will make heads turn.
Martini Studs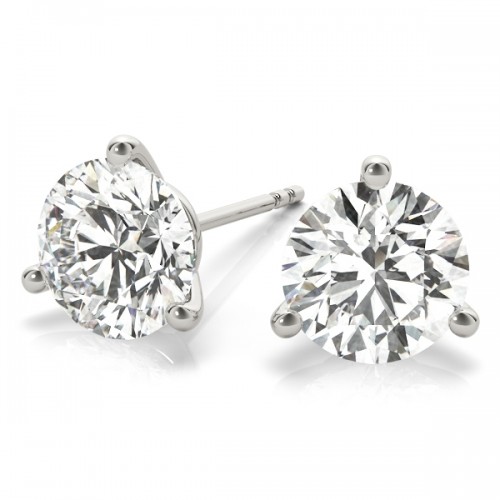 Are you looking for diamond stud earrings that remind you of class and style? The martini setting has three prongs that hold the round diamond in place. These are unique take on solitaire diamond studs. It then narrows at the bottom, like a martini glass. This setting allows the diamond to sit close to your earlobe.
Buying Hoops: Types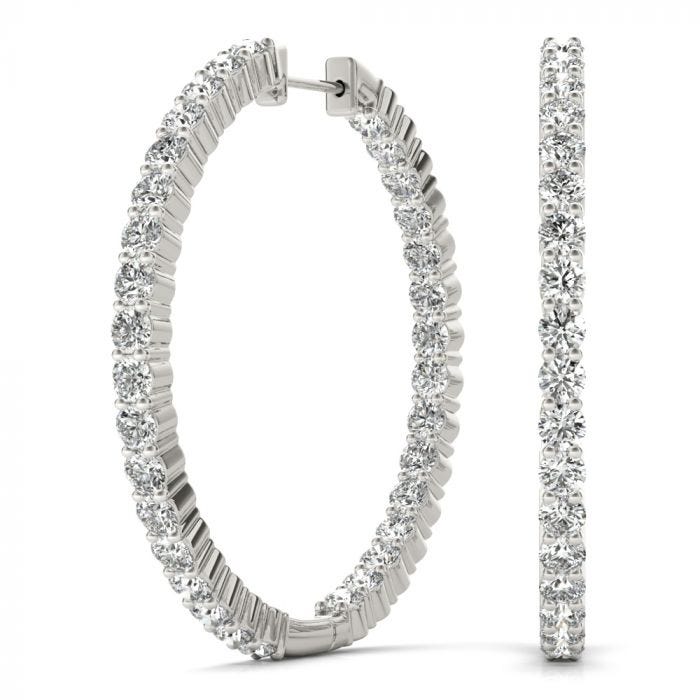 Diamond hoop earrings are classic jewelry that can make anyone feel elegant and powerful. Hoops come in many sizes, anywhere from 10mm to over 70 mm. This means that there is a size and style for everyone and every occasion. While most hoops have the same basic round design, there are several different styles to explore.
Hoop Earrings
Hoops come in many different forms, but we're going to focus on diamond hoop earrings. Diamond hoops are classy and powerful. Depending on the style and size, they're great for any occasion, from formal functions to everyday wear.
Huggie Hoop Earrings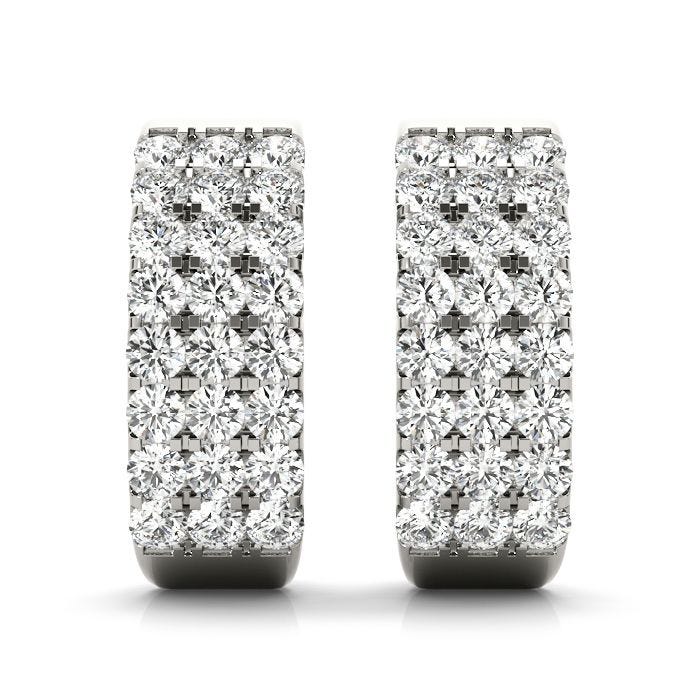 Huggie hoop earrings are a modern take on the classic hoop earring. When adorned with diamonds, they can be the perfect pair of diamond earrings for women. They are often thicker than the traditional hoop and "hug" the earlobe, hence their name. They often hinge for simple insertion and removal.
J-Hoop Earrings
J-hoop earrings are less of a hoop and more of a half-circle. With the open-loop design, you can get a unique profile from the side of the diamond earring with the 'j' shape. They often look very similar to huggie hoop earrings, just without the closed-loop.
Buying Dangle or Drop Earrings
Drop earrings are earrings that simply drop below the earlobe. There are several kinds of drop earring styles, but the basic drop earring can range from a couple of centimeters below your earlobe up to shoulder-length. Often they are solid and stiff, with a diamond or gem dangling at the bottom.
Dangle Earrings
Dangle earrings are a type of drop earring, but they are far less stiff than drop earrings. There are many design options with dangle earrings. With diamond dangle earrings, they are bound to sparkle as the light hits the diamonds as they move and sway.
Chandelier Earrings
Chandelier earrings are an extravagant design that was invented in the Middle East hundreds of years ago. They require expert craftsmanship to create intricate detail and durability. These diamond earrings for women are perfect for formal events and other events in which you'll want to catch attention. The diamond design and layout of these earrings are bound to steal the show.
Precious Metals
When looking at diamond earrings for women, something else to consider is the type of metal and the type of backing. Several metals are used in diamond earrings, including white gold, yellow gold, rose gold, and platinum. For sensitive skin, 18k yellow gold, rose gold, or white gold and platinum are the best options, but at the end of the day, it all comes down to personal preference. In many cases, we do not recommend sterling silver, as sterling silver is not usually durable enough to protect your lab created diamond long-term. Precious metals are essential, so reach out to a jewelry consultant if you are not sure about your options. The perfect jewelry comes from good research, regardless of the carat weight, cut quality, or color grade.
Backing Types
There are many different earring backs to choose from. It is imperative to have a safe and secure backing with diamond earrings, especially above a certain carat weight. It has been found that earrings are the most frequently lost type of jewelry, and losing a diamond earring would be pretty heartbreaking—especially solitaire studs or earring jackets that just became your favorite pair. One way to avoid losing your favorite pair is to have the correct type of backing. One of the most common options is the French hook, which is popular in drop and dangle earrings. The push back and screw back are popular and secure options for diamond studs, especially solitaire studs. Screw-backs are especially great for larger studs.
Conclusion
Diamond earrings are a great gift that you can individualize to fit her personality and style. With so many options of setting, style, shape, and size, the perfect pair of diamond earrings are bound to be out there for you, whether you search through all the jewelry available or just for popular styles. Diamond earrings are also available at a variety of price points, so you may want to use a diamond price calculator to see how different factors may impact a stone's cost. Shop for the perfect pair of precious metal earrings with our diamond experts at Clean Origin.