The 1960s were a revolutionary time throughout all areas of life. Peace, love, and flower power reflected in youth counterculture and the decade represented a major break from traditional values. Brides in the 60s did their own thing — tailoring their wedding how they wanted it, rather than what their parents or society expected. Styles quickly became newer, slimmer, and most of all… mini! Mini dresses and skirts took over the fashion trends nationwide, hugely influencing popular culture. Brides that wanted to keep it long chose many different styles, like the v-neck, and began emphasizing their makeup and hair more than ever before.
Sharon Tate
Having designed her own mini babydoll silk wedding dress, Sharon Tate embodies the height of 60s individuality and fashion for her marriage to Roman Polanski in 1968. Her hair, adorned with small flower ribbons, complimented her style beautifully.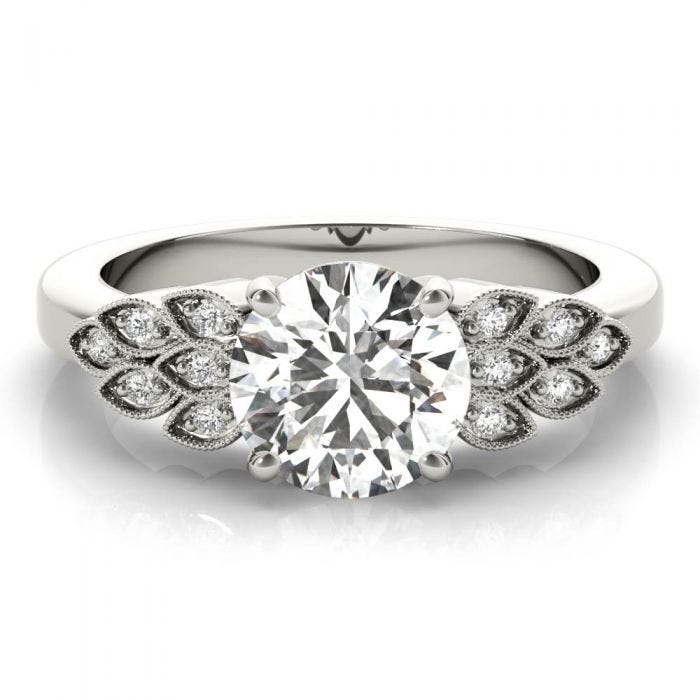 Our Ring Pick: Pela Vintage Ring
This elegant vintage style has 12 lab-created diamonds and each one is surrounded with milgrain edges creating a stunning ring.
Raquel Welch 
Raquel Welch wore a crochet mini dress and white sandals to her second wedding in 1968. This unprecedented peek-a-boo style is a testament to the increased freedom in fashion in this decade. Along with her knee-length statement white fur coat, her dress received huge publicity for its radical look.
Our Ring Pick: Lattice Vintage Ring
A vintage style that includes high polish gold ribbon mixed with milgrain on both sides where dazzling lab created diamonds are set.
Jane Fonda
She chose a sleeveless mini shift dress for her wedding in 1965. A looser cut, but still showing off her on-trend mini with tall black boots. Her hair was voluminous and fun, along with eye-catching makeup.
Our Ring Pick: Antique Solitaire Ring
This vintage solitaire features high polish cathedral shoulders and an antique filigree styled profile for a stunning look.
Priscilla Presley
Priscilla's wedding dress in 1967 went more traditional, with a long and flowing white gown. Her hair and makeup were the bold stars of the show, and her tiara will definitely "always be on my mind."
Our Ring Pick: Fifth Avenue Ring
Want to recreate Lady Presley's ring? Try the Fifth Avenue ring, an elegant and timeless vintage style
Yoko Ono
Yoko Ono's outfit was famous for its hippie vibe at her wedding to John Lennon in 1969. Her elbow-sleeved white crepe mini dress went perfectly with her large sunglasses, and the white ruffle skirt and flopping sunhat emphasized the beachy and laid-back vibe. Another contemporary twist was her tennis shoes and knee-high socks.
Our Ring Pick: Natura Ring
Try our vintage Natura Ring, an elegant solitaire featuring antique and timeless romantic beauty.