Some of the most beautiful moments in celebrity pop culture are engagements. Luckily, from time to time, some public figures share their moments with the world and let us in on their special moment. A part of this is, of course, the engagement ring. Here are five of the most beautiful engagement rings we've seen adorning the hands of some familiar faces in 2022.
Randy Fenoli & Mete Kobal
Known as the star of "Say Yes to the Dress," Randy Fenoli proposed to his partner of one year, Mete Kobal, at the Marmara Park Avenue hotel in New York City. Fenoli sealed the occasion with matching diamond engagement rings he designed himself. Both rings include an emerald-cut center stone with channel set Asscher-cut and round diamonds along either side of the band.
Emerald Cut Diamond Engagement Ring: The Contessa Ring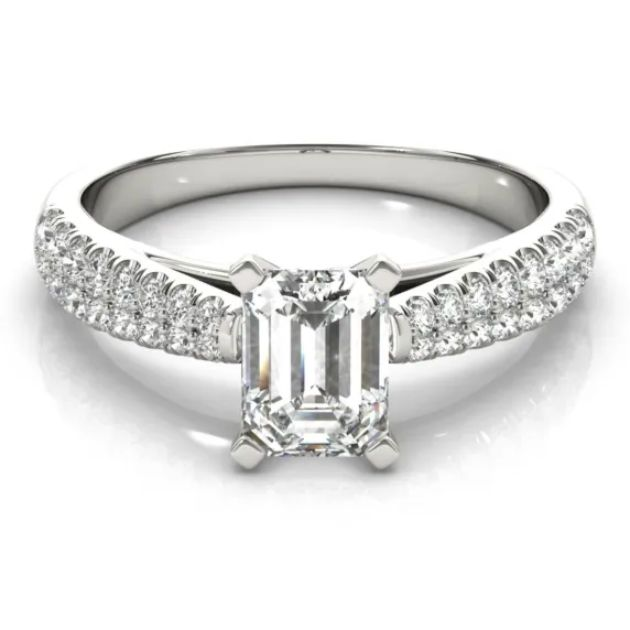 Fenoli's design features an emerald-cut diamond at the center of the ring. Our Contessa Ring is compatible with a myriad of diamond shapes, but the inclusion of the emerald-cut diamonds, along with the diamond-studded band, will achieve a similar countenance to Fenoli's creation.
Channel Set Engagement Ring: Petite Windsor Bridal Set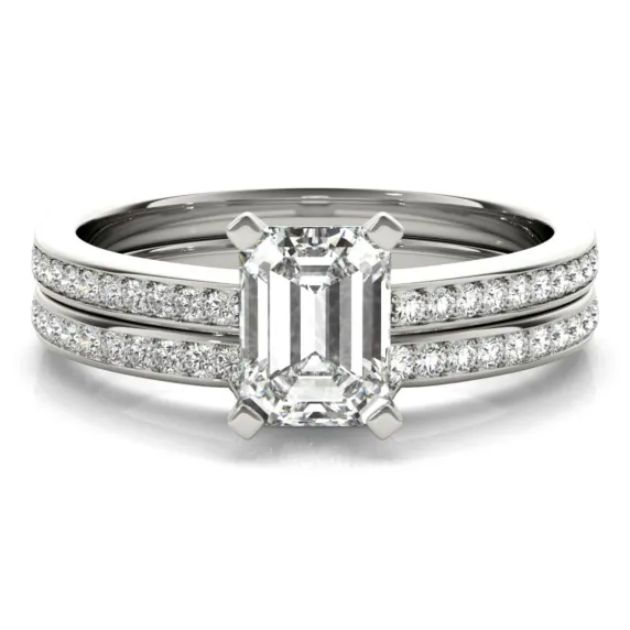 Balanced against the center diamond, the alternative main attraction of Fenoli's design is the channel set diamonds along the metal band. An ethical dupe for this asset is the Petite Windsor Bridal Set (Petite Windsor Ring above the Petite Windsor Band), featuring rows of lab created diamonds upon cathedral shoulders.
Becky G & Sebastian Lletget
Professional soccer player Sebastian Lletget proposed to songstress Becky G on a boardwalk overlooking the water. He presented her with a gorgeously minimalist yellow gold engagement ring featuring a simple band with pavé diamonds holding a focal oval cut center diamond.
Simon Biles & Jonathan Owens
Analogous to Lletget, professional football player Jonathan Owens proposed to U. S. Olympian Simone Biles with an oval-cut diamond engagement ring. Bile's ring also features pavé diamonds; however, all adorning a white gold metal band.
Solitaire Engagement Ring with Oval Cut Diamond: Quiet Beauty Oval Ring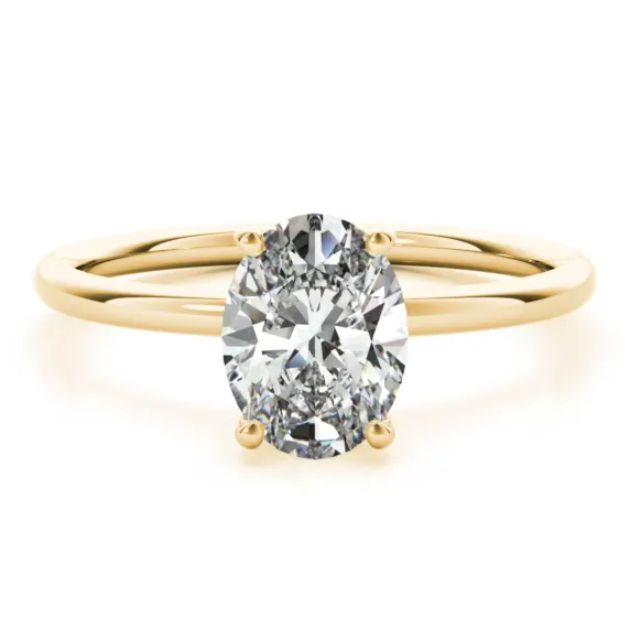 Clean Origin's Quiet Beauty Oval Ring closely resembles Bile's and Becky G's respective engagement rings almost perfectly (sans pavé) but at a fraction of the price. This ring is coupled with a standout oval-cut center diamond on a Solitaire engagement ring setting.
Furthermore, if you're entranced by the pavé set diamonds along the band, consider other options. The Chaleur Oval Ring is most similar to Bile's metal band, while the Scarlett Pavé Ring is more reminiscent of Becky G's ring band.
Jennifer Lopez & Ben Affleck
Actor Ben Affleck proposed to actor and entertainer Jennifer Lopez with a colored stone close to her heart. Lopez revealed in her 'On the JLo' newsletter that she holds the color green as a sign of good fortune and can remember the color in many special moments in her life.
Lopez's current stunner resembles the first ring Affleck gifted. This time, however, Lopez's 5 stone engagement ring features a natural green center diamond held by gold prongs, flanked with trapezoid step-cut diamonds. In accordance with how personal the ring is, Affleck engraved the words "Not. Going. Anywhere." on the platinum band, which may reference their rekindled love.
Multi-Stone Engagement Ring: The Sierra Classic Ring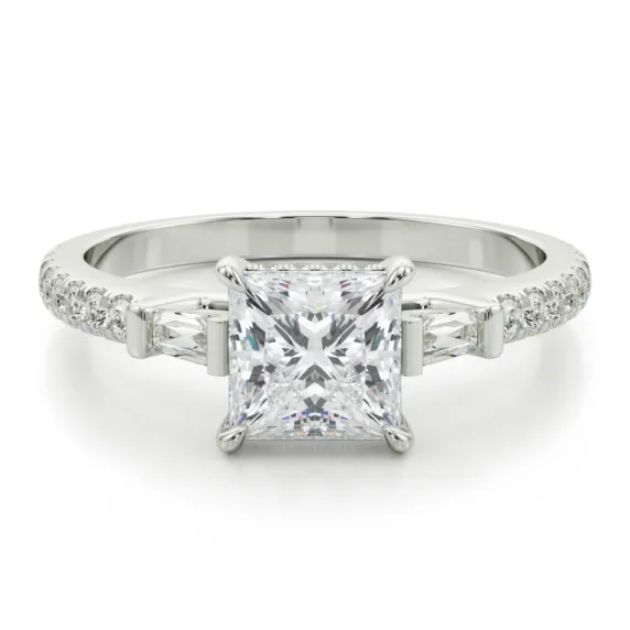 To achieve the look of Jennifer's engagement ring, opt for a multi-stone ring with a square, radiant, princess, or Asscher cut center diamond. In similar fashion, our Sierra Classic Ring includes two baguette diamonds flanking the center stone on either side, which is an essential element of JLo's stunning jewel. Go above and beyond and check out our colored diamond options so as to acquire an even more identical finish.
Avril Lavigne & Mod Sun
Punk rockers Avril Lavigne and Mod Sun got engaged in Paris, France. Mod Sun proposed to Lavigne with a stunning heart-shaped diamond engagement ring with "Hi Icon," the first words Mod said to Avril when they met, and "Mod + Avril" engraved. The gorgeous center stone is also a call back to their first-time meeting, as they happen to be wearing matching pave heart rings.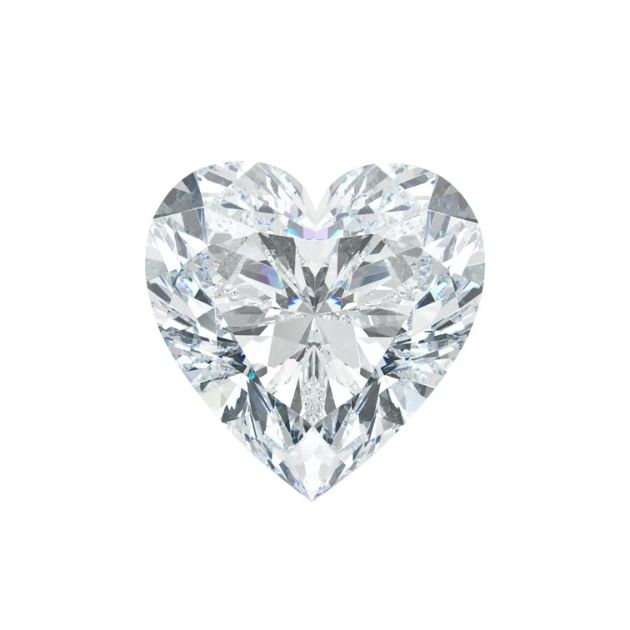 Make your own custom heart-shaped diamond engagement ring on our website. Use our design tool to choose your setting, carat size, and more. Given that, if you're feeling overwhelmed, never hesitate to visit our store or contact our advisor line for assistance.
Celebrity Engagement Ring Guide
Above all, if you choose to use these rings as a reference, remember that you have the option to mix and match elements of any ring you come across. Do you love Becky G and Simone Bile's engagement rings but want a different center stone, do it! Find engagement rings with a pear-shaped diamond, cushion-cut diamond, or round diamond. Do you want accent diamonds or a fancy yellow diamond? We have that too.
Use the gems shared among celebrity couples to guide you, but always center your preferences when shopping for you and your partner.