Diamond tennis necklaces are popular for their elegant yet simple style. It's so easy to wear them because they go with everything. But, can you wear a diamond tennis necklace everyday?
Of course! There's no limit to how often you can wear a tennis necklace, but because of how versatile they are, it is totally acceptable to wear one everyday. In fact, we encourage that!
Clean Origin's tennis necklaces are one-of-a-kind pieces that will last you a lifetime.
What is a Diamond Tennis Necklace?
A diamond tennis necklace is a classic piece that will complement any look. Tennis necklaces are perfect for showing off your chic fashion sense or simply for everyday wear.
A tennis necklace is a necklace with a string of diamonds connected in a row. Diamond tennis necklaces are symmetrical and have a thin metal chain. The sparkly necklace is the perfect addition to your jewelry box.
A classic tennis necklace features diamonds that have the same shape, size, and clarity so they appear alike. Many are set with a simple white gold or yellow gold chain to show off the precious stones.
Are Tennis Necklaces Popular?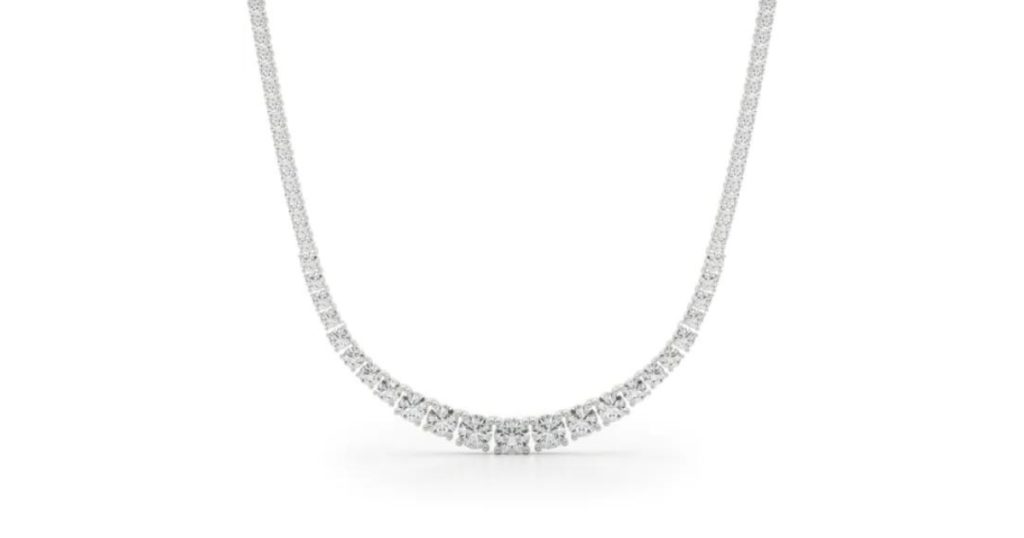 Tennis necklaces are becoming more and more popular. They keep showing up in the latest trends and in celebrity style runways and red carpets.
Many women are opting for these simple yet sleek necklaces to pair with their outfits for work, going out with friends, and everyday errands. They are truly one of the few pieces of jewelry you can wear with anything.
Different Diamond Tennis Necklace Styles
You can find tennis necklaces with different shaped diamonds according to your style. The most common is the round diamond, but tennis necklaces can also have square diamonds. The most important thing is that they are all the same so the necklace looks cohesive.
Some styles have emerald cut diamonds or other shapes, so there is no rule on what shape the diamonds have to be!
You can also customize the metal chain. Many tennis necklaces are set in white gold or platinum to match the color of the diamonds, but yellow gold necklaces stand out as well.
How Much Do Tennis Necklaces Cost?
Buying a tennis necklace is not a decision you make on a whim. Since they have so many diamonds, they can be quite expensive, especially when you factor in the size and quality of each diamond. This makes them an investment that you should take some time to think about.
A smaller tennis necklace may have a total carat weight of around 10 carats, while a longer necklace with larger gems can be up to 22 carats in total weight.
The cost of a diamond tennis necklace can range from $5,000 to upwards of $25,000.
One way to save on a diamond tennis necklace is to buy lab grown diamonds. Lab grown diamonds are significantly more affordable than mined diamonds. This is an important factor to think of especially when your necklace is a string of many diamonds.
Lab grown diamonds are real diamonds with the same quality as mined diamonds so you know you're getting the best quality without the hefty price tag. Clean Origin only sells 100% ethical diamonds and responsibly sourced jewelry so you can feel good about wearing your necklace daily.
How to Wear a Tennis Necklace
Tennis necklaces can be worn with any outfit to add a stylish element to your look. They are timeless and versatile so you won't have any problems choosing what to wear.
Dressing Up a Tennis Necklace for a Formal Occasion
A diamond necklace is always a good choice for special occasions, but if you can't decide what to wear, a tennis necklace is the way to go.
A simple tennis necklace is the perfect accent to an elegant or formal dress and will draw attention to your neckline. You can wear it with matching diamond earrings
Keep It Casual
Tennis necklaces are also great for everyday wear. You can pair the necklace with a crewneck sweater or blouse to create a subtle elegance. Tennis necklaces can be stacked with other necklaces. Try wearing it with a fun pendant necklace that matches your outfit.
Diamond Tennis Bracelets
A diamond bracelet is another great option to wear every day or to show off a little extra sparkle in your outfits.
Tennis bracelets are just like tennis necklaces. They have a row of symmetrical diamonds set in a metal chain. Tennis bracelets are more customizable as you often see more diamond shapes and sizes being used. You can have a cluster top diamond bracelet or one with much bigger diamonds than on a necklace. The cost of a diamond bracelet varies, but check out our post on how much a diamond bracelet costs, here.
Check out Clean Origin's tennis bracelets with blue sapphires to elevate your look with a piece no one else will have.
Wearing a Diamond Tennis Necklace Every Day
You can absolutely wear a diamond tennis necklace every day. It's important to take good care of it as it will be an investment in your jewelry collection. However, having such a versatile necklace is well worth it.
Clean Origin's tennis necklaces only contain ethical diamonds and were made to last. With beautiful diamonds and a stunning chain, you'll never want to take your tennis necklace off!