A 6-prong engagement ring is functionally elegant. The six-prong setting is the best option to soothe concerns about the security of your center stone. What more could you want to represent your relationship?
What Are Prongs?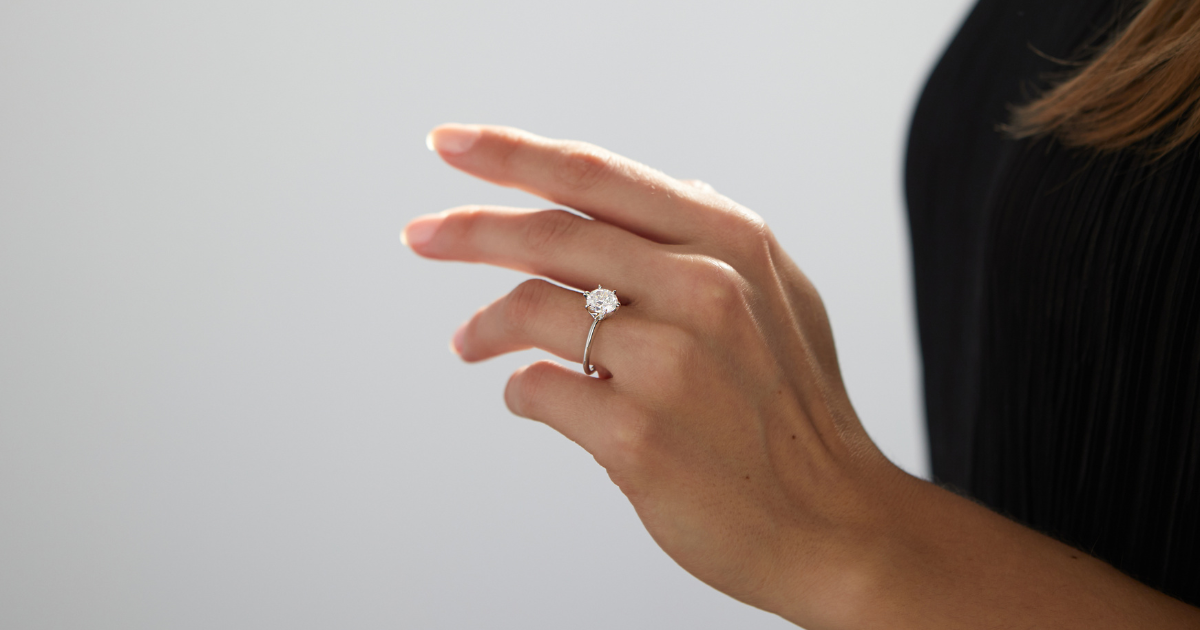 The solitaire design is a classic. It would stink for the diamond to go missing. Prongs offer many benefits to ring styles with a center stone elevated from the band. Prongs are small metal pieces molded to the ring band that holds the focal stone in place. Together, the prongs engulf the center stone, ensuring it stays secure.
Prongs also act as a barrier. Think of it like the protective case for a phone. The claw-like prongs surround the gemstone's body, blocking it from direct contact with hard surfaces that could have otherwise scratched or chipped away at the corners over time.
6 Prongs versus 4 Prongs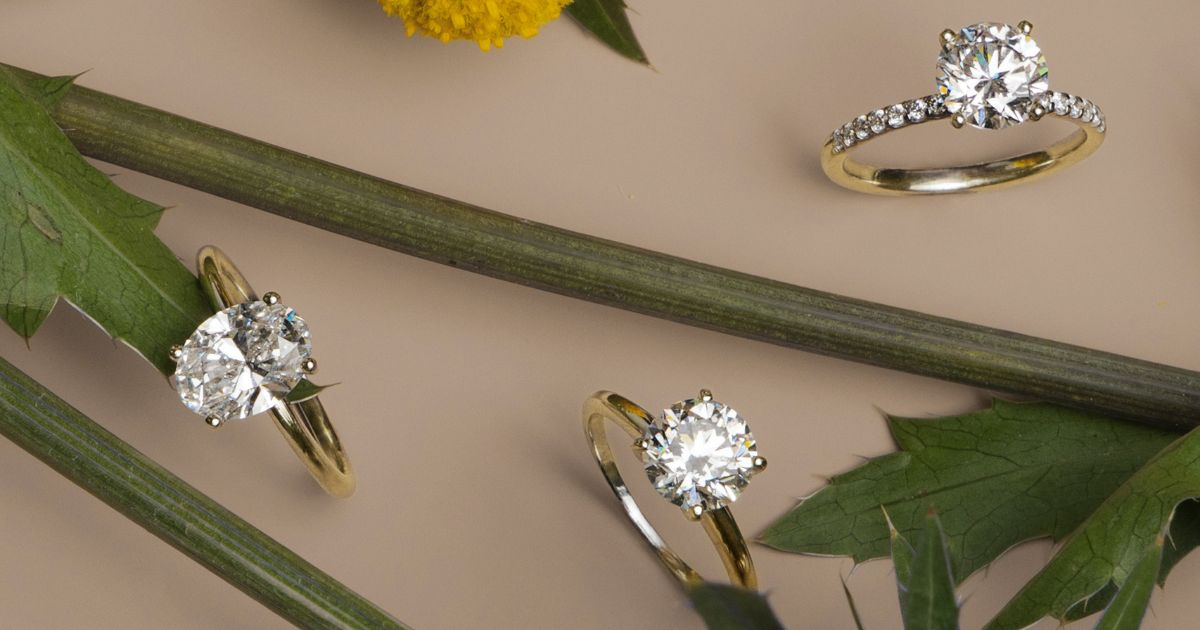 Most solitaire diamond jewelry has a four-to-six-prong ring setting. Which one is better?
The more prongs, the more secure the center stone will be. So, in that case, a 6 prong engagement ring is better. However, other aesthetic preferences and lifestyles make a four-prong ring acceptable.
The number and placement of prongs can affect the diamond's appearance. In some cases, the center stone's body can appear more prominent when accompanied by a metal of a similar color.
Furthermore, prongs can change the way a round or oval diamond appears. There is an illuded angularity added due to the prongs looking like peaks of the diamond rather than detached metal pieces.
Clean Origin's 6 Prong Engagement Ring Selection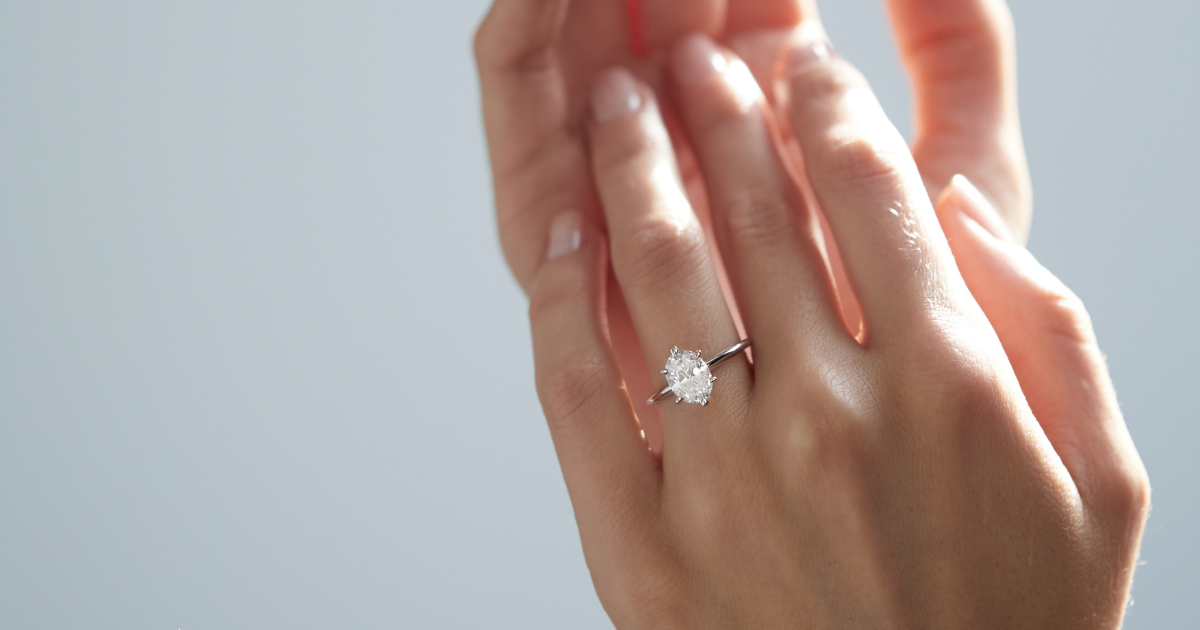 A solitaire ring with a round diamond is the most popular engagement ring setup, but do not fear choosing a different shape. All engagement rings at Clean Origin include lab grown diamonds of exceptional quality. So, no matter the shape, six prongs will ensure it stays undamaged and secure with you.
The rings below highlight the beauty of each prong design. For a 360-degree view of each six-prong ring (and all the possible color, shape, and karat combinations), click here for our Clean Origin site.
Loire Six Prong Ring
The Loire engagement ring features 16 lab created diamond gemstones along the band. A gorgeous lab created round shaped diamond sits as the center stone. Find this ring in a precious metal of your choice, including white gold, yellow gold, rose gold, and platinum.
Cambridge Six Prong Solitaire Ring
The Cambridge Solitaire engagement ring is a solitaire stunner compatible with our round brilliant lab created diamond. Purchase this style in white gold, yellow gold, rose gold, or platinum ring metal.
Bristol Six Prong Solitaire Ring
The Bristol ring presents a cathedral setting with a minimal wedding band to highlight the extravagance of the center round-cut diamond. Its subtlety makes it both elegant and opulent.
Brighton Solitaire Ring
The Brighton Solitaire includes a unique square band accompanying a six-prong setting. Find the perfect precious metal to surround your lab grown center stone, from 14k white gold to platinum.
Olivia Ring
The Olivia Ring offers a petal prong design, presenting a tulip-style take on the functional ring setting. The wedding band houses 24 prong-set lab grown diamonds to create an eye-catching engagement ring. To own this style, shop our site, and choose between white gold, yellow gold, and rose gold metals.
Marseille Solitaire Ring
Like the Olivia Ring, this floral prong style is a tulip motif that hugs the focal round diamond. Find your ring size and preferred metal to make the Marseille ring your own.
Kaia Ring
The Kaia Ring is a showstopper and is a prime example of how six prongs can hold any diamond shape. In this case, we offer pear, princess, and round cuts to compliment this ring style.
The diamond-studded band and six-prong setting combine simplicity and extravagance. Find your ring in any of our precious metals, in a range of karats and diamond shapes.
Prongs Are Important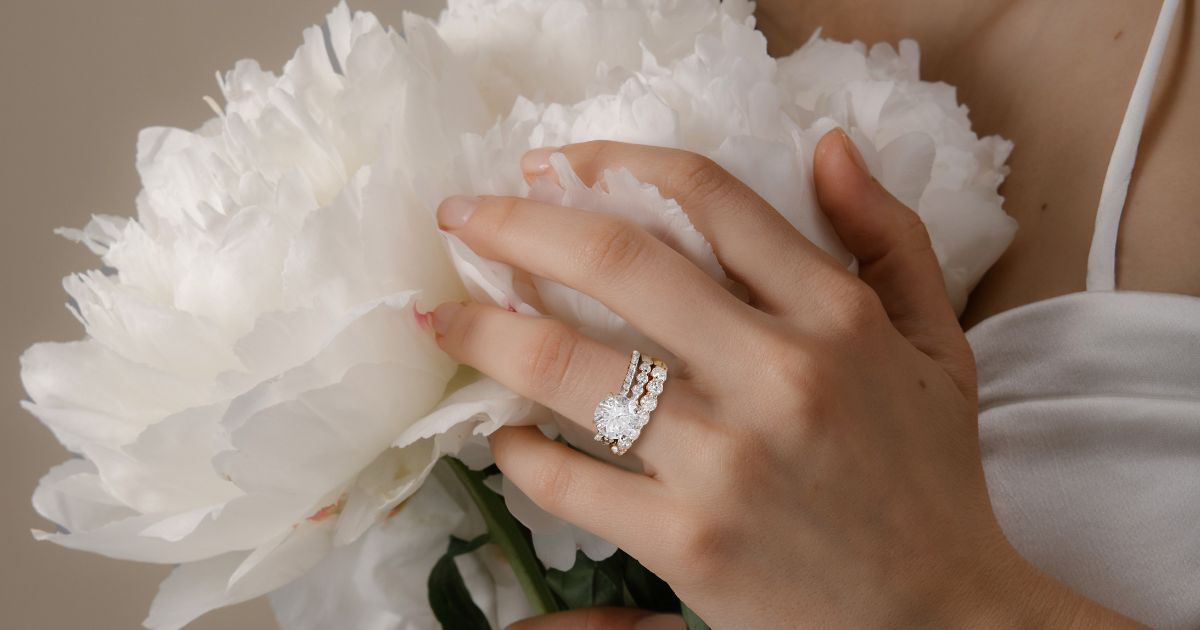 Prongs are an essential detail to consider when choosing your diamond ring. It can change the appearance and security of your engagement ring.
If you are likely to use your hand often and come in contact with rough surfaces, a six-prong ring will work best for your lifestyle. If your hands are less active in your day-to-day life, you may be secure in choosing from four-prong engagement rings.
Understanding your preferred ring style, metal, and diamond shape are critical factors to the beauty of your fine jewelry piece. However, don't forget to consider the small things that usually go unchecked but mean so much to how you will ultimately feel about your ring.