They say that diamonds are forever, which is probably why they're so common in the most popular engagement rings. After all, when we make the choice to spend the rest of our lives with someone, we want a diamond engagement ring that can keep up.
This longevity comes with a potential downside: The decision you make when picking out a diamond engagement ring is one that you and your spouse are probably going to have to live with for a long, long time. Is it worth it to follow ring trends?
Well, don't worry; we're here to help. From classic cuts to unique new designs, we take an expert look at the most popular new engagement ring trends that are turning heads, to ensure that your forever decision is one that you'll be happy with.
The Basics: The 4 C's
Before we get into the specific options for popular engagement ring styles and ring trends, it makes sense to offer a quick recap of the standard diamond grading criteria, and that means considering the 4 Cs — cut, color, clarity, and carat. Let's take a brief look at each:
Cut
Not to be confused with a diamond's shape, a diamond's cut refers to the diamond's facets — namely, how effectively they refract and reflect light within the gem. Cut determines how sparkly your diamond engagement ring will look!
Color
A diamond's color should be, not white but colorless, or at least close to it. Diamonds that have less color are more expensives. Colored gemstones, however, are increasing in popularity for brides who want a truly unique engagement ring.
Clarity
Diamonds, whether they're mined from the ground or grown in a lab, often include small imperfections within the stone (called inclusions). The presence of these imperfections, along with any surface flaws (called blemishes), are taken into account when rating a diamond's clarity.
Carat
Perhaps the most straightforward of the 4 Cs, carat refers to the diamond's weight. A single carat diamond weighs 0.2gm.
Each of these criteria helps to determine the overall quality and price of a diamond. Your choice of diamond is also going to be heavily influenced by your budget, so it helps to know which categories are the most important to you, and which ones you'd be willing to pay less on. Also, it's worth noting that some diamond engagement ring styles can make up for stones that otherwise fall short in certain areas.
This Year's Most Popular Engagement Ring Trends
One of the problems with following ring trends is that your popular engagement ring shape may end up being just that — a trend. And once the trend loses steam, you could be stuck with something that looks dated.
That said, there's a big difference between dated and timeless. That's why our first ring trend is one that bucks the new in favor of something a bit more established: vintage engagement rings.
Vintage Engagement Rings
Vintage engagement rings are one of the most popular ring trends right now. These engagement rings carry a certain amount of history. Whether you use an heirloom that's been in your family for generations or start a new tradition by purchasing an antique engagement ring from a jeweler, you'll be incorporating that history into your own story.
Vintage engagement rings often stand out as representations of the time periods and art style they were made for. If you or your intended fiancé are interested in a particular era — such as Art Deco — choosing a vintage engagement ring from that time is a great way to add some stylish antiquity to your union.
If you have a vintage engagement ring but aren't sure about the center gem, an experienced jeweler will be able to replace or upgrade your diamond. This is particularly useful when you have an heirloom engagement ring that may have lost a gem or two over the decades.
Many jewelry companies nowadays also offer vintage-inspired engagement rings that give you the antique look and feel but with updated materials or gemstones, such as lab-grown diamonds. These options give you the ability to keep up with ring trends while
The Lacey Oval Ring
This ultra-feminine oval engagement ring showcases special details from every angle. Open accents of precious metal, a scrolled gallery, and four round brilliant diamonds accenting the oval shape center diamond of your choice.
The Deco Emerald Ring
The Deco Emerald Ring evokes a vintage feel with Art Deco-inspired geometric milgrain accents, compatible with the emerald-cut diamond center diamond of your choice.
Minimalist Engagement Rings
Traditionally speaking, the point of a diamond engagement ring is to stand out as a visible representation of a couple's love and devotion. But sometimes, standing out is about not overstating things.
Minimalist engagement rings feature clean, sleek lines, fewer facets, and very little in the way of extra ornamentation. Modern minimalist engagement rings are generally diamond solitaire designs or feature a larger center stone set between two smaller stones.
Minimalist engagement rings not only deliver a touch of elegance and refinement but also stack easily and beautifully with most wedding rings. There's a reason why these engagement rings are one of our favorite ring trends right now!
The Arielle Solitaire Ring
This elegant engagement ring features a modern east-west set oval lab-created center diamond on a sleek 1.7mm cathedral band of high polish precious metal. The ring's center gemstone creates a unique shape with a modern look.
The Holly Solitaire Ring
The Holly Solitaire features delicate cathedral shoulders and hidden rows of diamonds for subtle sparkle and understated elegance. This engagement ring is the perfect example of "less is more."
Three-Stone Engagement Rings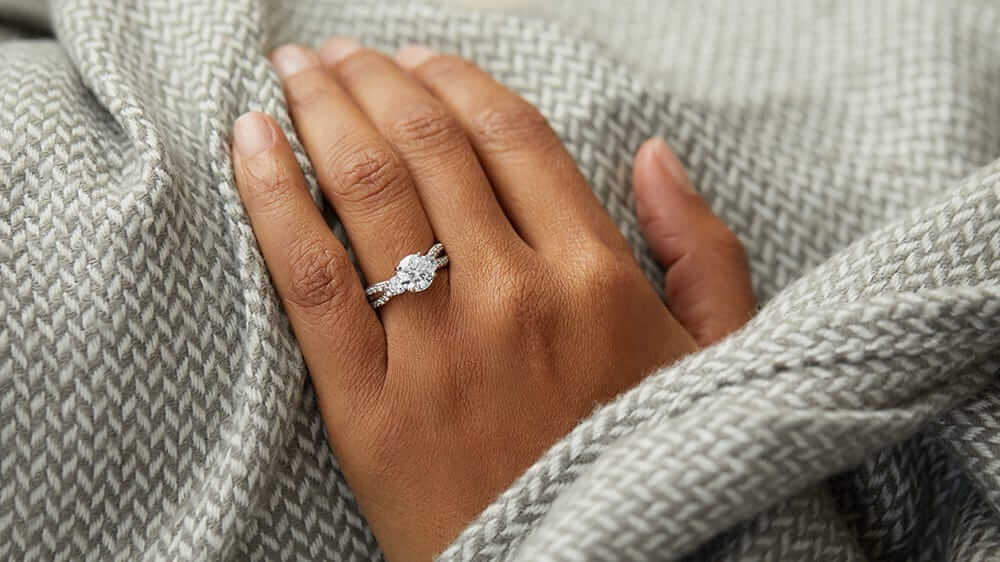 There's certainly nothing wrong with a classic solitaire. But why settle for one diamond on your engagement ring when you can have three?
The three-stone engagement ring dials up the wow factor by adding two slightly smaller stones on either side of the center stone. Together, these stones represent a couple's journey; the largest stone signifies the present, while the stones on either side represent the past and the future.
Alternatively, the three stones may signify friendship, love, and fidelity, or stand as an eternal reminder to love, honor, and cherish one another.
No matter how you interpret their meaning, the extra sparkle on a three-stone engagement ring is a stunning addition to any hand.
The Classic 3 Stone Ring
This Classic 3 Stone ring with a tapered band features a cluster of three stunning lab-created diamonds with the center stone shape of your choice. We love the bold look of pairing this engagement ring with an emerald-cut diamond.
The Vineyard 3 Stone Ring
Our Vineyard 3 Stone pavé engagement ring features scalloped interior detail and a hidden diamond on the raised setting. The diamond-studded band adds even more sparkle to this eye-catching ring!
Yellow Gold Engagement Rings
Yellow gold and hand-selected diamonds are another engagement ring combination that's both trendy and timeless. Designed to complement a range of skin tones, yellow gold engagement rings are an option that will truly magnify the beauty and show off your Clean Origin center stone. 
The 1.5mm Solitaire Ring
The 1.5mm Solitaire is a timeless engagement ring with a classic four-prong design. This is the ideal engagement ring for someone who wants to keep up with engagement ring trends but still wants one of our understated styles. Available with every shape of center diamond (and even some fancy-shaped diamonds), this minimalist engagement ring stuns in yellow gold.
The Countess Ring
The Countess Ring features four lab-created round diamonds delicately arranged in pear shapes on both sides of the center stone of your choice. The round-cut diamonds on your ring band give the illusion of pear-shaped diamonds with an elongated shape. Altogether, this one-of-a-kind ring will gorgeously shimmer and sparkle in a stunning yellow gold setting.
Lab-Grown Diamonds
Today's couples are extremely informed and conservationally minded. Couples looking for ring trends today have access to more information than any generation before.
As such, many of them are shying away from supporting the traditional diamond market. This is because diamond mining can be a very environmentally unfriendly process. In fact, for every carat of diamond that is mined from the earth, approximately 6000 lbs of mineral waste is created. Additionally, conflict diamonds (also called blood diamonds) make diamond shopping a problematic moral issue.
That's why lab-grown diamonds are becoming so popular.
Lab-grown diamonds are chemically and physically identical to mined diamonds. But perhaps even more importantly, lab-grown diamonds create almost no mineral waste and are completely conflict-free. And as an added cherry on top, they also tend to cost 20–30% less than mined diamonds. With that cut in cost, couples can shop popular rings with a large center stone for the same price as a small diamonds.
Lab-grown diamonds are environmentally mindful, socially conscious, and financially responsible. It's no wonder that lab-grown diamonds are becoming such a popular option for engagement rings in 2021.
Diamonds are forever, and the same is true for your choice of a diamond engagement ring. So, when it comes time to make your decision, consider these popular engagement rings. Trends may come and go, but you can find a unique and personal way to represent your love. With that, you'll have a timeless and brilliant ring that's always in style.