An oval solitaire engagement ring is a modern take on classic engagement rings. If you've been wanting a beautiful stone but want something truly special, this is your sign to go with an oval!
The other day I was scrolling through Facebook and ran into a post in an engagement ring group. The poster stayed away from the retail chain jewelry stores and opted for a bench jeweler to custom make her engagement ring.
This lady gushed to her jeweler about how she loved the elongated shape of oval-cut engagement rings. Her jeweler wrinkled his nose and told her she didn't want an oval solitaire because it was a "poor man's solitaire."
He proceeded to create a round solitaire despite her wishes. She was asking everyone what she should do.
A round diamond solitaire engagement ring is considered the classic engagement ring setting. Today, round diamonds are the most popular and the most expensive of all the diamond shapes.
But to call an oval cut diamond engagement ring a "poor man's solitaire"?
I think not.
Choosing an oval diamond engagement ring over a round engagement ring is a smart choice in many different ways. Let me share some of them with you.
How to Pick an Oval Diamond Engagement Ring
An oval shape is an elongated round shape. Oval diamonds are among the top 5 diamond shapes people want. However, an oval-cut diamond doesn't have perfect brilliance and symmetry like a round-cut diamond.
That doesn't mean oval-cut engagement rings don't sparkle. Unless you're a diamond expert or a jewelry consultant, you probably won't notice the difference.
Picking a Well Cut Oval Diamond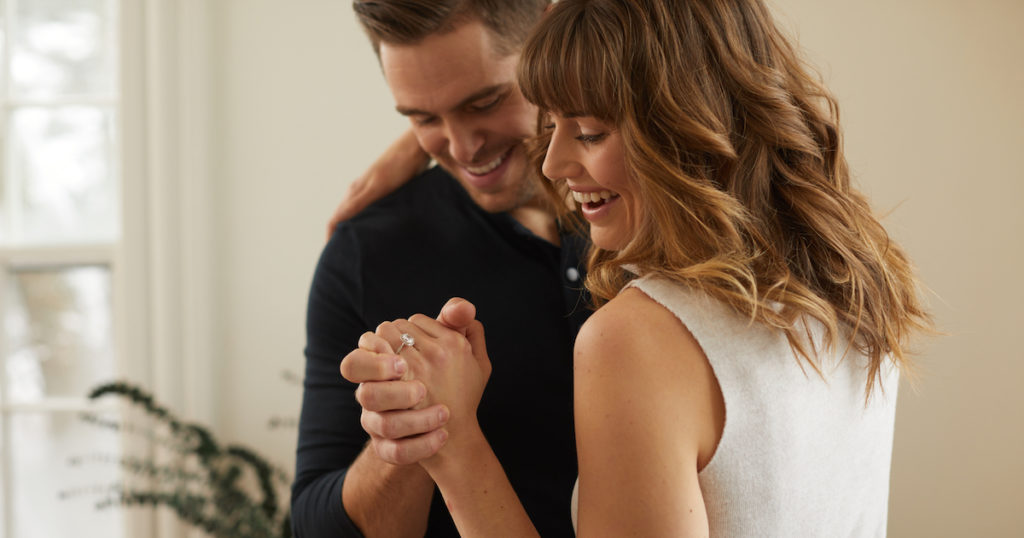 Round stones are the only ones with an official cut grade on a gemological report. All other diamond shapes have ideal proportions best for their shape.
Picking oval-cut diamonds isn't a quick process, especially if you're looking for a well-cut diamond.
It's best to have a pool of oval diamonds to choose from. It's much harder to do this in person or locally. My suggestion is to shop an online retailer with a visual search through many oval diamonds.
Best Specs for an Oval Diamond Engagement Ring
Most of picking out an oval diamond are your visual perception. Some online stores will separate their oval diamonds into cut grades in their filters, making it easier to shop for.
Even though ovals don't have official cut grades, it helps you sort the best ones.
Keep Your Eyes on the Symmetry of an Oval Cut Engagement Ring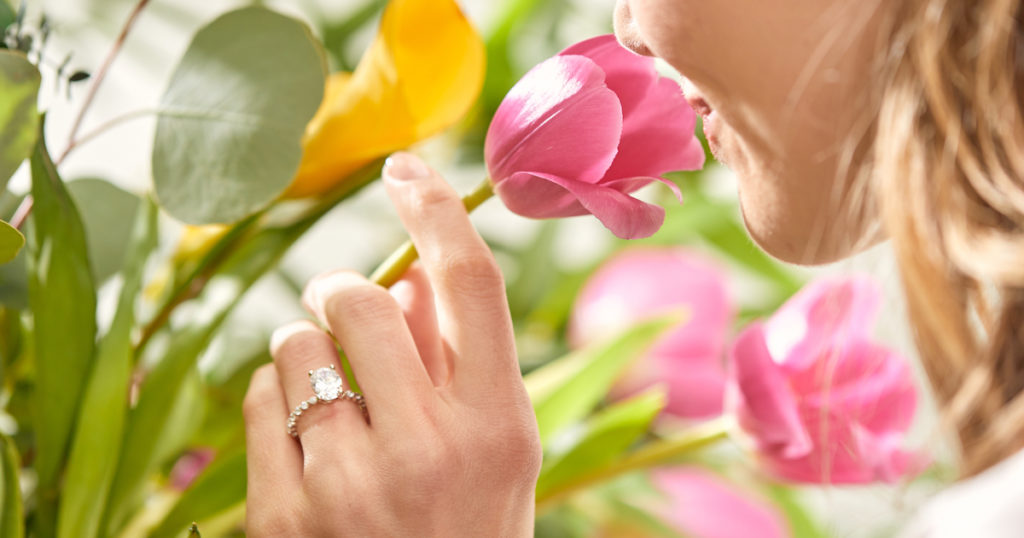 First, you want to choose an oval diamond with the best shape. Egg-shaped oval diamonds are a no-go. Make sure the edges of your diamond are smooth and consistent around the entire shape. Some ovals may have pointed or squared ends, so avoid these.
You'll also want to decide if you prefer the traditional elongated shape of an oval or want a little more length. Traditional oval engagement rings make your fingers look longer. Some people enjoy the extra length of a longer oval diamond.
Length-To-Width Ratio of an Oval Diamond
By choosing an oval diamond with a length-to-width ratio of 1.30-1.50. If you like a lengthier look, choose closer to 1.5. It's up to your personal preference. If the retailer you're buying from doesn't show the L/W ratio, you can get it by dividing the length by the height of its measurements.
Depth and Table of Oval Diamonds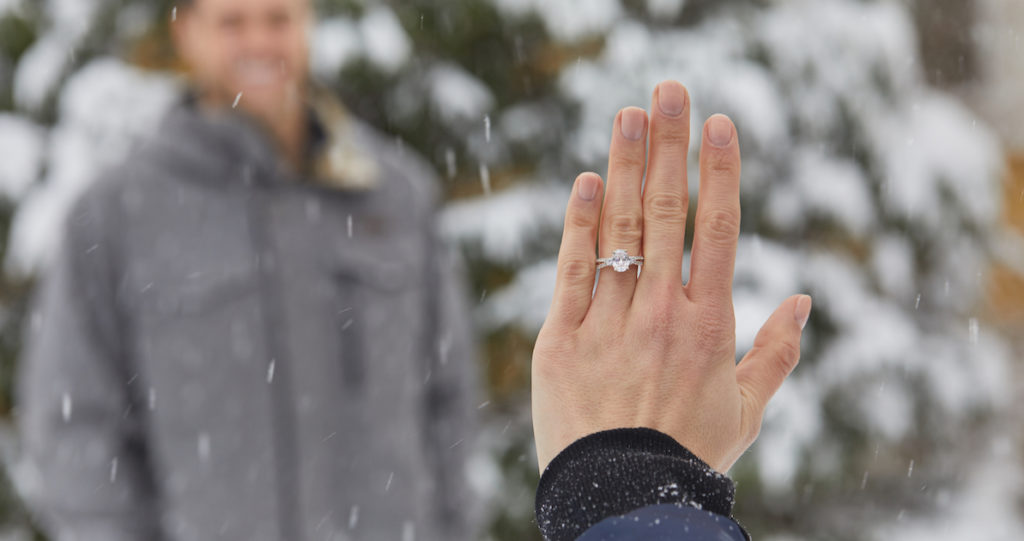 You'll want to keep the depth of your oval stone between 58-63% and its table between 53-63%. These two diamond details directly affect the sparkle of your oval stone. The depth allows the proper amount of room for the light to reflect out.
The table is the largest facet of your diamond. If the table is too big, the light won't reflect out of your stone. If the table isn't large enough, the stone will look smaller than its carat weight. It won't sparkle the same either.
The Bow Tie Effect of Oval Diamonds
An ovular engagement ring is susceptible to the bow-tie effect. It's a dark shape found across the middle of an oval diamond. The bow tie is present in most oval-cut diamonds. Some are more noticeable than others.
The trick is to find an oval diamond where the bow tie isn't as evident. Some people see the bow tie as aesthetically pleasing in their oval engagement ring.
Using a 360˚ or zoom feature in oval inventory can help you sort out your bow tie preferences.
Choosing the Clarity and Color of Your Oval Diamond Ring
An oval diamond is brilliant-cut. Brilliant-cut diamond shapes have more of a glittering effect. Most fancy shape diamonds are brilliant-cut. Asscher and emerald-cut diamonds are step-cut.
Oval Engagement Rings Hide Inclusions Better
All stones have inclusions. Clarity is how clear your diamond appears to the naked eye. Inclusions come in all shapes and sizes. The higher your clarity grade, the fewer inclusions you'll see.
Like other brilliant-cut stones, ovals are better at hiding inclusions. They won't hide the obvious imperfections, but some oval diamonds with SI clarity may look eye-clean.
Oval Engagement Rings Need Higher Color Grades
On the other hand, you'll want to choose a higher color grade for ovals. Ovals show color tint pretty well. It makes these stones a prime choice for colored gemstones and colored diamonds.
You don't want that with a colorless oval diamond. I recommend an H-color diamond at a minimum. Anything over 2 carats, you may want to consider a grade or two higher.
Oval Engagement Rings Appear Bigger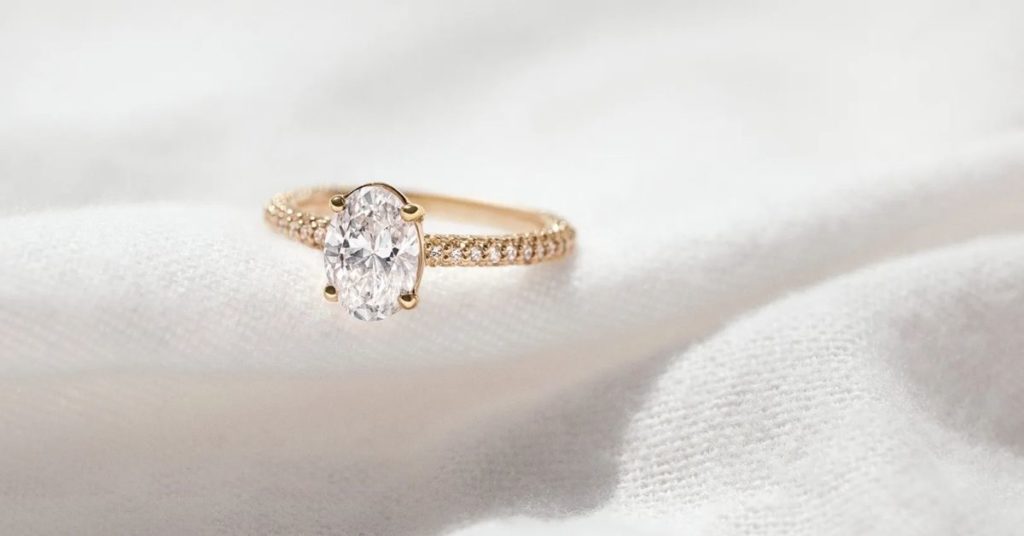 The face-up appearance of an oval-cut diamond ring is one of its biggest advantages. A 1-carat oval diamond will look larger than other diamond shapes of the same carat weight. That includes round diamonds.
Over half of the diamond rough is discarded when faceting round diamonds. Ovals retain more of the diamond rough. That's one reason why an oval diamond engagement ring can be up to 25% less expensive than rounds.
Ovals have more of the carat weight distributed in their length than their depth.
Different Types of Oval Solitaire Engagement Rings
These might not be the name of the exact type of oval solitaire, but they should give you an idea of the kinds of oval solitaires you might run into both in-store and online.
Classic Oval Solitaire Ring
An oval solitaire has the classic elegance of a round solitaire engagement ring but stands apart from the crowd. A traditional oval solitaire consists of a plain polished band with the mounted oval diamond.
White Gold East to West Oval Diamond Ring
East-to-West settings are becoming increasingly popular. Many love the unique shape of the oval on its side. Some prefer it as a standalone solitaire, while others like it in a halo setting.
You might prefer a diamond with a longer length-to-width ratio with this setting.
Rose Gold Birdie Ring

This rose gold beauty almost doesn't look like a solitaire. It's carved to look like it has small diamonds in the setting.
People with an active lifestyle will love this bezel-set oval diamond engagement ring. By choosing a shape and setting without any sharp corners, you can minimize the daily wear of oval-cut engagement rings.
Halo Solitaire Ring
Your average halo setting consists of a diamond halo with melee diamonds in the band. In the halo solitaire ring, you have a hybrid setting. Most halo solitaires keep the band clean of diamonds but have a diamond halo. There are variations of this style as well.
Yellow Gold Gioioso Oval Halo Ring
Here's an example of your standard halo ring setting. This setting makes a perfect jewelry piece for someone who wants to keep the modern look but dresses it up a little. Putting it in a yellow gold or rose gold setting will give you more vintage vibes.
White Gold Contorto Oval Halo Ring

This setting doesn't look like your average solitaire, but it is still one. It combines a few different styles, including both a twisted band and split shank. This one is perfect for someone who has larger fingers but still wants the focus on their center diamond.
Oval Solitaire With Hidden Accents
Hidden accents are usually small diamonds or gemstones seen from a profile view. Some solitaire oval-cut engagement rings may have intricate metal designs instead.
White Gold Split Shank Solitaire

The split shank is a popular variation of the solitaire. This oval engagement ring also has a small ring of diamonds around its head when looking at it from a profile view.
Rose Gold Della Solitaire Ring

If you're not a fan of multiple hidden diamond accents, this might be the oval setting for you. The Della Solitaire ring has a cathedral setting with one bezel set round diamond. Just a dash of sparkle.
Conclusion
So are oval solitaire engagement rings a "poor man's solitaire?" Well, let's recap.
Oval stones can be 25% cheaper than a round-cut solitaire.
They look bigger than a round diamond of the same carat weight.
An oval lab-grown diamond can be 20-40% less expensive than a mined oval diamond of equal quality.
Instead, I'd say the oval is the "smart man's solitaire" because it's a stunning choice for anyone to save some money over buying a round-cut solitaire ring.