Send yourself a reminder, or drop a hint
The Details
Measurements
7.46 x 7.49 x 4.62
*Please note - all of our Diamond Engagement Rings are hand finished and there may be some variation in the actual finished width of the ring of no more than ± .2mm
Carat Weight
Carat refers to the actual weight of a diamond and is a unit of measure equal to 0.2gm. In all diamonds, size is a large contributor to the price of the stone.


Color
When we talk about color in diamonds we actually are talking about the absence of color. The color of a diamond is graded on an alphabetical scale starting at D and ranging all the way down to Z with D being a colorless diamond and Z being yellow. The yellow in a diamond can actually leach the sunlight and minimize the stones light refraction and sparkle.


Cut
The shape of the stone refers to whether the stone is a round cut diamond, princess cut diamond, cushion cut etc. A diamond's cut is actually an assessment of the skill of the artisan who plans, maps and hand cuts the facets on each individual diamond which is the most important factor in determining its quality in terms of fire, brilliance, and scintillation.
Ideal
Excellent
Very Good
Good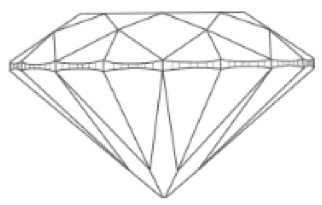 Clarity
Clarity measures the amount of inclusions or imperfections found in a diamond. The best clarity is IF/FL followed by VVS1, VVS2, VS1, VS2, SI1, and SI2. Although other levels of clarity exist, we only carry diamonds with quality we can stand behind.
| | | |
| --- | --- | --- |
| IF | | Internally Flawless |
| VVS1 | VVS2 | Very Very Slightly Included |
| VS1 | VS2 | Very Slightly Included |
| SI1 | SI2 | Slightly Included |